Introduction
When seeking versatile and protective hairstyles that allow boundless creative expression, long box braids have risen greatly in popularity in recent years. These intricate braided styles not only safeguard natural hair from damage but provide many options for showcasing personal flair and style. Unlike other protective options, they permit limitless customization through varying braid thickness, placement, colors and textures. In this comprehensive guide, we will explore 40 inspiring long box braid styles that could fuel self-confidence through creative locks representative of each unique individuality.
1. Classic Long Box Braids
These timeless, straight-back braids exude graceful simplicity. Falling elegantly down the back, they seamlessly transition from day to night and work for any occasion. Their versatile design can be worn loose for a relaxed look or styled into various updos for formal events. Unfussy and sophisticated, this classic large knotless box braids suit those who want an easy, classic hairstyle.
2. Thick Long Box Braids
Make a seriously bold statement with these dramatic, chunky braids. Their voluminous size commands attention with a high-impact style. Thick from root to tip, they add loads of texture and drama. This large knotless box braids wig is eye-catching and head-turning for those wanting an ultra-stylish look. You can also pair them with hoop earrings and bold makeup for a glamorous finish.
3.  Thin Long Box Braids

Delicately tiny and feminine, these miniature braids create exquisite detail. Their intricate design adds softness without hiding your natural hair's beauty. Both sculptural and graceful, these Small Knotless Braids have an elegant feel and are perfect for both casual and formal occasions. Neat and uniform, their look is great for those desiring an upscale style with petite pretty accents.
4.  Jumbo Long Box Braids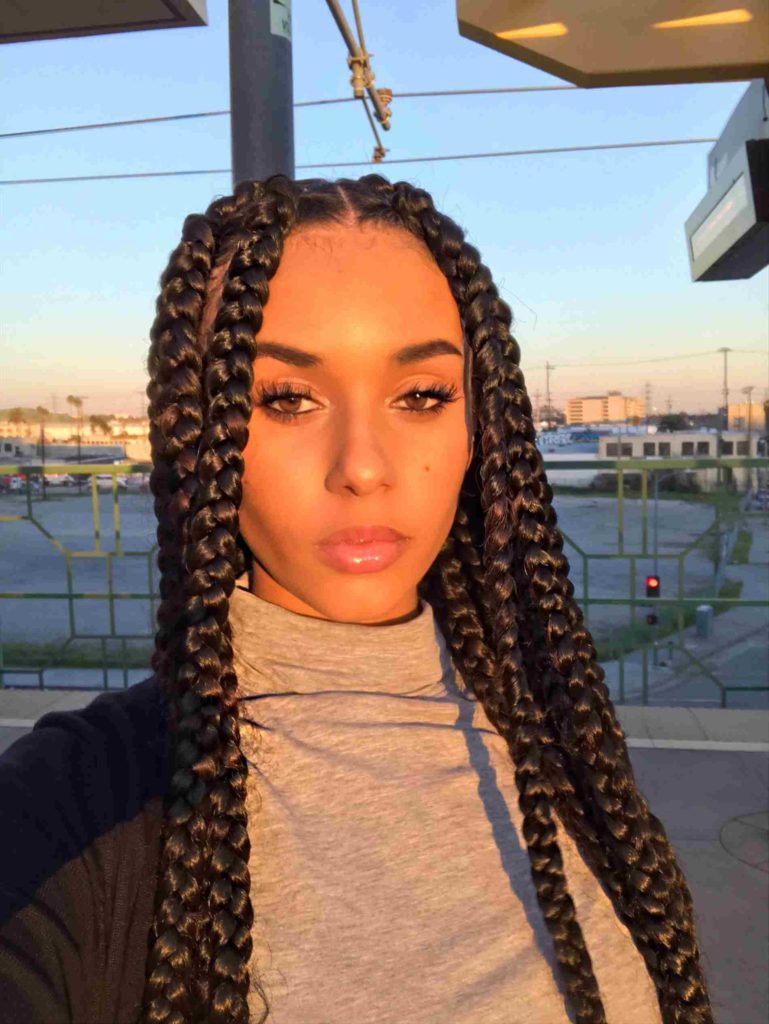 Adding extreme volume, these make an unforgettably bold statement. Thick and substantial from scalp to ends, they have an eye-catching appeal that turns heads. If you want to steal the spotlight, these heavily textured braids are certain to make you stand out. Just channel your inner diva and flaunt their fabulous fullness.
5.  Micro Long Box Braids
This is ultra fine braids form a gorgeous tapestry of intricate detail. Their diminutive size creates a soft and feminine aesthetic. Allowing for versatile styling, these criss cross soft locs can be worn loose, in updos, or ponytails. Elegant and graceful, they suit those wanting an exquisitely textured look. Perfect for both dressy and casual wear, their tiny uniformity adds stylish flair.
6.  Goddess Long Box Braids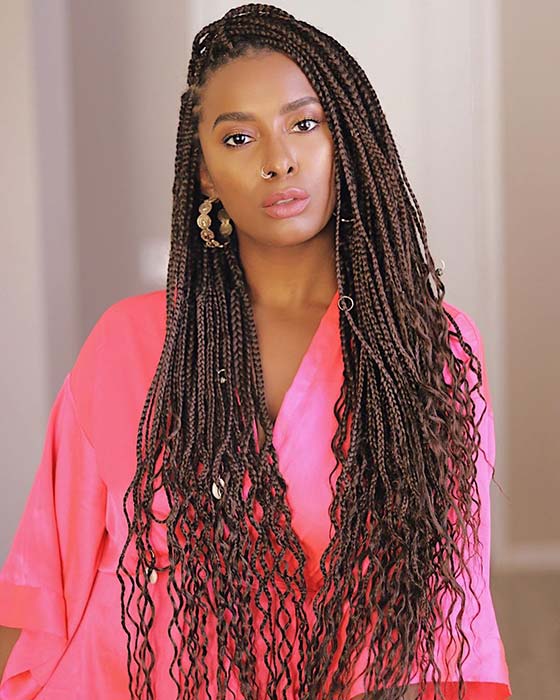 Named for their divine and hypnotic allure, these artistic braids curve across the head in a signature zigzag or wave pattern. Their sculptural shapes lend a dreamy, almost whimsical effect. Flowing freely, they have an organic and mystical feel. Bohemian and edgy, this creative style is great for making a statement. Let your inner goddess shine with these artsy, ornate braids meant to command attention.
7.  Middle Part Long Box Braids
Making a refined statement, these braids split cleanly down the middle for elegant symmetry. The sleek center part lends poise and polish. Drawing the eye straight back, the vertical line creates the illusion of length for a statuesque effect. Sophisticated and striking, these knotless braids shortcut to immaculate style works whether your outfit is dressy or casual. This is an ideal choice for those who want a fuss-free, refined look.
8.  Side Part Long Box Braids

Improve your edge with a deep side part creating an asymmetrical, peaked effect. This slanted line forms visual interest while adding an urban attitude. Let your artistic side show by using curved or zigzag parts for added modern flair. The imbalance gives off hipness and uniqueness perfect for rocking sleek streetwear. This hairstyle suits those wanting fashion-forward asymmetry with artsy panache.
9.  Inverted Long Box Braids
Defy expectations with these uniquely inverted braids. Starting at the nape of the neck, they sweep upward for an avant-garde look. Drawing the eye down the back of the head, they have an edgy counter-culture vibe. Make a seriously stylish statement and turn tradition on its head with this unorthodox approach. Wear them with confidence to show off your bold and inventive fashion sense.
10. Curly Long Box Braids
Bouncy curls woven into each braid create lively, flirtatious movement. The playful coils lend a casual, beachy vibe perfect for relaxed weekends and vacations. Light and breezy, they seem to dance with your every step. With tons of adorable texture and personality, this perky style is fun and carefree. Show off your smile with these energetic box braids with curly ends that embody the joy of summer.
11. Bohemian Long Box Braids
Effortlessly cool, these braids have a relaxed, wandered-the-world vibe. Often featuring added texture like coils or crimps, they have an earthy feel. Left a bit uneven and free-flowing, they give a carefree nonchalance. Similar to full lace wigs, you can add adornments like shells, beads or rings add ornate embellishment. Channel your adventurous spirit and inner flower child with this laid-back style meant for anywhere under the sun.
12. Ombre Long Box Braids
Fade gradually from dark to light with these braids featuring hand-blended color. The ombre effect creates modern depth and dimension for a striking look. Work a subtle sun-kissed highlight or go bold with vivid rainbow brights. The blended hues are eye-catching and on-trend. Show off your chic style sense with this pop of hand-painted fashion.
13. Highlighted Long Box Braids
Lift your look with tiny sun-kissed sections scattered throughout these braids. This Small Knotless Braids Wig of light creates the perfect accent. Go for a subtle natural luminosity or amp it up with stark contrast. This dimensional style works with both bold and neutral hues. Add instant luminosity and warmth to bring your whole look to life.
14. Colorful Long Box Braids
Make a seriously playful statement with vibrant, saturated braids. Rainbow brights, pastels, jewel tones, metallics - infuse braids with your color palette of choice. This is the perfect way to show off your fun and expressive fashion sense. Unleash your inner mermaid or fairy. Delight the eyes with a woven work of wearable art.
15. Twist Long Box Braids
Add contemporary texture by twisting sections of hair before braiding. The spiraled segments create unique dimension and style. Visual interest is added with each gradual twist and turn. The repetitive pattern has a cool rhythmic flow that stands out from basic braids. Show off your flair for current trends with this nuanced update on a classic.
16. Cornrow Long Box Braids
Intricately woven cornrow braids start neat and tight to the scalp before transitioning into loose flowing lengths. Similar to other cornrow braid styles, this style mixes edgy street style with elegant tresses. The stark contrast of textures adds eye-catching detail. Perfect for those wanting both sleek sophistication and urban edge. Get the best of both worlds with crisp precision that melts into relaxed elegance.
17. Triangle Part Long Box Braids
Make a geometric statement by sectioning hair into an artistic triangular part. The crisp lines lend visual impact and draw the eye upwards. Place the triangle anywhere on the crown for a look that's uniquely you. This unexpected Triangle Braids adds modern edge and high fashion appeal. It is an architecturally inspired style that made for those who appreciate the power of a great angle.
18. Heart-Shaped Long Box Braids
Sweeten up date night with braids woven into a pretty heart silhouette. Framing the face in a romantic updo, this knotless braids with heart is darling and feminine. Let your flirty, affectionate side shine through. A scalloped heart shape at the nape of the neck creates an adorable focal point. Perfect for celebrating Valentine's Day or anniversaries in chic style.
19. Bun Long Box Braids
Gather braids atop the crown into a neatly coiled topknot bun. This elegant updo keeps lengths neat and out of the way, ideal for work and formal events. The high bun elongates the neck and adds poise. For added interest, leave a few tendrils loose to frame the face. Sophisticated and practical, this look conveys put-together polish.
20. Ponytail Long Box Braids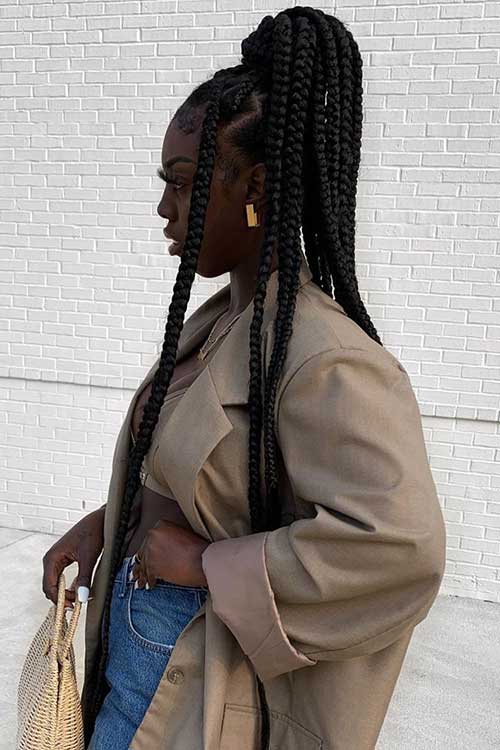 Pull braids back into a sleek high or low ponytail for a versatile style suitable for any occasion. The gathered braids create flattering fullness while keeping the look tidy. Bounce through your busy day hands-free and confident. Add a fun touch by leaving a few playful strands out to frame the face. This functional look is great for an active lifestyle.
21. Half-Up Long Box Braids
Enjoy the best of both worlds with this half-up, half-down style and pull the top section of braids into a ponytail or bun while leaving the bottom half long and loose. This perfectly balanced look is subtly alluring. Style it for any occasion by adjusting the proportions. Feel beautiful and carefree with this best-of-both mashup.
22. Tribal Long Box Braids
Channel ancient African culture with ornate accents like cowrie shells, beads, or cuffs on braid ends. This style carries deep symbolic meaning and heritage. The click of shells and glint of gold lend texture and opulent embellishment. Feel connected to tradition and ancestors as you sway to nature's rhythms. Adornments turn braids into a wearable work of art.
23. Straight-Back Long Box Braids

Simple yet striking, these braids fall in vertical columns down the back for a clean look with sleek architectural shape. Unfussy and geometric, the fluid lines have meditative appeal. Unlike medium box braids, this is deal for those wanting understated elegance without added embellishment. Let the braids' graceful drape and natural beauty command attention.
24. Beehive Long Box Braids
Get an edge of retro glam with braids stacked and swirled high upon the crown into a gravity-defying beehive. This 1960's Audrey Hepburn-inspired shape makes a bold style statement and lends striking height. Feel confident and ready for a night out on the town. Emphasize the towering silhouette with winged liner and red lips.
25. Pompadour Long Box Braids

Amp up wow-factor volume by sweeping braids dramatically up and away from the face. This retro throwback style is reminiscent of Elvis, making a seriously eye-catching statement. Flaunt your artsy flair and confidence with this edgy, gravity-defying shape that commands attention. 
26. Halo Long Box Braids
Softly encircle the head with braids curved in a circular pattern to frame the face angelically. The braids sculpt an ethereal glow around your features like a divine halo. This gracefully shaped style is understated yet impactful. Give off an aura of delicate beauty and light. Perfect for complementing special occasion makeup.
27. Headband Long Box Braids
Cinch braids horizontally around the head like a chic headband for a cute half-up style. this braids will show off your playful side with this dainty detail. Drawing attention to eyes and cheekbones, it almost resembles a crown. Dress it up by weaving in pearls or jewels. This girly accent creates instant polish.
28. Two-Toned Long Box Braids
Amp up contrast by making the top and bottom halves of braids different colors. Vivid brights on bottom give way to neutral hues up top for maximum dimension. Reverse it for subtle depth. This eye-catching color block effect is totally on-trend and it will certainly express your unique personality through cool color combos.
29. Braid Pattern Long Box Braids

Get artsy with braids styled into unique patterns like waves, bricks, checkerboards or stripes. This textured geometric design guarantees your look makes an impression. Show off your creative flair by dreaming up custom prints using braids as your medium. Make a statement with this style that treats hair as a canvas.
30. Individuals Long Box Braids
For uniform fullness, each braid is done with its own separate extension rather than braiding hair in bulk sections. The meticulous handiwork results in braids with identical shape and size from root to tip. You will get flawless cohesion and fullness worthy of a hair commercial and feel pampered and polished with this premium detail-oriented style.
31. Extra Long Box Braids
Make a seriously eye-catching statement with braids falling far below the waist. These dramatic ankle-grazing lengths add high-impact drama and presence. The exaggerated length is bold and showstopping. Just sway and hypnotize with each step in these opulent waist-length braids meant for stealing the spotlight.
32. Half-Braided Long Box Braids
The half-braided style seamlessly merges textures for a hybrid look. Occupying solely the bottom half, intimately woven braids elongate the locks down below. Meanwhile, the top remains freely fabulous in untouched natural curls. This versatile combination plays up beautiful ringlets above while adding sleek drape at the shoulders.
The striking yet relaxed mash-up lets versatility shine through with effortless élan. Flaunting dual personalities in one sitting, the blended do lets both impromptu curl and intentional braid charm in perfect balance. With the top half left to wave and bounce as it may, and the bottom tightly twirled yet flowing, it's a carefree blend that accentuates innate features through clever contrast.
33. Curtain Long Box Braids
Make a dramatic entrance with lengthy braids styled to dramatically sweep across the forehead like curtains. Drawing focus to eyes and cheekbones, this sultry framing effect is super glam. Part braids slickly and style them to cascade past the temples. With this hairstyle, you will feel like a diva ready for her close-up in the spotlight.
34. Diagonal Long Box Braids
Rather than straight back, these braids fall at an angle for added dimension. Work a subtle diagonal or go boldly slanted from one side to the other. The eye-catching asymmetrical shape brings artsy edge and high fashion appeal. Also, you can make them crossover for a chic crisscross effect.
35. Spiral Long Box Braids
Work springy coils into each braid for playful, whimsical bounce. The spiral curls create a joyful, almost cartoonish effect. As you walk, these energetic braids will bring your fun and flirty side to life. Bask in the sunshine and spread smiles with this lively style!
36. Fishtail Long Box Braids

Get intricate with the gorgeous fishtail technique. Two sections get woven into each other in a dynamic chevron pattern. The tactile braiding reveals subtle peaks and valleys for visual interest and depth. Enjoy hypnotizing movement with the dimensional zigzag design.
37. Waterfall Long Box Braids
The waterfall braid style cascades with lengths that gradually increase from top to bottom. Creating a fluid waterfall effect, braids start relatively short atop the head before lengthening in a relaxing movement. The incremental elongation towards the nape mimics flowing water in its peaceful flow. With lengths slowly rising toward the ends, the style relaxes the eyes in a way reminiscent of cascading water.
38. Yarn Long Box Braids
Make an ultra-colorful statement by braiding in vibrant yarn rather than hair extensions. From neon brights to rainbow sherbet pastels, the options are endless. This whimsical style with artsy flair works beautifully for festivals and summer events. Stand out with this fun and creative way to accessorize.
39. Cuff Long Box Braids
Add high-impact metallic cuffs to the ends of braids for some serious wrist-flicking flair. Whether sleek and futuristic or bejeweled and ornate, these glam accents reflect light hypnotically. Not only will this stack multiple cuffs up the length for disco-ready impact, but it will also dorn your braids with enchanting culminations.
40. Extensions Long Box Braids
Weave in supple hair extensions to create longer, fuller braids that won't stress your natural hair. Enjoy length and volume while giving your own strands a break to grow. Protective and practical, extensions open up creative styling possibilities. Get intricate designs or cascading lengths with this infinitely versatile base.
Some tips for protecting long box braid hairstyles
1. Moisturize the scalp and braids regularly with an oil. Look for lightweight oils like coconut, argan or jojoba oil to keep braids from drying out.
2. Gently wash the scalp under running water whenever it feels dirty, without fully wetting the braids. Avoid over-washing which can cause breakage.
3. Be gentle when styling braids. Avoid excessive combing, pulling or brushing which can damage the hair extensions.
4. Use a satin bonnet or scarf to cover braids while sleeping. This reduces friction and breakage caused by pillows or hair rubbing together at night.
5. Protect braids from direct sun exposure by wearing a hat. UV rays can dry out the hair and extensions over time.
6. Avoid excessive chemicals, dyes or heating tools on braids as these can weaken the hair bundle.
7. Tie braids up for vigorous exercise instead of letting them swing free where they may snag or rub against clothing.
8. To preserve length, don't constantly retighten the braids as this damages new growth hair at the scalp.
9. Refresh styles regularly by rebraiding loose strands back into the pattern for a clean, maintained look.
10. Be gentle when undoing braids, using conditioner or oil to detangle without excess tugging or breakage.
Conclusion
To sum it up, long box braids have evolved into a true canvas for creative expression and bold style statements. It can be styled in many different ways and are perfect for different situations and personal preferences and you could know more about hairstyles in medium box braids. What began as simple protective styles has now blossomed into an intricate art form with endless possibilities for personalization. Variations in size, color placement, texture and styling allow unique self-expression through braids that represent each individual personality.
As we have looked at 40 different styles in this guide that show how versatile and beautiful small knotless braids can be, you can choose a style that matches your own unique taste and personality, whether you like traditional looks, colorful styles, or something completely different. If you want know more about it, you could also check it in box braids.
Here in FANCIVIVI, a brand that creates braided wigs for black women, you will be provided a wide selection of high-quality braided wigs made from synthetic fiber designed to protect natural hair from damage. All of FANCIVIVI's braided wigs feature customizable full lace caps for a comfortable and natural fit. Our meticulously crafted braids come in various styles, colors and textures to suit diverse tastes and allow self-expression and we also offers you various pop smoke braids as you wish.
We aim to empower women through beautifully made braided wigs that save time while also nourishing hair growth underneath. Our products provide a convenient protective styling solution for both casual and special occasions. You can check out our collection of braided wigs made especially for black women who want to look stylish and feel comfortable. These wigs are easy to put on and take off. So, let your imagination run wild and have fun trying out different styles with our small box braids. Get ready to show off your braids and catch people's attention wherever you go!