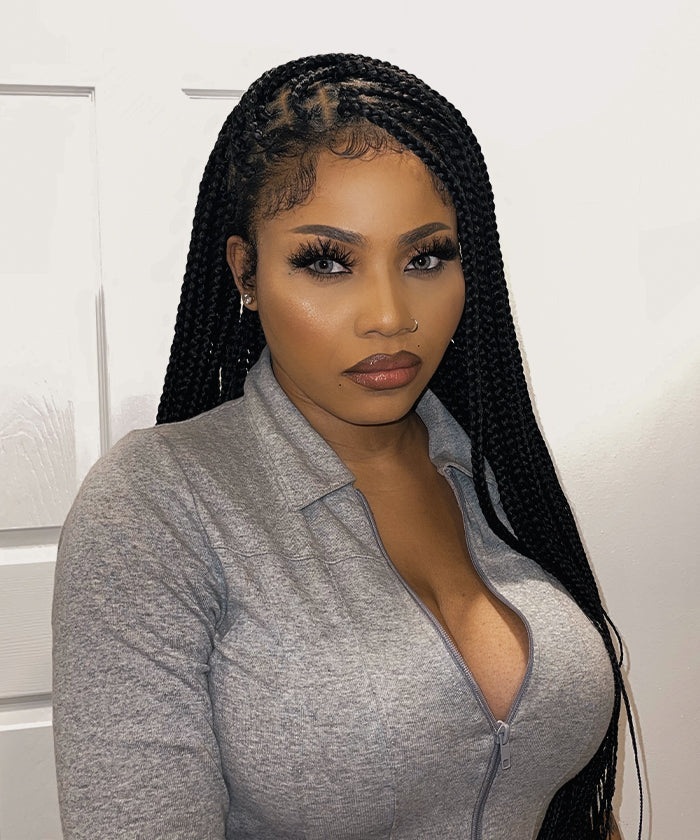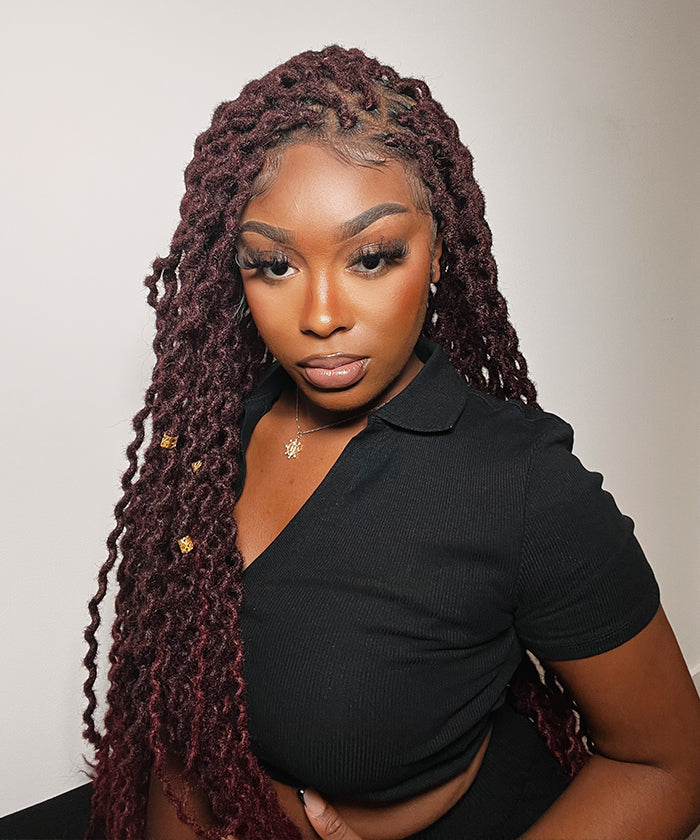 FANCIVIVI's Knotless Braids Wig Collection: The Ultimate Solution for Effortless Style
Welcome to FANCIVIVI's exclusive Knotless Braids wig collection, where we have meticulously crafted a stunning range of high-quality braided wigs designed to elevate your style game with ease. Our Knotless Braids collection perfectly balances elegance, comfort, and convenience – all wrapped up in a beautifully handcrafted wig.
At FANCIVIVI, we understand that your hair is an integral part of your identity, and how you wear it can make a powerful statement. That's why we've dedicated ourselves to creating a line of Knotless Braids wigs that look and feel natural and provide a hassle-free way to switch up your look whenever you desire.
Each wig in our Knotless Braids collection is made using the highest quality materials and expert techniques, ensuring you get a comfortable, long-lasting, and easy-to-maintain hairpiece. With FANCIVIVI's Knotless Braids, you can now achieve the intricate, stylish braids you've always wanted without the time-consuming and potentially damaging process of traditional braiding.
So why wait? Discover the magic of FANCIVIVI's Knotless Braids Styles today and experience the ultimate in effortless, versatile style.
About Knotless Braids
Explore our amazing collection of knotless braids and embrace a stylish, chic hairstyle that will boost your confidence and enhance your appearance. Our selection of knotless braids is perfect for those who want to try something new and make a statement with their hair. Get ready to turn heads with your fabulous new look!

Whether you're a fan of hip, trendy hairstyles or simply want a low-maintenance solution for busy days, knotless braids are the answer to your hair dreams. Suitable for a wide range of occasions, from casual outings to formal events, these braids will quickly become your go-to hairstyle. Dive into our extensive range of knotless braids and find the perfect style to match your personality and preferences.

Our collection of knotless braids offers a wide range of styles to suit every taste, from classic and timeless looks to bold and daring designs. Here are a few of our most popular knotless braid styles:

●Small Square Box Braided Wig:Get a classic and sophisticated look with our small square box braided wig. Made with premium Japanese synthetic fiber, this braided wig is clean, neat, and tight, with a soft texture that feels comfortable to wear. At 36 inches long, it is lightweight and easy to style. The full hand-tied lace construction features skin melt and a natural scalp with baby hair, giving you a seamless and realistic hairline. Whether you wear it in a half-up, half-down style or an updo, this braided wig is perfect for any occasion.

●Large Knotless Braids:Make a statement with our large knotless braids. The cornrows braided wig features a pre-plucked hairline for a smoother fit and a full double lace construction that assures softness and comfort when wearing. The large lace area provides ample coverage, while the baby hair creates a seamless transition. The large square box braided design is a classic look that never goes out of style, and its versatility allows for a variety of styling options.

●Medium Triangle Knotless Braids Twist:Get a stylish and elegant look with our medium triangle knotless braids twist. The curly wavy cornrow twist braids design is perfect for those who want a unique and trendy style. The full double lace construction features a large lace area, ensuring softness and comfort when wearing. The natural baby hair creates a seamless transition, and the intricate pattern of the braids gives it a touch of sophistication.

●Criss Cross Braids:Stand out with our criss cross knotless braids. The classic criss knotless design features box braids that are tightly and neatly done, giving you a clean and polished look. The full double lace construction assures softness and comfort when wearing, and the natural baby hair creates a seamless transition. This braided wig is new and trending, making it a perfect choice for those who want to stay on top of the latest fashion trends.

●Medium Square Knotless Locs:Experience a new tactile and visual sensation with our boho curly braided wig. Designed by professional hair stylists, this braided wig features medium square knotless locs that are curly and wavy, giving you a bohemian-inspired look. The full double lace construction assures softness and comfort when wearing, and the natural baby hair creates a seamless transition. Whether you're going for a casual or formal look, this braided wig is perfect for any occasion.

Choose from our collection of knotless braids and find the perfect style that suits your taste. From classic and timeless looks to trendy and bold designs, our braided wigs are made with high-quality materials and expert craftsmanship to ensure that you get a product that is durable, comfortable, and stylish.

Our knotless braids offer several unique features that make them stand out from the crowd. Here are some of the key benefits you'll enjoy when you choose our knotless braids:

●Adjustable Wig Cap: Our knotless braids come with an adjustable wig cap, ensuring a comfortable and secure fit for all head sizes. This stable construction guarantees that your braids will stay in place and look fantastic all day long.

●Variety of styles and lengths available: Knotless braids come in a variety of styles and lengths, from short bob to long and flowy. This variety allows you to choose a style that suits your preference and complements your facial features.

●Natural baby hair for a seamless look: Knotless braids come with natural baby hair around the hairline, creating a seamless look that blends with your natural hair. This feature also makes the braids look more natural and less like a wig.

●High-quality synthetic fiber: The braiding hair used for knotless braids is made of high-quality synthetic fiber that mimics the texture and look of natural hair. The fiber is durable, lightweight, and easy to maintain.

●Save Time and Cost: With our knotless braids, you can achieve a stunning braided look in just 15 minutes. Say goodbye to the hours spent in the salon chair and the hefty price tag that comes with it. Our braids are a cost-effective and time-saving solution that will have you looking fabulous in no time.

●Fast Delivery: We understand that you're excited to try your new knotless braids, which is why we offer fast delivery to our customers. For those in the USA, you can expect your braids to arrive in just 3-5 days. For our EU customers, your braids will be delivered within 7-12 days.

To achieve a stunning and natural-looking hairstyle with knotless braids, follow these easy steps:

●Prep your hair and scalp by washing and conditioning it. Apply leave-in conditioner to protect it from potential damage from the braids.

●Fit the wig cap over your head, and secure it with bobby pins.

●Install the braids by starting from the nape of your neck. Use small sections of hair and braiding hair, and braid them together until you reach the desired length.

●Style the braids in various ways to achieve your desired look. You can wear them in a ponytail, bun, or half-up, half-down style. Use a hair pick to fluff out the braids for added volume.

●Remember to take your time and be patient, especially if you're new to installing braids. With practice, you'll become an expert in no time!

Caring for Your Knotless Braids

To ensure that your knotless braids stay looking fabulous and maintain their quality, it's essential to follow the proper care and maintenance guidelines. Here are some tips to help you care for your braids:

●Keep your braids clean by gently rinsing them with water and using a leave-in conditioner. Be sure to rinse thoroughly and allow your braids to air dry. It's important to avoid using regular shampoo on your wig as it can damage the fibers and shorten the lifespan of your wig.

●Avoid excessive heat styling, as this can cause damage to both your natural hair and the braids. Instead, opt for heatless styling methods, such as rollers or flexi-rods.

●To maintain the freshness of your braids, consider using a braid spray or hair refresher. These products can help to keep your braids smelling fresh and looking clean between washes.

●When it's time to remove your braids, be sure to take your time and use a gentle touch. Avoid pulling or tugging on your natural hair, as this can cause damage and breakage.

At our online store, we offer a wide selection of knotless braids in various styles and lengths to suit your preference and facial features. Our braids are made of high-quality synthetic fiber that looks and feels like natural hair, so you can enjoy a beautiful and natural-looking hairstyle without the need for expensive and time-consuming salon visits.

Our adjustable wig cap ensures a comfortable and secure fit, and our double lace construction allows your scalp to breathe, reducing the risk of irritation or discomfort. With our time-saving installation process and fast delivery, you can have your new knotless braids delivered right to your door in no time.

So why wait any longer? Embrace the beauty of knotless braids today and transform your look with ease. Browse our amazing selection and find the perfect style for you. With our affordable prices and excellent customer service, you can trust us to provide you with the best possible knotless braids experience. Start your journey to a fabulous new look today!