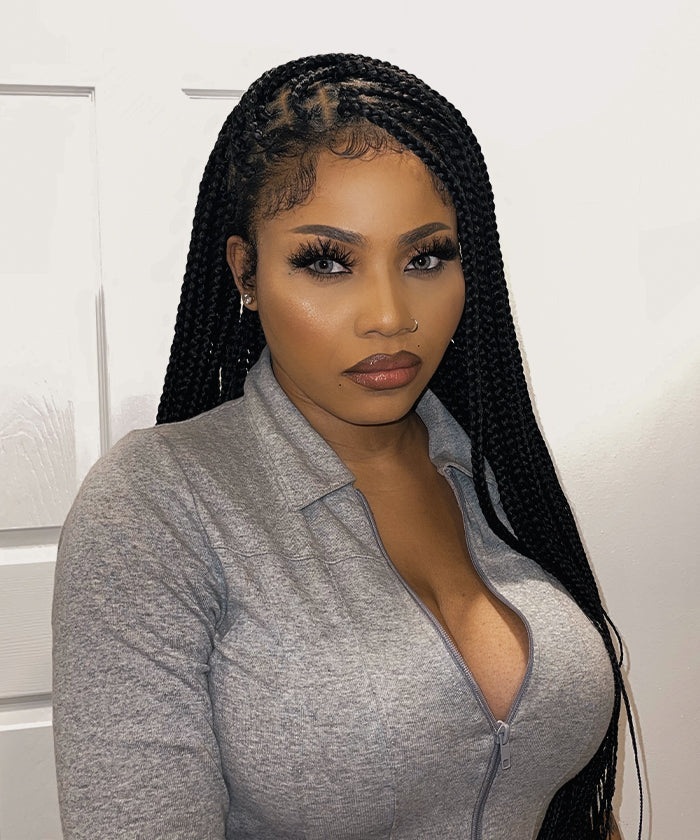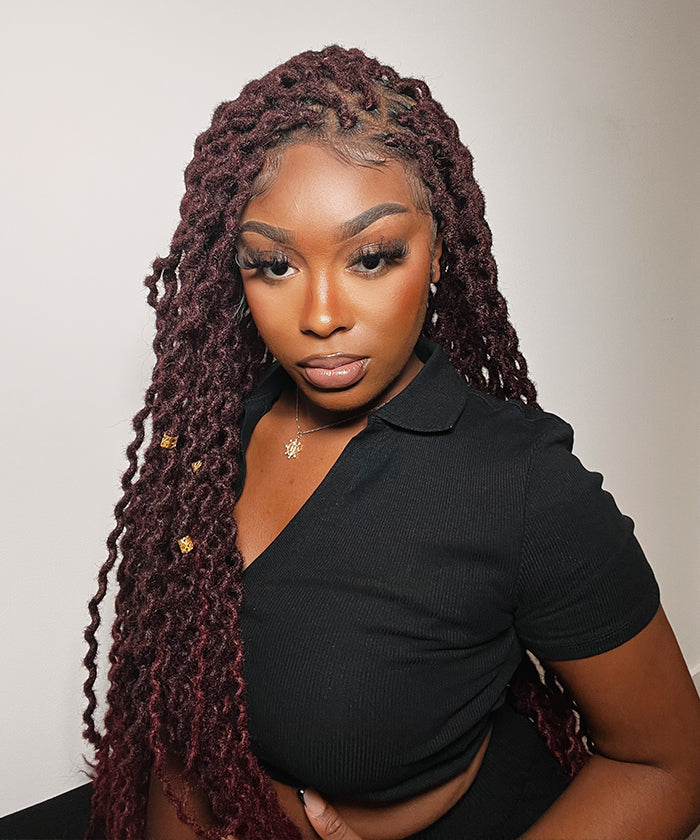 Discover the remarkable selection of braided wigs meticulously designed to accommodate the various fashion requirements of modern women. These premium-quality, realistic wigs provide a flexible, easy-care option for effortlessly achieving beautifully braided hairdos. Offered in different textures, lengths, and hues, our braided wigs encourage you to express your unique personality and exude confidence.
Delve into the realm of braided wigs and witness the transformative impact they have while making a stylish and daring fashion declaration.
FANCIVIVI's braided wigs cater to your unique style preferences, offering various textures, lengths, and colors. Discover the transformative power of our easy-to-wear, low-maintenance wigs for black women, and embrace your inner FANCIVIVI goddess today. Experience the convenience and confidence of gorgeous sporting braids with FANCIVIVI's exceptional braided wigs, designed with you in mind.
About Wigs for Black Women
Black women have a unique and storied relationship with their hair, a relationship that often includes the use of wigs. Wigs serve as a protective measure, allow for versatility in styling, and are a significant aesthetic element in the fashion industry. Among the many brands that cater to this need, FANCIVIVI stands out due to its high-quality materials, meticulous attention to detail, and a vast range of styles and colors.
A. Historical context of wigs in black culture

The use of wigs in black culture has a long and rich history dating back to ancient Africa, where hair was considered a symbol of one's identity, status, and social standing. Wigs provided a means to preserve and showcase this identity, even in the face of changing social and environmental conditions. The significance of wigs has transcended through time and remains relevant in today's black culture.

B. Contemporary reasons why black women wear wigs

1. Protection of natural hair
Wigs serve as a protective measure for natural hair by reducing the exposure to potentially damaging elements such as heat, chemicals, and harsh weather conditions. This is especially important for black women, whose hair has unique texture and needs.

2. Versatility in styling
Wigs offer an incredible range of styling options without the commitment or potential damage associated with permanent changes. They enable black women to switch up their look according to their mood, event, or fashion statement.

3. Fashion and aesthetics
In the realm of fashion and aesthetics, wigs allow black women to express their personal style, creativity, and individuality. Wigs of different styles, lengths, and colors provide an avenue for self-expression and play a pivotal role in the beauty and fashion industry.

A. Quality of materials used in production
FANCIVIVI distinguishes itself through its use of high-quality materials in the production of its wigs. Whether synthetic or human hair, each wig is crafted from premium hair strands, ensuring a natural look and feel.

B. Attention to detail in braiding and styling
Each FANCIVIVI wig is a testament to the artistry of expert craftspersons. The attention to detail in the braiding and styling process results in wigs that not only look natural but also accurately represent the diversity of black hair textures and styles.

C. Range of styles and colors available
FANCIVIVI offers a vast range of styles and colors, catering to the diverse needs and preferences of black women. From natural afros to sleek straight styles, and from jet black to vibrant colors, there is something for everyone.

D. Customization options for a perfect fit
FANCIVIVI goes a step beyond by offering customization options. This ensures that each wig fits perfectly and suits the unique needs and aesthetic preferences of each customer, enhancing their overall wig-wearing experience.

A. Washing and conditioning
FANCIVIVI wigs, like any high-quality hair products, require proper care for longevity. This includes regular washing and conditioning using suitable products to maintain the wig's health and vibrancy.

B. Storage and styling tips
Proper storage is essential to maintain the shape and style of the wig. Always store your FANCIVIVI wig on a wig stand and avoid excessive heat. Also, use the right styling tools and products to keep the wig looking its best.

C. Recommendations for longevity and durability
With the right care, a FANCIVIVI wig can last for a lengthy period. Regular maintenance, gentle handling, and appropriate storage methods are key to ensuring your wig's longevity and durability.

A. Positive feedback from satisfied customers
FANCIVIVI's dedication to quality and variety has earned it positive reviews from satisfied customers. Many have commended the brand for its high-quality wigs that offer a natural look and comfortable fit.

B. Examples of how FANCIVIVI wigs have transformed the look and confidence of black women
Numerous testimonials illustrate how FANCIVIVI wigs have not only transformed the look of black women but also boosted their confidence. The ability to change hairstyles while protecting their natural hair has empowered many women to express their individuality and style fearlessly.

The importance of wigs for black women cannot be overstated. They serve as a protective measure, provide versatility in styling, and are a significant element in fashion and aesthetics. FANCIVIVI, with its high-quality materials, meticulous attention to detail, and a vast range of styles and colors, is making notable contributions to the black hair care industry. The brand's commitment to meeting the unique needs of black women while empowering them to express their individuality is truly commendable. In conclusion, FANCIVIVI is more than just a wig brand; it's a celebration of black hair, black beauty, and black culture.