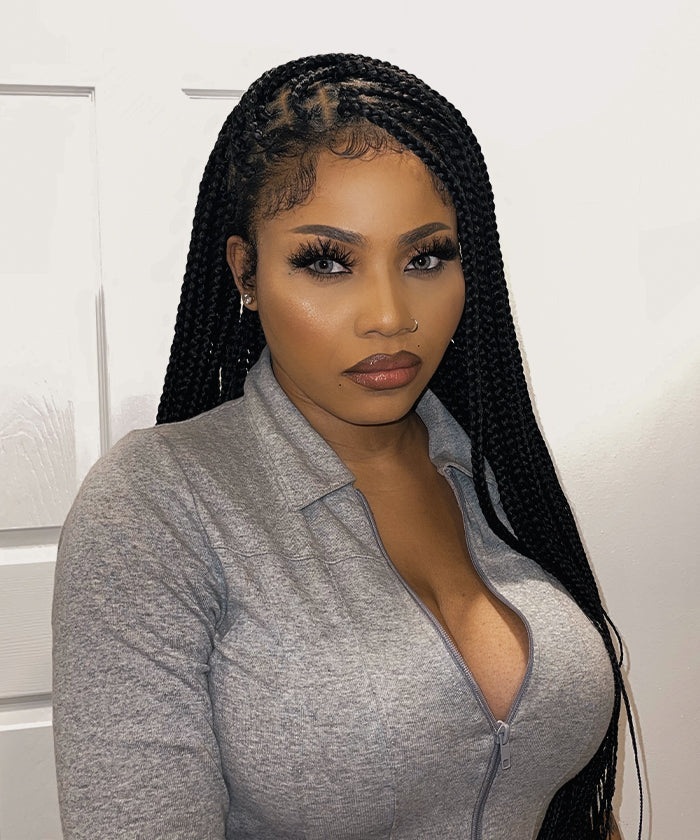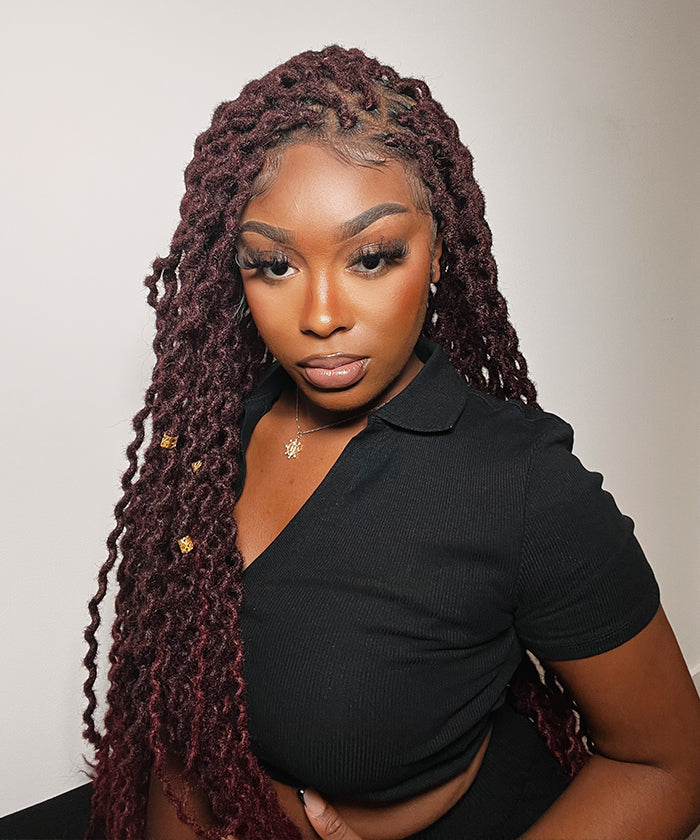 FANCIVIVI's
full lace

synthetic wig
collection is designed to give you a perfect look with unbeatable quality, affordability,
 and a natural-looking hairline with full coverage. FANCIVIVI is committed to providing our customers with the best full lace braided wigs.
Our braid full lace wigs are expertly handmade with precision and care to allow you to wear your hair in any style you desire.
Shop our collection today and find the perfect braid full lace wig for your style and personality.

About Full Lace Wigs
When it comes to choosing the right wig, black women have a variety of options. One common dilemma is whether to opt for a full lace or front lace wig. We'll explore the differences between these two types of wigs, discuss their pros and cons, and help you decide which one is right for you.

Full Lace vs Front Lace: What's the Difference?

**Full lace wigs** cover the entire head, with lace material forming the base. This allows for a natural-looking hairline and versatile styling options, such as wearing the wig in a ponytail or parting it in multiple ways.
**Front lace wigs**, on the other hand, feature lace material only at the front of the wig. They typically have a more defined parting and less versatility in styling.

**Pros:**

1. **Natural appearance:** Full lace wigs offer a realistic hairline and the ability to part the hair in multiple ways, creating a more natural look.
2. **Versatility:** With a full lace wig, you can style your hair in various ways, including updos and ponytails.
3. **Comfort:** Full lace wigs are lightweight and breathable, providing enhanced comfort for everyday wear.

**Cons:**

1. **Price:** Full lace wigs can be more expensive than front lace wigs due to the amount of lace used and the time required to create them.
Why Are Full Lace Wigs So Expensive?

Full lace wigs are more expensive because they are handcrafted, utilizing a more extended and labor-intensive process. Additionally, the amount of lace material used and the premium fibers, such as FANCIVIVI's Japanese synthetic fibers, contribute to the higher price point.
In conclusion, full lace wigs offer several advantages, including a natural appearance, versatility, and comfort, making them an excellent option for black women seeking high-quality wigs. Brands like FANCIVIVI specialize in full lace braided wigs crafted from top-grade Japanese synthetic fibers, ensuring a stunning and realistic look for everyday wear.

2. **Installation:** Installing a full lace wig can be more time-consuming.

Full lace wigs are often considered the best option for those seeking a natural appearance and styling versatility. Brands like FANCIVIVI specialize in high-quality full lace braided wigs that provide a stunning, realistic look.
To install a full lace wig, you'll need the following items:

1. Wig cap
2. Scalp protector
3. Adhesive (glue or tape)
4. Scissors
5. Tweezers
6. Comb

A full lace wig can be worn for up to six weeks, depending on the adhesive used and how well it's maintained. However, it's essential to give your scalp and natural hair a break between installations to ensure healthy hair growth.

Can You Wear a Full Lace Wig Everyday?

Full lace wigs are comfortable and breathable, making them suitable for everyday wear. However, it's essential to regularly maintain your wig to ensure it stays in good condition and to give your natural hair a break between installations.
## What's the Difference Between Full Lace and Whole Lace Wigs?

Full lace wigs and whole lace wigs are often used interchangeably, as both types feature lace material covering the entire base of the wig. However, some whole lace wigs may have additional lace areas for added styling versatility.

## What Is the Difference Between a Full Lace Wig and a 360 Frontal?

A full lace wig covers the entire head, while a 360 frontal only covers the front and sides of the head, with an open wefted area at the crown. This makes 360 frontals less versatile in styling but often more affordable than full lace wigs.

Yes, you can wear a full lace wig in a ponytail, as they offer the versatility to style your hair in various ways. This is one of the primary advantages of choosing a full lace wig from a reputable brand like FANCIVIVI.