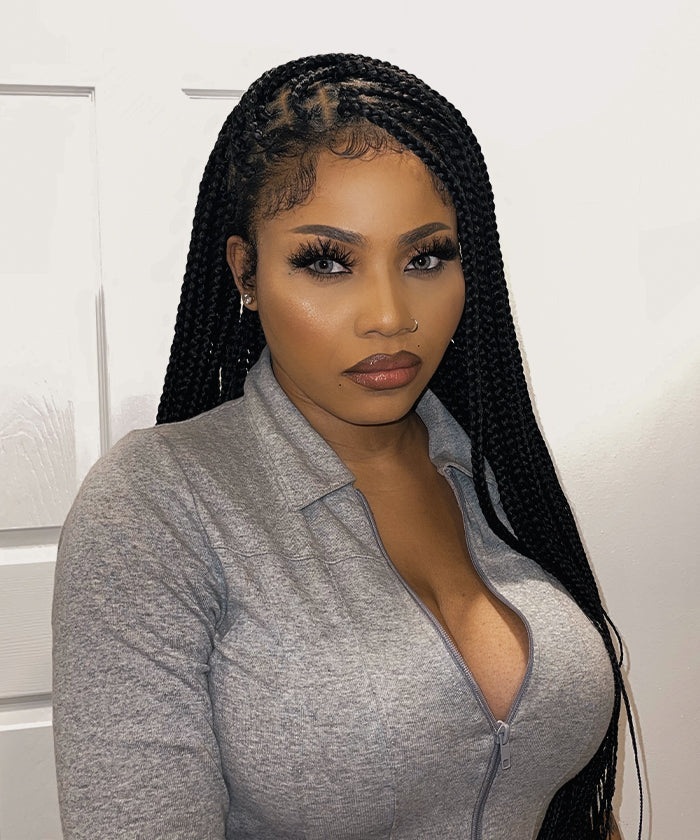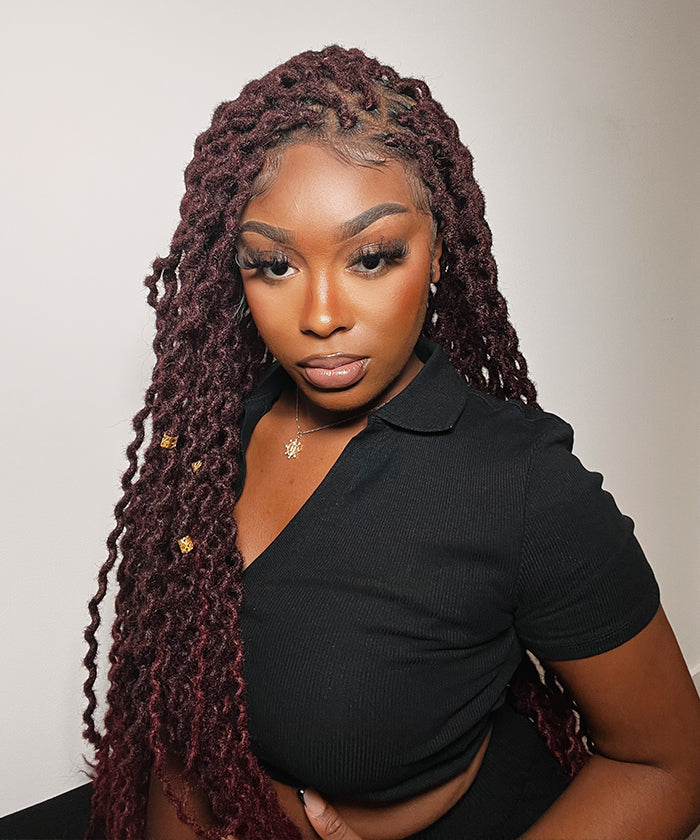 At FANCIVIVI, we believe in the transformative power of a great hairpiece. That's why we've invested in sustainable materials and devoted craftsmanship to create pieces that last, offering accessible luxury braided wigs that make you feel exquisite and look fantastic. With our
Small Knotless Braids
Collection, you, too can effortlessly channel your inner grace and make an unapologetic statement wherever you go.
It's time to reveal yourself to the world with the strength, grace, and versatility of FANCIVIVI
Small Knotless Braids Hairstyles
. Embrace the aura of beauty that our meticulously braided wigs bring, and redefine your personal style statement with FANCIVIVI!
About Small Knotless Braids
Check out our extensive range of small knotless braids and you're sure to find a brand new protective hairstyle that you'll love. This selection of small knotless braids is perfect for anyone in search of a low-maintenance yet stylish hairdo. A brand new braided hairstyle could lead to a whole new look for you. Trust us when we say that our small knotless braids could totally change the way you look and style yourself! Each set of braids in our range of small knotless braids is perfect for anyone looking for a protective hairstyle that won't put too much tension on their scalp. The smaller size of these braids means that they're less likely to cause tangling and breakage, making them a great choice for anyone looking to grow out their hair. If you're in search of a subtle and natural look, then make sure to browse all of our small knotless braids. We have a variety of natural hair colors available, as well as some fun and vibrant options for those looking to make a statement.

We offer a variety of ombre colors, including bo ombre pink, bo ombre dark blue, bo ombre honey blonde, bo black, bo ombre dark green, bo ombre burgundy red, bo ombre brown, bo ombre dark blue, and pastel sky blue if you want something more dramatic. These hairstyles are ideal for anyone wishing to stand out with their hair since they offer a bold look and a flash of color.

If you're looking for small knotless braids, then look no further! We have an expansive collection of braids which include plenty of different styles and colors. If you're looking for a low-maintenance and protective hairstyle, then knotless braids are the perfect option for you.

These braids are becoming a hugely popular option with plenty of celebrities and stars choosing to rock this style. Inspiring plenty of trends and new fashions, we're glad to now offer our customers the chance to enjoy a brand new braided look! As well as plenty of vibrant and exciting styles, if you're looking for a completely natural look, many of our small knotless braids come in subtle shades and simplistic designs. Check out our most popular natural small knotless braids:

●36" Double Full Lace Over Hips Small Square Knotless Box Braids Wig—it is manufactured with a full double lace for a big lace area that ensures the softness and comfort of wearing. It has a knotless box braids design that is both fashionable and traditional.Additionally, this wig has genuine baby hair that transitions seamlessly, giving you a more authentic and natural appearance. You'll also save time and money with this wig because you can achieve a flawless braided look in under 15 minutes.

●Hip-Length 36" Double Full Lace Knotless Braids with Curls—A unique and trendy style is the FANCIVIVI Small Box Square Box Braided Wig. This wig has a fashionable, realistic wavy curls pattern that appears lovely and natural. It also has a soft, pastel color that is sure to catch eyes. The tail of boho curly hair on this wig is one of its distinctive features; it gives the traditional braided wig style a fresh, contemporary spin. Because of this, you can stand out from the crowd and flaunt your individual attractiveness in public.

●Butterfly Braids 36" Double Full Lace Small Square Knotless Box Braided Wig—A unique and trending hairstyle designed by professional hairstylists, perfect for the summer season. This wig features knotless large square braids that can be parted and styled to your liking, providing you with the versatility you need to create your desired look. You may have a natural and genuine look with this wig thanks to the natural baby hair that offers a seamless transition. You'll also save time and money with this wig because you can achieve a flawless braided look in under 15 minutes. The enormous triangle box braided design of this wig, with its individual tight and well-done locs braids, is one of its distinctive features. This gives the traditional braided wig design a fresh, current touch that lets you flaunt your individuality and beauty.

One of the other many great factors in our small knotless braids range is its versatility. Small knotless braids hairstyle can be worn for many different occasions. Here are some ideas:

●Attending a wedding

●Going to a music festival

●Going on vacation

These braids can be styled to suit your needs. Here are some styling suggestions that these braids would be perfect for:

●Half-Up Half-Down: To achieve this look, gather the top section of your braids and secure them with a hair tie or clip. You can choose to leave the rest of your braids down or style them in loose waves or curls.

●High Ponytail: Gather all of your braids into a high ponytail at the crown of your head. Smooth out any bumps or flyaways with a brush or comb, and wrap a small section of hair around the hair tie to conceal it. Secure with bobby pins.

●Side Braid: Gather your braids to one side and begin braiding them into a fishtail or Dutch braid. Keep the braid loose and messy for a bohemian look. Secure the end with a hair tie or clip.

●Top Knot: Gather all of your braids into a high ponytail at the crown of your head. Twist the ponytail into a bun and secure with bobby pins. Leave a few braids loose to frame your face.

To take your small knotless braids to the next level, you can also accessorize with headbands, hair clips, hair jewelry, or scarves. Headbands add a pop of color or pattern to your hairstyle, while hair clips can add a touch of sparkle or shine. Hair jewelry, such as hair cuffs or rings, can give your braids a bohemian or edgy look, and scarves can be tied around your head or braids for a colorful and playful look. With these styling suggestions and accessory options, you can create a unique and personalized look for any occasion.


Proper maintenance and cleaning are important for keeping your small knotless braids looking great for weeks. Here are some tips on how to care for and clean your braids:

1.Use a wig spray: A wig spray can help keep your braids looking fresh and clean. Spray a light mist over your braids and use a soft brush or your fingers to distribute the product evenly.

2.Wash the wig in lukewarm water: Never wash wigs in hot water, this will cause the braids to split, because most braided wigs are synthetic and they have very limited heat resistance, so never wash wigs in hot water.

3.Condition your braids: After washing, apply a leave-in conditioner or a light oil to your braids to keep them moisturized and prevent tangling. Be sure to avoid applying too much product, as this can weigh down your braids and make them look greasy.

4.Dry your braids thoroughly: After washing, gently squeeze out the excess water from your braids and pat them dry with a towel. Avoid rubbing or twisting your braids, as this can cause them to tangle. Allow your braids to air dry completely before styling.


Our FANCIVIVI full lace braided wigs are not only high-quality, but also affordable for those who are looking for a budget-friendly option for their hair styling needs. Crafted from premium Japanese synthetic fibers, all the wigs offer longevity with proper maintenance and can last up to two years when taken care of properly.

To maintain the quality of your wig, we recommend using sulfate-free shampoo and conditioner when washing to avoid damaging the synthetic fibers. Avoid using curling irons, flat irons, and other perm tools that could damage the fibers as well. By following these easy guidelines, you can extend the lifespan of your braided wig and continue to enjoy it for an extended period.

Our small knotless braids are perfect for those who want a low-maintenance and protective hairstyle that is easy to maintain. With a variety of styles and colors to choose from, you can find the perfect braided wig to suit your needs. And with fast delivery times and affordable prices, you can enjoy a high-quality braided wig without breaking the bank.

Not only do we offer great small knotless braids at affordable prices, but we have plenty of knowledge and know-how when it comes to your hair. With everything from purchasing, styling, use, and aftercare in mind, you'll have all the knowledge you need when it comes to the time to order small knotless braids.

Small knotless braids are a great option for anyone looking for a low-maintenance yet stylish protective hairstyle. These braids are perfect for anyone looking to protect their natural hair while still looking great. And with our competitive and speedy shipping prices available for all US & EU customers, your braids will arrive to you within the blink of an eye! Perfect if you're shopping for a last-minute hairstyle or just want to switch up your look.