Introduction
Jumbo box braids are a gorgeous protective style for natural hair that allow you to switch up your look while keeping maintenance minimal. However, waking up to style waist-length braids before work or school can feel daunting when you're rushed for time. The key is choosing quick and cute hairstyles that elevate your jumbo box braids in just 10 minutes or less. With a bit of practice, you'll have an elegant jumbo box braids hairstyle in a flash even on your busiest mornings.
Start with Freshly Washed Braids
To begin with, you should have your jumbo box braids freshly washed and conditioned to make styling infinitely easier. Build-up from oils and products can cause frizzing and make braids harder to manipulate and you should get in the habit of setting aside time on your off days to properly cleanse braids. Cause styling on busy mornings will be a breeze, you had better separate and detangle Knotless Braids after washing and allow them to fully air dry before bed so they are smooth and prepped for styling the next morning.
The Sleek High Bun
One of the easiest protective hairstyles for jumbo box braids is a classic high bun. Part your hair down the center from forehead to nape, then gather braids into a ponytail atop your crown secured with a snug elastic. Twist the length of the ponytail until it coils into a bun shape and pin it in place with bobby pins criss-crossing over the bun. For extra sleekness, apply gel to your edges and use a toothbrush to smooth any flyaways on the perimeter of your hairline. The result is a polished updo that works for both professional and casual settings.
Faux Hawk Braided Bun
Give your high bun an edge by creating a faux hawk effect. To start with, part your hair in a deep side part and gather one side into a ponytail while leaving the other side out. Next, split the ponytail in half from end to root and pin both sections in a bun, one over the other. Then, fan and swoop the hair left out over the bunned sections to create the faux hawk look. Finally, finish with hairspray for hold. This edgy yet elegant style works perfectly for a night out after a long work day.
The Top Knot Bun
For a casual take on the bun that's perfect for weekends or running errands, try a top knot bun. Gather all your braids into a very high ponytail at the crown of your head, leaving ends loose. Then wrap the ponytail into a messy knot and pin in place. Pull out pieces around the hairline to create a softly undone look. Top knot braided buns pair perfectly with casual outfits like oversized sweaters and leggings.
Quick and Easy Braided Chignon
Chignons are elegant twisted buns that look beautiful with jumbo box braids. Brush braids smoothly, then gather into a low ponytail at the nape of your neck. Twist the length of the ponytail as you wrap it into a low messy bun. Finish by pancaking the bun and pulling out pieces for dimension. Mist with hairspray and add pretty accessories like cuffs and jeweled pins to dress up the look. Chignons add gorgeous detailing and work for both day and night events.
The Fancy Low Bun
Sometimes keeping it simple is best. A basic low bun takes just minutes but looks neatly put together. Brush braids back and split into three equal sections. Braid each section straight back into a simple braid, then gather all into a low bun. For a touch of sophistication, wrap the bun in a silk or satin scarf, tying it in the front or off to one side. Like a knotless braid wig, the low-key yet elegant style is great for workdays when you need a fuss-free hairdo.
Half-Up Styles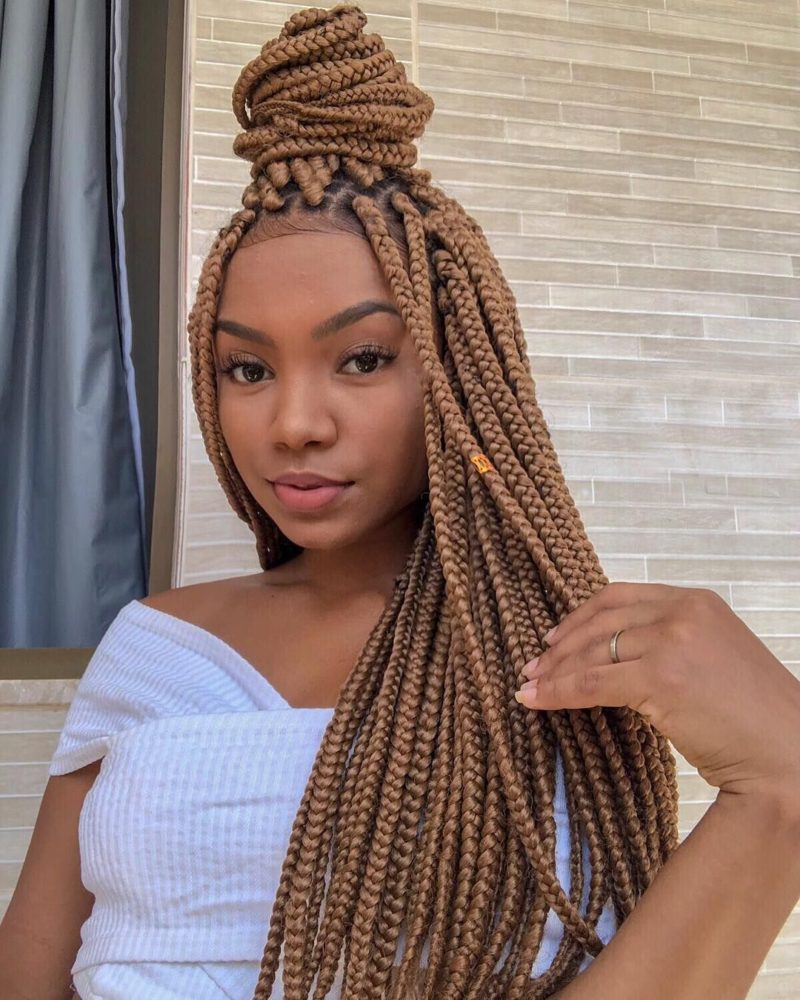 Half-up styles are perfect for busy mornings because they keep hair out of your face without much effort. And they are endlessly versatile for both casual and formal occasions. Try a basic half updo by parting hair down the middle and pulling the top half into a ponytail or bun, leaving the bottom half loose. Or go for a stylish half-up fishtail braid. Separate the top third of hair and split it into two. Then cross and weave small pieces to create the fishtail braid. Finish by securing ends with a cute clip or jeweled accessory.
The Faux Bob
Shorten the look of your long jumbo box braids in minutes by creating a faux bob. Part your hair deeply off center, then gather one side into a low ponytail and secure it with an elastic. Let the other side fall loose to imitate a chin or shoulder-length blunt bob cut. Use bobby pins to tack the ponytail flat against your head so it's hidden from view. Finish with holding spray for a sleek polished finish. Your faux bob offers versatility to switch up your style without cutting your braids.
Half-Down Style
Half-down styles are uber quick and cute for dressing up your long box braids in an instant. Part hair into two equal sections, leaving the bottom layer out while pulling the top layer into a ponytail. For added visual interest, create two smaller ponytails rather than one large one. Or tie the top section in a fun knotless braid wig style like a fishtail or rope braid before securing the ends. Half-down styles work beautifully on knotless box braids of any length and lend an elegant touch.
The Sleek Ponytail
You can never go wrong with a super sleek low ponytail. Use a fine-tooth comb to smooth braids back into a low pony situated at the crown or nape. Pull hair taut as you fasten the elastic for a polished look. For extra flyaway control, brush hair back with a soft hold gel. Wrap a small piece of hair around the base of the ponytail and pin to hide the elastic. Let lengths drape long and straight or go for a wavy ponytail. Either option makes for simple yet chic styling in a snap.
Conclusion
The possibilities are endless when it comes to quick and easy hairstyling for jumbo box braids on busy mornings. Remember to start with freshly washed braids for easier styling. Focus on low-manipulation looks that allow you to simply sweep hair into buns, ponytails and half-up designs. With the right techniques, you can get out the door in a sleek, elegant style regardless of how crazy your morning is. So don't worry about finding time for elaborate styling. These 10-minute hairstyles for jumbo box braids prove you can look put together even on your busiest days!
Jumbo box braids are a gorgeous hairstyle, but finding quick and cute styles for busy mornings can be a challenge. The key is choosing simple looks that elevate your braids in minutes or wear Braided Wigs. A sleek high bun, half-up style, or basic ponytail keeps hair out of your face with little effort. For nights out, a braided topknot bun or chic chignon add elegant detailing. With the right techniques, you can style waist-length jumbo box braids in a flash, whether you're headed to work or play. So don't stress about elaborate styling every day. These easy 10-minute hairstyles prove you can make a statement even on hectic mornings.
For those seeking stylish jumbo box braids without the hassle of daily styling, FANCIVIVI offers high-quality pre-styled braided wigs for black women. Its wigs are designed by professional hairstylists to recreate the look of intricate braided styles. Their selection of jumbo box braid wigs comes pre-shaped in various gorgeous hairstyles, from chic updos to cascading lengths, which allow you to achieve eye-catching braided looks in minutes with no styling needed.
If you love the look of jumbo box braids but desire convenient style options for busy mornings, explore FANCIVIVI's quality selection!