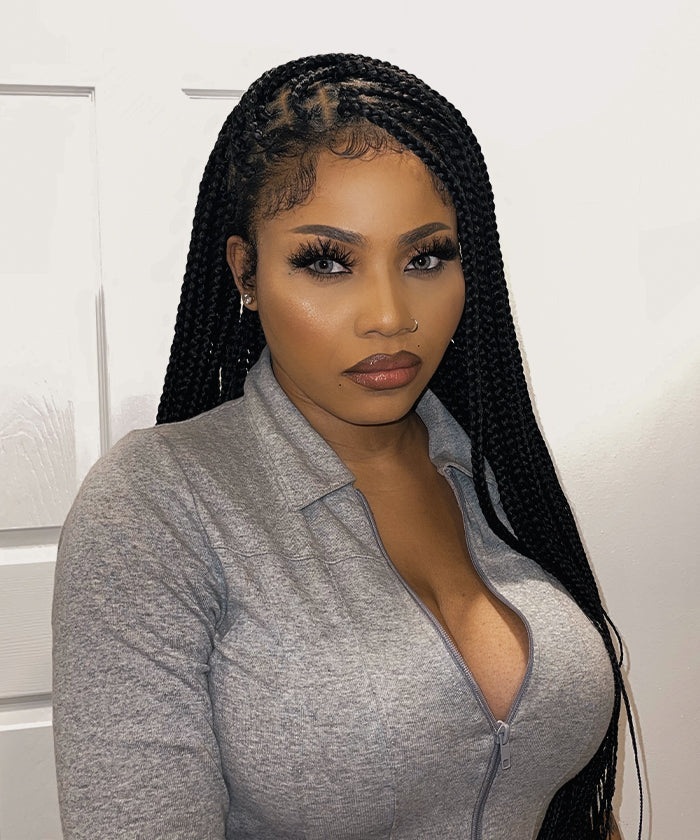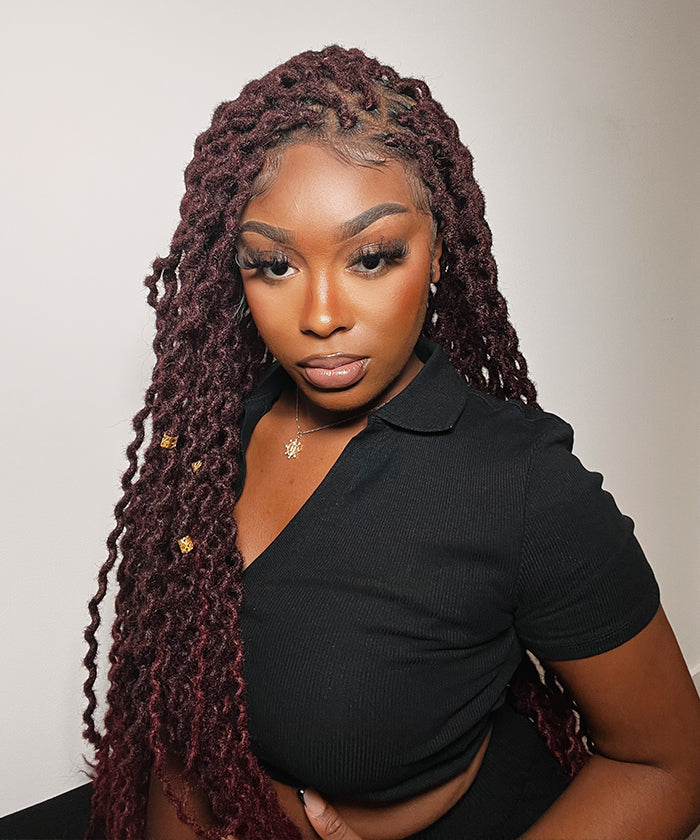 Make a statement with our 36-inch Large Knotless Braids! Made with high-quality synthetic fibers, these braids are lightweight, easy to install, and perfect for a variety of hairstyles. Shop now...
Get ready to slay with our 36-inch Large Knotless Box Braids wig! Made with high-quality synthetic fibers, this wig is lightweight, easy to install, and perfect for any occasion. Shop now...
Looking for a stylish and comfortable wig that requires minimal upkeep? Look no further than our Goddess Braids Wig! Made with high-quality synthetic hair, this wig features elegant knotless braids and a...
All You Need To Know About Jumbo Box Braids
Today, many black women use jumbo box braid wigs as a protective styling option. Jumbo box braids wigs, as the name suggests, are voluminous, thick braids that stand out. The jumbo style uses bigger portions of hair for each braid than smaller box braids do, giving it a voluminous appearance.
The moniker "jumbo box braids" refers to the braids' characteristic square, box-like shape. The wigs are pre-styled using synthetic or human hair that has been securely braided into plaits that are blunt and straight using the conventional three-strand braiding method. While a lot of jumbo box braid wigs are pre-shaped, you can also find choices that allow you to design your own braiding patterns and portions.
The jumbo box braids wig style first emerged in the 1990s and has seen a major revival in recent years. Black celebrities like Lisa Bonet, Jada Pinkett Smith, and Zendaya have rocked the look. For many black women, jumbo box braids wigs are a versatile protective style that allows them to switch up their look without manipulating their natural hair. The wigs let women play around with length, color, and texture while giving their natural strands a break to grow and recover underneath.
With bold styling and low maintenance, it's no wonder jumbo box braids wigs have become a go-to look. If you're new to the style, read on to learn all about the benefits, how to care for them, and styling ideas to try for yourself.
Jumbo box braids wigs offer many benefits that make them a popular protective style choice:
Protects Natural Hair
One of the biggest advantages of jumbo box braids wigs is they protect your natural hair from daily manipulation and styling. The wig cap and braids cover your entire head, allowing your natural strands to rest underneath without the need for styling, heat, or pulling for weeks at a time. This gives your natural hair a chance to grow out and strengthen.
Allows Versatility
You can experiment with various lengths, colors, and hairstyles with jumbo box braid wigs. Options range from small bobs to extremely lengthy braided styles. The wigs are either pre-styled or prepared for various braiding styles. Without harming your natural hair, you can even temporarily dye your braids. Due to its adaptability, you may easily change up your appearance for special occasions or whenever you feel like it.
Low Maintenance
Unlike constantly re-braiding your natural hair, jumbo box braids wigs require very little maintenance. You don't have to redo the braids as your natural hair grows out. Just wash, condition, and air dry the wig as needed. Maintenance is limited to keeping the braids neat and re-securing the wig as desired.
Retains Length and Fullness
You can create long, voluminous braided designs with jumbo box braids wigs that would require a lot more effort and manipulation with your actual hair. The length and thickness of the wigs are already installed and keep their appearance throughout wear. No need to return to the salon to get your braids redone as your hair grows.
There are a few factors to consider when selecting jumbo box braids wigs:
Hair Quality
Wigs with jumbo box braids are available in human hair or synthetic hair. Although synthetic hair is less expensive, it doesn't complement genuine hair as well. For a more natural appearance, high-quality human hair replicates the appearance and texture of genuine braids. Cuticles on remy human hair are aligned to reduce tangling.
Cap Size and Construction
Choose a breathable wig cap that fits your head size securely without slipping. Durable cap constructions like lace fronts blend most seamlessly along your hairline. Adjustable straps or combs allow you to properly position and anchor the wig.
Pre-Styled vs. Customizable
Pre-styled wigs have the braids already installed in a set pattern you can simply wear as-is. Customizable wigs have unbraided hair extensions attached so you can DIY creative braiding patterns yourself or have your stylist do it.
Length and Density
The lengths of jumbo box braid wigs range from shoulder to waist. Choose a higher-density option for a fuller appearance. For further styling, you can choose ombre colors or add hair jewels.
Finding the construction, length, and styling of the huge box braided wigs that best suit you can be done by trying them on. High-quality wigs may cost more, but with appropriate maintenance, they last longer.
Jumbo box braids wigs are incredibly versatile and can be worn straight or styled in so many different ways. Here are some top styling tips and creative ideas to try with your jumbo box braids wig:
1. Secure Properly at the Hairline: Ensuring your wig is properly secured is crucial for seamless styling. Use wig clips strategically around the perimeter to anchor the wig cap in place. Wig combs slid into the combs allow you to attach the wig securely. You can also apply wig adhesive along the front hairline edges for added hold throughout the day. Properly securing the wig prevents slippage and allows you to style with confidence knowing your wig will stay in place.
2. Set the Part: Part your jumbo box braids wig down the middle, side swept, or in a zigzag pattern. Use bobby pins or U-shaped wig clips to keep the parting space in place so it doesn't shift around. For a natural hairline, tweeze out some of the knots along the part using tweezers. This mimics realistic sparseness at the roots for a flawless blend with your edges. Setting the part properly each time you wear your wig makes quick styling much easier.
3. Ponytails and Buns: For a sporty look, gather your braids into a high, sleek ponytail that is fastened with a matching-colored hair ribbon. Before gathering to hide the knot, wrap a strand of hair around the base of the ponytail for a chic finish. At the nape of the neck, low ponytails convey a carefree, informal elegance. For dramatic effect, pin your braids at the crown into a neat ballerina bun or precisely curled chignon for big events. Don't forget to polish your edges by placing them on the gel.
4. Updos: Formal events and nights out call for elegantly pinned updos. Sweep braids off your shoulders into a twisted chignon at your crown. Or, loop sections into a figure 8 pattern resembling a faux hawk with braided bangs left out to frame your face. Half-up and half-down styles are quick yet chic for weddings and parties. Bobby pin your braids every which way for an artfully undone messy bun or faux undercut when you crave edgy flair.
5. Goddess Braids: Use the wig's hair partings to divide your enormous box braids into triangle parts for great visual intrigue at the root. Make goddess braids that face the rear or musician braids that circle your head using each section. When you want a short break from straight-back styles, this gives the appearance of a complex braided underlayer.
6. Add Accessories: By adding colored hair threads that contrast with or complement the color of your braids, you may add a unique touch to your jumbo braids. This gives it its character and texture. Bead cuffs around the braid's ends or cylinder beads strung along the length are additional ways to embellish. Headbands and headwraps are stylish finishing touches. With so many options, huge box braid wigs genuinely provide limitless style potential.
Let your creativity run free and have fun mixing and matching these stylish ideas!
Properly caring for your jumbo box braids wig will help it last longer and retain its style:
1. Wash Gently: Use a mild shampoo and conditioner made for synthetic or human hair wigs. Avoid harsh detergents. Wash in cool water and gently massage the hairline and braids.
2. Condition Thoroughly: Apply conditioner along the braids and length of the wig. Let sit 5-10 minutes before rinsing to keep hair soft and moisturized.
3. Air Dry: Do not rub or twist the braids. Blot gently with a towel. Allow the wig to air dry fully on a mannequin head or wig stand to maintain the braids' shape.
4. Proper Storage: Keep your wig on a mannequin head or stored flat in a breathable bag. Avoid hanging which can distort the style over time.
5. Prevent Tangling: Use a wig detangling spray and gently brush through the braids with a wide-tooth comb as needed. Separate and loosen braids to prevent matting.
6. Re-Secure: Check adhesive and tighten wig combs/straps as needed so the wig stays firmly in place on your head.
With proper maintenance, your jumbo box braids wig will last 3-6 months or more before needing to be re-tightened or replaced.
Conclusion
Jumbo box braids wigs are increasingly popular for their low maintenance, protective qualities, and styling versatility. The chunky, pre-braided wig caps eliminate the need to constantly re-braid your own natural hair, saving time and preventing damage from excessive manipulation. Wearing jumbo box braids wigs gives your natural hair a break to grow out and become healthier underneath the wig cap and braids.
You can experiment with lengths, hues, and textures that would be challenging to accomplish on your own hair with jumbo box braids wigs. Without making a commitment, you can select a different look for each day or situation. They are extremely simple to maintain; all that is required is a gentle wash, conditioning, and as-needed air drying that doesn't snag the braids.
Jumbo box braids wigs therefore hit all the boxes if you're looking to give your natural hair a break from heat and shaping or simply want to play around with a fun, low-maintenance protective style. With the right maintenance, you'll soon be sporting striking, gorgeous enormous box braids!