Introduction
Butterfly locs wigs have become an increasingly popular wig style, offering a unique take on protective styling for black women. Their delicate, fluttering locs provide versatility and convenience without sacrificing cultural style.
The Attraction of Butterfly Locs
Butterfly locs get their name from their shape, which mimics the wings of a gentle butterfly. The locs usually fall around the shoulders and cascade down the back in loose, free-flowing spirals that evoke a sense of effortless grace. Unlike box braids or cornrows, butterfly locs have an unstructured, almost whimsical aesthetic and each lock coils softly like a delicate curl.
When worn together in a full head of locs, they frame the face beautifully. The locs are typically on the longer side, ranging from 16 inches to as long as 30 inches. Their length shows off the elaborate looping pattern of locs. Adorned in butterfly locs, women exude a carefree, bohemian elegance.
Butterfly locs also embody an appreciation for the natural beauty of textured hair. Too often, black hair has been policed by western norms that reject the tight coils and kinks of African hair types. While butterfly locs embrace the right to wear black hair proudly in its authentic state and it honors creativity and freedom of expression.
The Beauty of Butterfly Locs Wigs
Butterfly locs require intricate attention to install properly on natural hair. Locs must be twisted and rolled just so to create the cascading effect. For many women, the time and cost of getting them done professionally is prohibitive, let's enter the Butterfly Locs Wig!
Butterfly locs wigs allow women to achieve the style instantly without the hassle. The wig acts as a protective style, keeping your natural hair and edges underneath safe from manipulation. Its high quality wigs mimic the organic, unstructured look of butterfly locs on real hair.
It is constructed from either synthetic hair fibers or human hair. The synthetic fibers are typically pre-looped into the signature swirl shape. Some wigs feature a lace frontal or full lace cap to allow for a seamless hairline. Others have an adjustable band that creates a customized fit.
The Benefits of Butterfly Locs Wigs
There are many advantages to wearing a pre-styled butterfly locs wig. Some key benefits include:
1. Convenience - Butterfly locs wigs allow you to simply clip or slide it on to achieve the bohemian locs look instantly. There are is no need for a lengthy salon visit.
2. Cost-effectiveness - Well constructed synthetic wig styles are significantly cheaper than paying for intricate loc styling from a professional. You can also avoid the ongoing cost of maintenance。
3. Low maintenance - Wigs require little upkeep compared to keeping natural butterfly locs neat and frizz-free and you can wear the wig again and again without redoing your hair.
4. Protective styling - Butterfly locs wigs keep your natural hair protected underneath without the pulling and tension that comes from actual loc styling techniques.
5. Flexibility - Wigs can be taken off and changed up as desired, allowing you to switch your style from day tonight。
6. Confidence boost - The beautiful locs cascading down your back amp up your self-assurance and regal presence.
Overall, butterfly locs wigs offer an alluring twist on protective styling.
Experiment with Your Unique Style
One of the best parts of butterfly locs wigs is the creative styling possibilities they provide: you aren't restricted to only wearing the locs long and loose. Many women use accessories like hair jewels and cuffs to accentuate individual locs and its texture also holds updos beautifully.
For a special event, sweep your locs into an elegant updo or side ponytail and add a pop of brightness by incorporating a few colored synthetic locs into the mix. In addition, you can pull out a few face-framing tendrils for a soft, romantic vibe.
Moreover, you are able to play with incorporating your real hair into the style too: 1. Flatten and slick back your edges; 2. blend into the wig's hairline;3. accessorize with headwraps, scarves or a fedora to switch up your look; 4. dress it up with hoop earrings or keep it casual with simple studs.
The styling options are endless with butterfly locs wigs. It's an opportunity to experiment with new sides of yourself. Just swap out your wig to find the perfect box braid wig style that reflects your mood and personal flare.
Embrace the Freedom of Black Hair
Butterfly locs hold deeper meaning for the black community beyond just a fun style. Generations of black women have been told their natural hair is unprofessional, unattractive and "unkempt." Relaxing treatments, harsh presses and wigs have been used to tame hair into more "acceptable" looks.
Butterfly locs proudly celebrate the beauty and versatility of natural black hair texture. They are an act of resistance and self-love. When a woman dons butterfly locs flowing freely down her back, she is embracing the freedom to be her authentic self.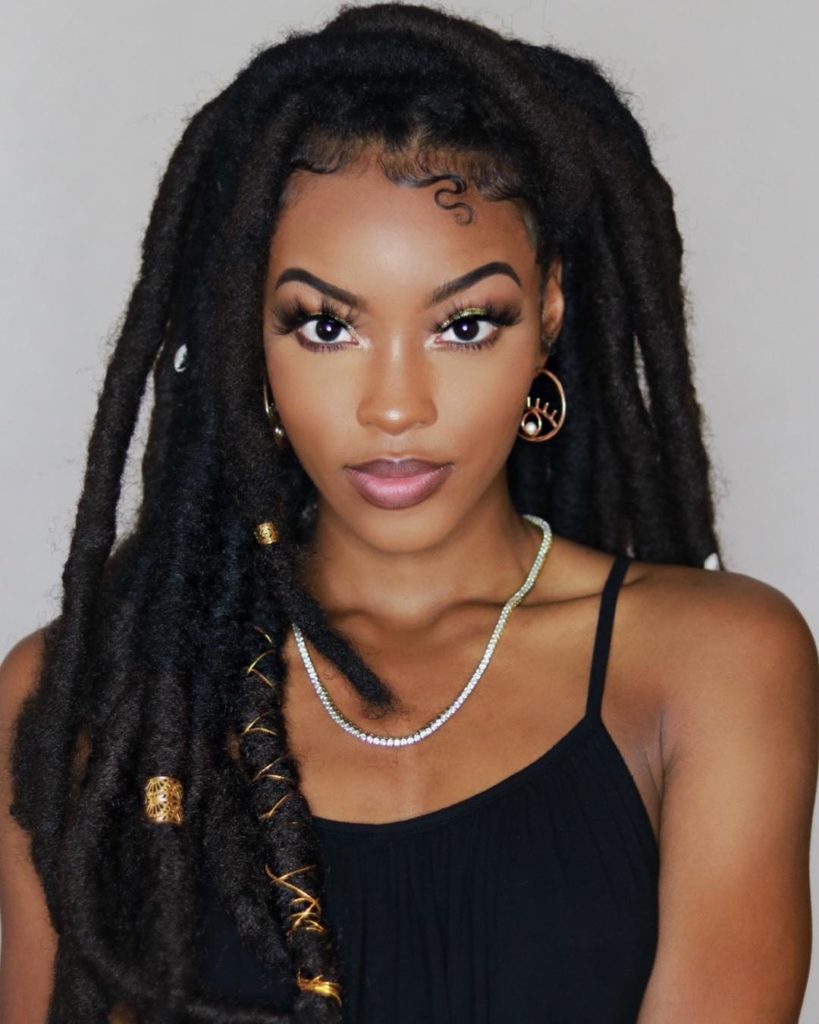 The style pays homage to African ancestry and challenges Euro-centric standards of beauty. Butterfly locs are a creative expression of the innovation that lives within black culture, sending the message that black beauty is varied and will not be contained.
Butterfly locs wigs make this transformational style accessible to all. As one of the braided wigs for black women, they allow women to tap into the deeper cultural meaning behind the locs without the commitment. For many working women, the wig provides a way to honor their heritage publicly through their hairstyle without limiting professional opportunities-wigs grant the flexibility to celebrate one's roots on their own terms.
Butterfly Locs Wigs for Protective Styling
At their core, high-quality butterfly locs wigs keep your natural hair protected underneath and you should avoid constant manipulation, tight styling and drying heat to allow hair to grow thick and healthy. A knotless braid wig like this will protect your edges and ends from exposure.
Synthetic wig fibers retain their shape without wilting in humidity or heat like real locs. You can go about your busy life without worrying about maintaining perfect spirals all day. An adjustable wig offers a secure but gentle fit that won't tug at your edges.
Quality wig construction also diffuses the wig's weight to prevent strain. When you remove the wig at night, your own hair gets to rest and regenerate. The next day, you can simply slip the butterfly locs wig back on to achieve a salon-fresh look in minutes.
Compared with heavy box braids or tight cornrows, butterfly locs are a much gentler protective style. The wig distributes weight evenly across the head without stressing certain sections, which makes butterfly locs wigs ideal for long-term protective styling.
A Unique Twist on Versatile, Convenient Styling
Butterfly locs wigs put a unique twist on protective styling. Their delicate, fluttering shape represents natural black beauty and creativity and their high-quality wigs embody the essence of real locs with meticulous attention to detail.
For women seeking convenience without sacrificing cultural pride, butterfly locs are ideal. The style makes a bold statement about confidence and self-love and an endless array of styling possibilities enables your personality shine through.
Whether you're looking to protect your natural hair while growing it out or just want to change up your look, butterfly locs deliver. Join the movement and release your inner goddess! The delicately crafted butterfly locs wig lets your beauty take flight.
Conclusion
Butterfly locs wig offer black women a unique and versatile protective style option. The delicate locs celebrate the beauty of textured hair while providing convenience. For women seeking both style and versatility, butterfly locs are a truly transformative choice and they could don the fluttering locs as a symbol of their creativity, heritage and resilience! For any one who want to know more about butterfly locs wig, FANCIVIVI is an unrivalled choice.
We are a brand dedicated to empowering black women through beautiful braided hairstyles. As a leading online retailer, we handpick premium braided wigs made from high-quality synthetic or human hair fibers. Our butterfly locs wigs capture the bohemian elegance of the style while focusing on breathability, comfort and wearability.
We aim to simplify the process of finding great protective styles that honor cultural roots. By negotiating bulk pricing directly with manufacturers, we offer affordable pricing on our collection of box braids, twist braids and locs wigs. For those interested in embracing free-flowing butterfly locs, visit our website and we will provide you a range of options to explore versatile styling.