Introduction  
Long box braids have become a popular protective style for women with natural hair, which allows you to give your natural hair a break from daily styling while still looking put together. Basic long box braids are simple and chic, but adding color to your braids takes the style to new heights. Particularly, vibrant braid colors enable you to change up your look without damaging your natural hair. Here, we will together with you discover many creative ways to add pops of color to your long box braids.
Vibrant Ombre Braids Make a Bold Statement
For a head-turning look, go for a bold ombre braid color. Start with your natural hair color at the roots and slowly blend into a bright, unnatural shade towards the ends. While electric blues, greens, purples, and oranges make a fun statement, the contrast between your roots and ends will really get you noticed. You can keep the braids large or go for a micro braid ombre effect. Adding this kind of vivid color is perfect for festivals, parties or anytime you want to turn heads.
Add Pops of Color with Colored Braid Extensions
If you prefer a more subtle look, add thin strips of color throughout your braids and use threading to weave thin pieces of colored braiding hair into your neat parts, which will give you thin streaks of color mixed in with the natural black long box braids. Pastels like light pink, lavender and baby blue look sweet and chic. Another choice is to go for shades like copper and caramel for a warm glow, which is a great way to test out fun colors if you're new to colored braids. The thin streaks of color blend in but still show off your personality.
Dip Dye Braid Ends for a Subtle Pop
Another option is to color just the ends of your braids. Dip dyeing the last few inches of your braids allows you to maintain a natural look up top while adding a pop of color below. Dark jewel tones like emerald, ruby and sapphire look striking against black braids. Neon shades are also fun for dip dyed ends. This is a great way to try new colors without fully committing. The colorful ends peek out when you put your hair up or when the wind blows.
Sew in Pre-Colored Synthetic Hair for Vibrant Color
If you want more permanence, sew in pre-colored synthetic braiding hair. Choose braiding hair that already has vivid color woven through, rather than dyeing it yourself. Hot pink, blue, purple and more unnatural shades are readily available. Having the rainbow colors pre-woven gives the most vivid, saturated result. More importantly, sewing in the pre-colored hair ensures the hues will remain bright and won't bleed or fade out quickly. It also saves you time and work by not having to dye the hair yourself.
Dye Box Braids Yourself for Customizable Color
Of course, you can always choose to dye your finished long box braids yourself. Just use professional hair dye in your desired shade and cover the entire braid length in dye for an all-over color. For dip dyed ends, apply the dye only to the lower halves of your braids and it's best to enlist a friend to help apply the dye thoroughly. Be sure to rinse and clean the braids extremely well afterward to avoid bleeding and mess. Dyeing your Knotless Braids yourself means you can easily change the color as your mood suits!
Choose Colors that Complement Your Complexion
When choosing a color for your long box braids, think about skin tone and hair color. Cool shades like blue, green and purple pop against warm brown skin. Golden blondes and coppers radiate beautifully on dark skin as well. For fair or olive complexions, go for icy pastels and bold jewel tones. Reds and warm shades look great on natural redheads. The colored braids should complement your complexion. Stay away from colors that are too similar to your natural hair, as you want the color to stand out.
Care Tips for Colored Box Braids
You'll also need to consider the maintenance required for colored box braids. Vibrant fashion shades tend to fade faster than natural hair dyes and some staining of your natural hair or scalp may occur too, especially with reds and purples. Colored braids require a bit more care to keep the shades fresh. You had better use color-safe shampoo and conditioner to prevent fading and avoid getting the braids wet for the first 1-2 days after coloring. You may need to re-dye the braids after 4-6 weeks to maintain the intensity of the color. It's a commitment, but very worth it for beautiful colored braids!
Styling Long Colorful Box Braids
Once you've got your long colorful box braids installed, there are endless styling options to show them off. For casual days, simply wear the braids long and loose with a mid or side part. Frame your face with a few face-framing braids pulled forward. On dressier occasions, sweep the braids up into an elegant updo. High ponytails and buns also let the braid colors peak through. For night outs, wrap the braids into a chic topknot or braided crown. The vivid colors look amazing when all the braids are pulled together.
Shake and Flutter with Sleek Knotless Braids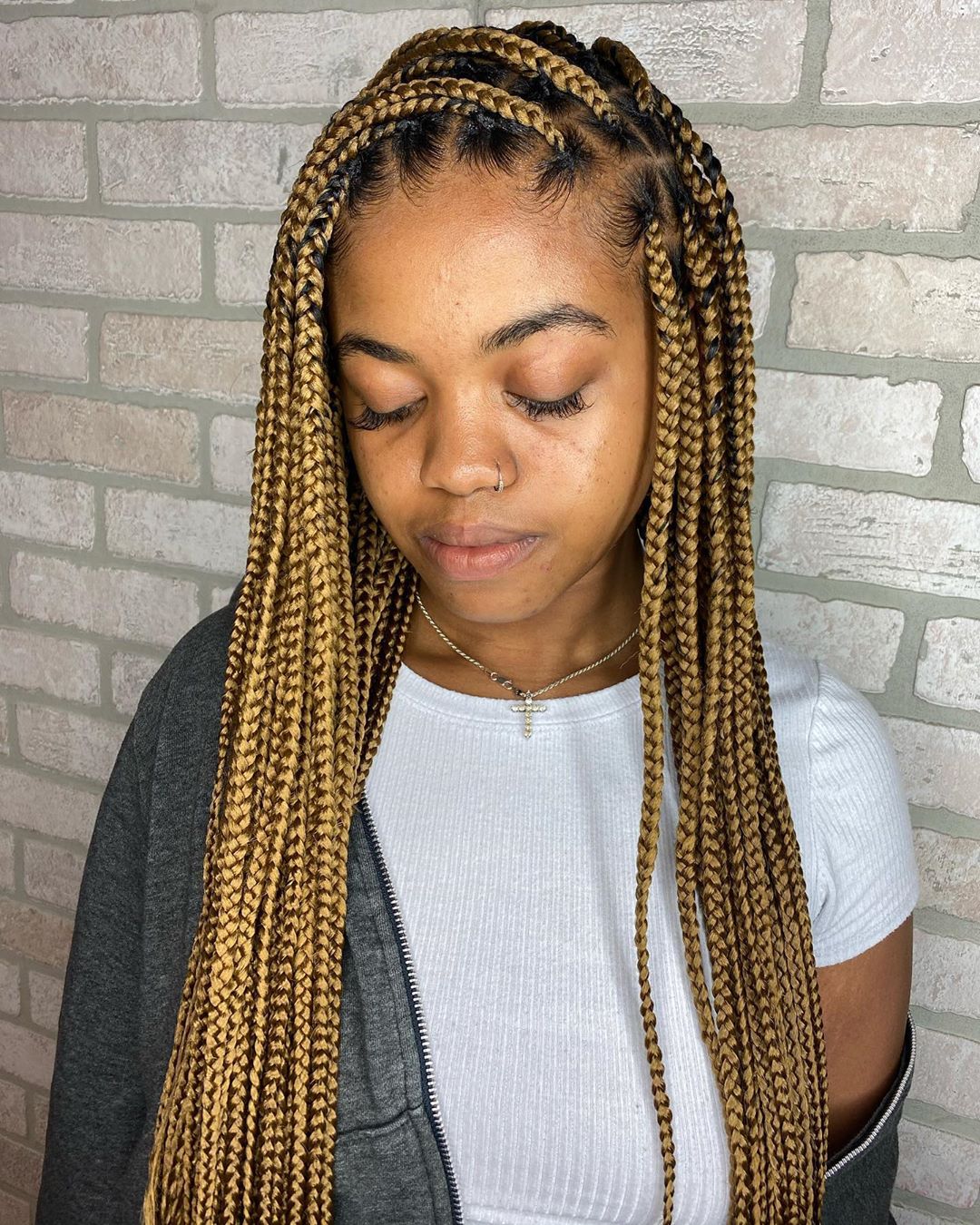 When your colorful long box braids need a break, instantly switch up your look with Knotless Braids. These sleek, wavy braids are the perfect counterpart to the straight box braid style. Knotless braids have a smooth, continuous wave rather than distinct parts between braids. Installed with the hand-loop method, knotless braids have no visible knots or bulk. The result is a head of beautiful soft waves that looks effortlessly chic.
After rocking vivid box braids, try knotless braids in a solid jet black. The tightly crimped texture creates volume and dimension. Or go for an ombre look by making the knotless braids blonde towards the ends. This grows out more seamlessly than colored box braids when your roots start to show. The waves in the knotless braids disguise roots and re-growth wonderfully. Knotless braids are also quicker to install than intricate box braids. The simple, flowing waves take your carefree summer style to new levels.
Switch It Up with Bouncy Butterfly Locs
When you're ready to switch it up again, try Butterfly Locs. This style gives you full, fluttery twists that feel as luxurious as they look. Butterfly locs are achieved by twisting two strands of braiding hair together to form tapered dread-like locs. Installed correctly, the locs curl and flutter gracefully, just like butterfly wings. Additionally, you could go for dramatic length and volume with waist-length Butterfly Locs Wig. Or opt for a shorter bob or lob length for bounce and movement.
Butterfly locs look beautiful in neutral blonde and brown shades that complement your complexion. Highlight your locs with subtle warm honey and caramel lowlights for dimension. Or embrace your inner goddess with whimsical colors like mermaid greens and blues. You can also choose pre-looped Butterfly loc crochet hair for the most natural-looking install. Butterfly locs give you versatility - dress them up for a night out or embrace the effortless vibe for brunch. Shake your head and watch your lovely locs take flight!
If you're not ready for the commitment of installed locs, wig styles give you flexibility. Pre-made knotless braid wig is constructed from braiding hair and comes in every style imaginable. You can choose a long curly knotless braid wig to try the look instantly or opt for a straight-back knotless bob to frame your face. Wigs allow you to quickly switch between long, short, bold colors or classic styles. Pre-made knotless braid wigs give you endless options without the high maintenance.
Conclusion
Step out of your comfort zone and take your long box braids to new heights with color! Vivid braid colors let you express your inner boldness and you can keep it subtle with classic blonde braids. Whether you opt for knotless braids, locs or fun Braided Wigs, changing up your style boosts your confidence. Don't be afraid to experiment with different colors, textures and lengths. Find inspiring looks that reflect your personal flair. With the right braided style and splash of color, you'll take any look to the next level!
For those seeking hassle-free options to switch up their braided styles, FANCIVIVI offers a range of high-quality braided wigs. As a brand focused on braided hair, FANCIVIVI aims to provide stylish options that empower self-expression. Their selection includes knotless braid wigs, locs styles and versatile textures in a palette of colors. Created by experienced hairstylists, FANCIVIVI wigs are designed for long-lasting comfort and convenient versatility. Women can explore new looks or protective styles that complement their busy lifestyles. FANCIVIVI's braided wig designs, especially long box braids that you are looking for, will certainly help you boost your confidence!