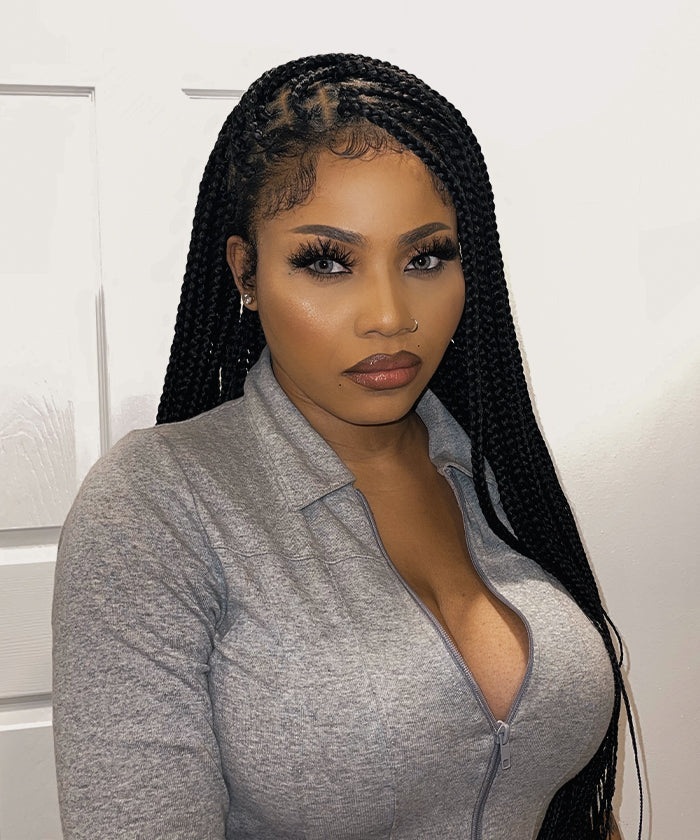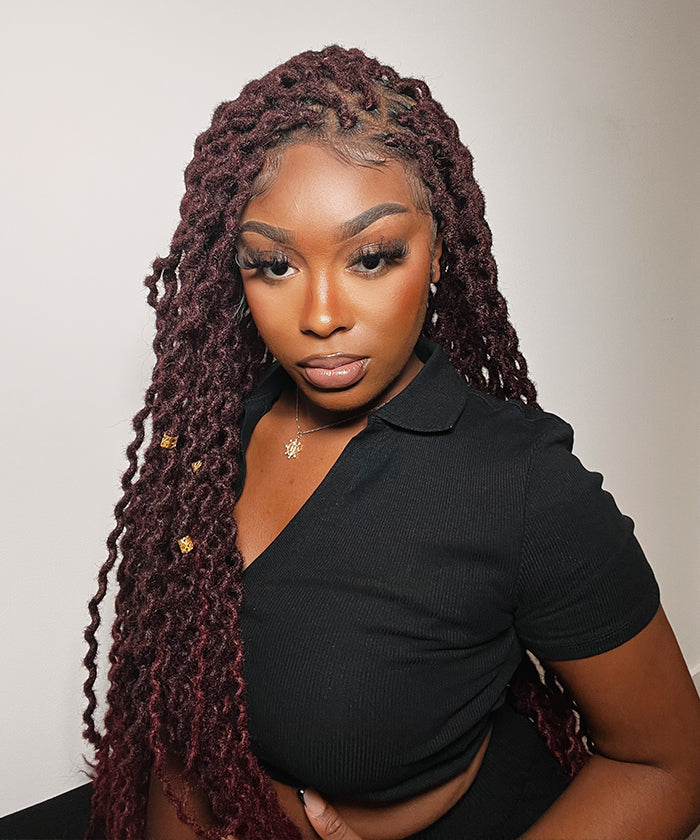 What You Need To Know About Long Box Braids
Long box braids have become a hugely popular protective styling choice for black women and others with naturally textured hair. As the name suggests, long box braids feature braided plaits that extend way past shoulder length to waist, hip, or even lower lengths. Compared to shorter box braids, the dramatic long length allows for eye-catching styling beyond the classic straight-back look.
The name "long box braids" refers to the braids' square, box-like shape. The stylist divides the natural hair into square portions, plaits them, and secures synthetic hair extensions to the ends as they braid them down. This creates incredibly long braids that resemble box shapes with harsh, straight ends. The conventional three-strand braiding method is used to install the box braids.
While long box braids require a lot of work and attention, black women strongly value the impressively long, luscious braided look. Zendaya, Beyoncé, and Cardi B are just a few A-list celebs who have been photographed wearing the look. For many, long box braids offer a versatile protective style that lets them experiment with dramatic length while giving their natural hair a rest underneath. When properly cared for, long box braids can be worn for up to 2 months.
When getting long box braids, there are various braiding techniques, lengths, and styles to consider:
Braiding Techniques
The most common technique is three-strand braiding, where three sections of hair are woven together down the length. Four-strand braiding is also popular for even fuller-looking braids using four pieces of hair instead. Lace braiding creates a decorative look by braiding hair at the root in intricate patterns. Other techniques like fishtail braids can also be incorporated. Discuss options with your stylist.
Lengths
From just below the shoulder down to extremely lengthy lengths, long box braids are possible. The traditional waist length is a lovely medium length that ends just below the belly button. Choose box braids that are hip length or just a few inches above your hips for a dramatic look. For a stunning, ultra-long style, opt for box braids that are floor or ankle-length.
Styles for Different Faces
Long box braids can complement and balance different face shapes with strategic styling:
●Oval faces suit center parts with braids flowing down on both sides.
●Long or heart-shaped faces look great with side parts to add width and symmetry.
●Round or square faces should avoid middle parts in favor of side parts or zigzags.
●Have fun exploring different braiding techniques, dramatic lengths, and styles to find your perfect long box braids look.
Creative Ways to Style Your Long Box Braids
When rocking long box braids, you'll want to take advantage of the dramatic length and versatility by styling your braids in different gorgeous ways. Here are creative styling ideas to switch up your long box braids look:
●Let your long braids hang straight down your back to keep things simple. Parting your hair on the side or in the middle can give it more form. Use U-shaped wig clips or bobby pins to precisely secure your sections.
●For a romantic updo, sweep braids off your shoulders and pin them into a messy, twisted chignon at the back of your crown. Pull out a few face-framing pieces in the front for a soft finish.
●Show off the length by tying your braids into an extra-high ponytail atop your head. Sleek down flyaways with gel and wrap a matching strand of braiding hair around the hair tie to conceal it.
●Amp up the glam for a night out by accessorizing your long box braids. Adorn the ends with jeweled cuffs or gold beads, or weave colored hair threads throughout the braids.
●For beachy waves, curl the front sections of your braids using flexi rod rollers or the braid-out technique. Create a deep side part and let the front curled pieces frame your face.
●Change up your parting by zig-zagging it across your scalp in a U-shape rather than straight back. Vary the parts over time to prevent tension on your edges.
●Boost volume by lightly teasing and pulling apart your braids after installing them. Mist with sea salt spray and scrunch for texture and bounce.
Let your creativity run free when it comes to styling your long box braids in trendy ways. The options are endless for creating signature looks!
Maintaining your long box braids helps them last longer and stay beautiful. Follow these tips for properly caring for your long braided hair:
Washing
Only wash long box braids 1-2 times per month. Use a gentle shampoo and thoroughly rinse braids with cool water. Avoid vigorously massaging the scalp which can lead to frizz.
Conditioning & Moisturizing
Apply conditioner to the length of the braids after shampooing. Allow to sit for five to ten minutes before rinsing. To keep braids conditioned and lustrous, use a leave-in conditioner and oils such as argan or coconut oil.
Protective Styling
Wear your braids in an updo or high ponytail at night and when working out. This prevents friction which can lead to frizz over time. Use a silk bonnet or pillowcase.
Maintenance
Every two to three weeks, soak the ends of the braid in boiling water to avoid unraveling. Every 4-6 weeks, ask your hairdresser to retighten the edges and hairline of your braids. Do not over-moisturize as this can cause buildup.
Being gentle and patient with your long box braids will help them last longer. Deep condition your natural hair thoroughly when you take down the style. Your diligent care will keep your long braids beautiful.
How to Wash Your Long Box Braids?
When it comes to keeping your long box braids fresh, proper washing technique is key:
1. Wash long box braids just once every 2-4 weeks, over-washing causes unnecessary friction. Use lukewarm water and a sulfate-free shampoo made for braided hair.
2. Work the shampoo gently into your braids, focusing on the scalp area. Avoid vigorously scrubbing which can cause frizz. Rinse braids thoroughly with cool water.
3. Follow up with a moisturizing conditioner applied along the length of your braids. Let the conditioner soak in for 5-10 minutes before rinsing clean.
4. Pat braids with a t-shirt to soak up excess moisture. Do not rub the hair which can unravel the braids. Allow braids to air dry fully before styling.
5. Deep condition your natural hair underneath when you take down the braids. This helps restore moisture after weeks of protective styling.
With a gentle touch, proper products, and limited washing, you can keep your waist-length box braids looking beautiful and fresh!
Long box braids offer many styling advantages but also come with some drawbacks to consider:
Pros:
●Protective style for natural hair growth - Less manipulation preserves hair health underneath
●Convenient, low maintenance - Just wash, moisturize, and re-tighten every few weeks
●Versatile styling - Wear hair down, in updos, ponytails, buns etc.
●Fun with length and colors - Achieve extra long braids and experiment with bold hues
Cons:
●Expensive installation - Longer braids require more hair and hours of styling time
●Heavy on hair - Can cause strain on edges and nape area over time
●Pulling on the scalp - Tight braiding can damage the hairline and cause headaches if too tight
●Takes hours to install - Can be tiring to sit through 8+ hours of braiding appointment
●Can't easily restyle - Limited in changing partings or braid patterns
Despite some downsides, many feel the beautiful cascading look of long box braids is worth the maintenance and styling limitations. Being aware of the pros and cons helps ensure you enjoy this dramatic protective style.
Conclusion
When installed correctly, long box braids may be a stunning protective style, but doing it on your own natural hair can be difficult. If done incorrectly, the tight braiding technique over numerous hours might break delicate edges and hurt. The dramatic length adds a lot of weight as well, which might put stress on your strands.
I would suggest looking at high-quality pre-made long box braids wigs or extensions rather than investing the time and money in braiding your own hair. You can quickly and easily put on lovely, waist-length box braids using pre-made synthetic or human hair wigs. Without forceful manipulation of your natural locks, the wigs simulate complex braiding. Pre-styled wigs allow you to conveniently switch up lengths and colors without commitment.
So for anyone coveting the long box braids look, do your hair a favor and explore pre-braided wigs for instant long braided beauty without the risks of extensive DIY braiding. With minimal effort, you can enjoy gorgeously long box braids minus the hassle.
Here are the many advantages of opting for a ready-to-wear wig with built-in jumbo braids:
1. Instant long braided look in minutes. Simply snap on a pre-braided wig for waist-length box braids with no installation time.
2. Avoid damage to hair and edges from tight braiding techniques. The wig cap protects your natural hair from harsh pulling and friction.
3. Ultra lightweight and breathable wig construction for all-day comfort. Long braids are heavy but wig caps distribute weight evenly.
4. Built-in natural-looking hairline and adjustable straps for a customizable, secure fit. Looks like your real hair.
5. Easy maintenance. Just wash, condition and air dry the wig at home as needed. No re-braiding is required.
6. Fun versatility. Change lengths, colors, and partings anytime by switching wigs. Enjoy styling options galore.
7. Cost effective. Pre-styled wigs are an affordable alternative to spending big bucks re-braiding your hair every few weeks.
Treat your natural locks to a break and indulge in the glamour of instant long box braids by trying high-quality braided wigs today!