I've always been fascinated by wigs since I enjoy experimenting with various hairstyles. They provide countless style options and are a terrific method to alter up your appearance without committing to a long-term change. The longest and most opulent wigs currently on the market, 36 inch lace front wigs have captured my attention recently. I'll give my detailed instructions for styling these wigs in this article so they have a polished and elegant appearance.
Let's start by discussing the many kinds of wigs we'll be using. Two of the most popular types of wigs are box braid and full lace, both of which come in 36-inch lengths. Box braid wigs are constructed with human or synthetic hair extensions that have been braided into a box design and fastened to a wig cap. Full lace wigs, on the other hand, may be styled however you like and are manufactured from a delicate lace material that resembles a natural scalp.
It's crucial to make sure that your wig is securely fastened and fitted before we begin styling. Take the time to adjust the straps and clips until it feels snug and secure since the last thing you want while styling it is for it to slip or move around. To assist keep your hair in place and give a smooth surface for the wig to sit on, you might also want to think about using a wig cap.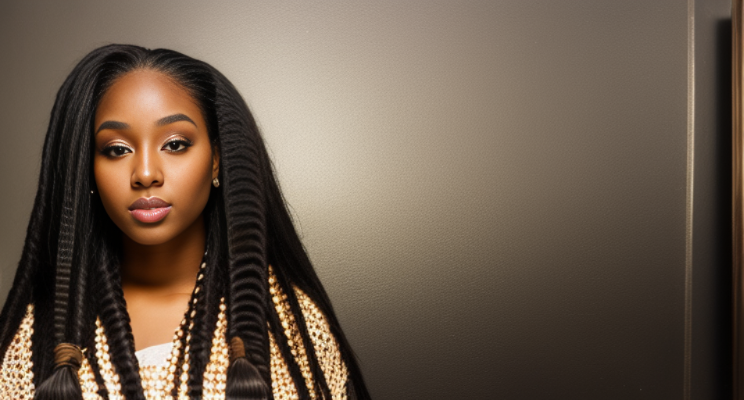 The moment your wig is firmly in place, you may begin shaping! Here is my detailed instruction on how to style your 36-inch lace front wig to perfection:
Step 1: Straighten your wig
To begin, use a wide-tooth comb or brush to carefully work any knots or tangles out of your wig. Avoid pulling too firmly as this could harm the lace or hair.
Step 2: section your wig
Select the location for your wig's part, then use a rat-tail comb to make a neat, straight part. You can also try a zigzag or diagonal section for a more natural appearance.
Step 3: Dress up your baby hairs
Use a small amount of edge control or gel to shape the baby hairs (short, wispy hairs along the hairline) of your wig into place. To make an edge look smooth and natural, use your fingertips or a little brush.
Step 4: (Optional) Curl or straighten your wig
A curling iron or straightener can be used to add texture or curl to your wig to achieve the desired effect. Use a heat-protectant spray to shield your hair from harm.
Step 5: Boost volume
Use a teasing brush or comb to gently tease the hair at the roots to give it a fuller appearance. Avoid over-teasing as this might result in a tangled and disorganized appearance.
Step 6: Dress up your wig
Now is the time to be imaginative! Use bobby pins, hair ties, or other accessories to style your wig however you choose. You can style your hair in any way you like, including updos, braids, and ponytails.
Step 7: the last touches
Use a light hold hairspray or finishing spray to establish the appearance and keep it in place once you've styled the wig to your satisfaction. A shine oil or serum can also be used to give the hair a healthy-looking sheen.
With these steps, you should be able to achieve a beautiful and natural-looking style with your 36 inch lace front wig. Of course, there are many other techniques and tools you can explore to further enhance your wig styling, but this step-by-step guide provides a solid foundation for creating a perfect look. Remember, practice makes perfect, so don't be discouraged if your first attempt doesn't turn out exactly as you envisioned. With time and experience, you'll become more comfortable and skilled at styling your 36 inch wigs.
Here are a few additional tips to keep in mind as you continue your wig styling journey:
Try out different hairstyles
Don't be scared to experiment with different hairstyles to see which one suits you the best. Whether you want a sleek and straight appearance, bouncy curls, or an exquisite updo, 36 inch lace front wigs have remarkable diversity and let you easily change the way you look.
Maintain your wig
To maintain your wig's finest appearance, proper maintenance is necessary. When not in use, keep the wig in a box or on a wig stand by following the manufacturer's directions for washing and conditioning. This will assist keep it in form and keep it from tangling or getting damaged.
Make your wig unique
The ability to customize lace front wigs is one of their benefits. You can add baby hairs if you'd like, color the lace to match your skin tone, or pluck the hairline to give it a more natural appearance. The overall appearance of your wig can be significantly altered by these minor tweaks.
Consult a specialist if necessary
Consider going to a professional hairstylist who specializes in wigs if you're new to wig styling or if you want a more elaborate haircut for a special occasion. They can design attractive styles and provide insightful guidance on preserving the longevity of your wig because they are skilled and experienced in doing so.
The key is confidence
Always keep in mind that wearing a wig is a chance to display your sense of style and personality. Rock your 36-inch lace front wig with confidence as you embrace your distinctive beauty. Your appearance and confidence both improve when you feel good about yourself.
Conclusion
Whether they are box braid wigs or full lace wigs, styling 36 inch lace front wigs provides up a world of possibilities for creating unique and alluring appearances. You may obtain the ideal look that matches your style and personality by following the step-by-step instructions and adding your own imagination. And FANCIVIVI is a brand that stands out while looking for high-quality braided wigs for black ladies. FANCIVIVI is committed to offering wigs that are exquisitely and painstakingly manufactured, and they do this by offering a selection of magnificent 36-inch lace front wigs that blend luxury, style, and comfort. Every facet of their artistry reflects their dedication to producing goods that satisfy the needs of their clients.
Visit the FANCIVIVI website to learn more about the company and their range of braided wigs.  You can choose from a variety of exquisitely braided 36-inch lace-front wigs that are made to empower black women and accentuate their inherent beauty. So enjoy the style and adaptability that 36 inch lace front wigs have to offer. You may start attracting attention and feeling wonderful right away with a little practice and a lot of confidence. Prepare to kill it at every event with your perfectly coiffed wig.