Introduction
For many women, braids are their go-to choice for protective hairstyles. They not only provide you a fashionable appearance, but they also offer great protection for your natural hair. Due to their adaptability and practicality, box braid and braided wigs have seen a sharp increase in popularity in recent years. But picking the ideal length for your braids can be challenging. This post will examine the variations between 36 and 34-inch knotless braids and assist you in selecting the length that is most comfortable for you.
Knowledge of Knotless Braids
In contrast to conventional box braids, which start with extensions at the root, knotless braids begin with your own hair. This method different from box braid wigs can ease tension in your scalp and produces a hairdo that looks more natural. Knotless braids are a popular choice among women since they are adaptable and can be worn in a variety of ways.
Aesthetics of Braided Wigs
There are only two examples of the braided wigs that have revolutionized the hairstyling industry. They are Box braid wigs and full lace wigs. With these wigs, you can quickly achieve a braided appearance without the time and work needed for traditional braiding. They allow you to experiment with numerous appearances while preserving your natural hair because they are available in a variety of lengths and styles.
Effect of Length on Style Choices
Consider the effect of length on your styling options when choosing between 36 and 34-inch knotless braids. Longer braids offer greater options for creating complicated updos, ponytails, and other hairstyles. They provide you the freedom to try out various ideas and design striking ensembles for important events. Conversely, shorter braids provide a more useful and low-maintenance choice, particularly for people who lead busy lives.
36-Inch Knotless Braids' Flexibility
Numerous styling options are available for 36-inch knotless braids. You may create magnificent updos, sophisticated high ponytails, or even half-up, half-down designs with 36 inch wigs . The additional length provides you the flexibility to experiment with various braiding techniques, add accents, and create distinctive designs that draw attention everywhere you go. However, it's crucial to take into account your daily activities and the amount of upkeep needed for lengthier braids.
34-Inch Knotless Braid Convenience
34-inch knotless braids can be your best option if you prefer a more practical and low-maintenance solution. While yet being manageable for daily tasks, the length of 34 inch wigs offers versatility. Your braids can be worn down for a relaxed and carefree look or in simple updos. Furthermore, shorter braids tend to be lighter, which puts less stress on your scalp and lowers your risk of tension headaches.
Think About Your Face Shape
Your face shape should be taken into account when deciding between 34-inch and 36-inch knotless braids. Your braids' length can boost your overall appearance by balancing out your face features. Longer braids, for instance, can lengthen the face and look well on people with round or square faces. Conversely, shorter braids can soften angular features and complement faces with an oval or heart shape.
Hair Maintenance and Health
The wellbeing of your natural hair should always come first. Both the 36-inch and 34-inch knotless braids offer exceptional protection for your hair by limiting manipulation and environmental exposure. It's essential to watch out that the weight of longer braids doesn't tear or strain your hair. Maintaining healthy hair when wearing braids requires regular moisturizing, scalp care, and avoiding undue tension.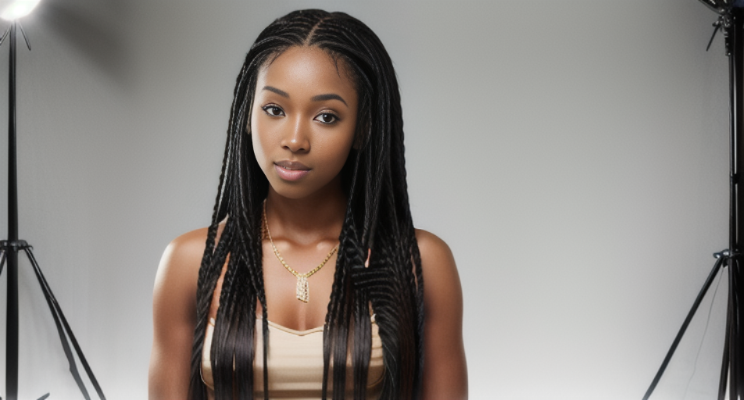 Lifestyle and Level of Activity
Your lifestyle and level of exercise should be taken into account while choosing the length of your knotless braids. Shorter braids could be more useful if you have an active lifestyle and participate in sports or other physical activities frequently. They are less likely to obstruct or hinder your workout than other items. Longer braids, on the other hand, give you more creative alternatives if you lead a less busy lifestyle or prefer experimenting with different hairstyles.
Individual Taste and Comfort
The length of your knotless braids should ultimately reflect your comfort level and personal taste. While others may like the simplicity and comfort of shorter braids, certain people may feel more powerful and confident with longer braids that make a dramatic statement. It's crucial to pick a length that suits your preferences and your unique style.
Advice from a Professional Stylist
A professional stylist should always be consulted if in doubt. They can determine the ideal length for your knotless braids based on your hair type, facial shape, lifestyle, and personal preferences. Professional stylists are skilled and experienced in designing designs that are unique to you, highlight your inherent attractiveness, and guarantee the health and vitality of your hair.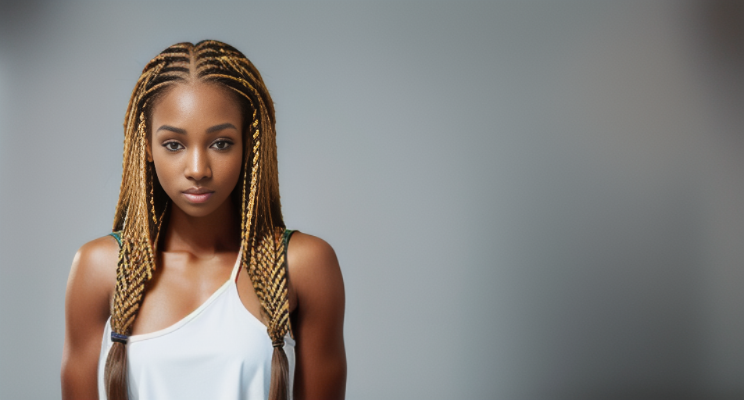 Conclusion
Careful consideration of a number of criteria is required when choosing between 36 and 34-inch knotless braids. Your styling options, care needs, and level of comfort will all depend on the length you choose. Shorter braids are more practical and convenient, while longer braids give adaptability and a wider choice of creative options. When making this choice, it's important to take your face shape, lifestyle, and personal preferences into account. Always put your natural hair's health first and seek professional advice from a hairdresser if you need it. By picking the appropriate length, you may show off your distinctive style and confidently wear knotless braids. For black women's braided wigs, FANCIVIVI is aware of the value of both quality and fashion.  We are a company committed to offering superb braided wig solutions that enhance your beauty and provide you the freedom to express your individual sense of style. On our official website, you can browse our extensive selection of braided wigs.
So, check out our website to find the right wig for you.