In my perspective, the outcomes you create yourself remain more significant than those you purchase. Since only by participating yourself can you truly enjoy acquiring knowledge and achieving. As a result, I make an effort to obtain the stuff I appreciate. Box braids are obliviously one of my results. Although box braids and cornrows are classic hairstyles, the wavy-end box braid trend is particularly modern and chic. They are ideal for safeguarding natural hair and come in a variety of lengths, sizes, and styles. But creating box braids with wavy ends that are salon-quality at home may appear tough. Achieving those delicate surfy waves at the ends of the braids without excessive processing your hair is the trick. But don't worry. In this post, I am willing to share my tricks to help you create this style in the convenience of your own home.
Assemble your materials and tools
Collect the necessary equipment and hair products beforehand. You'll also need a curling iron with a 1-inch diameter wand or curling tongs to get wavy ends. In order to protect your natural hair and hair extensions from damage, commence on a lower heat setting between 300 and 350 F.  Prepare a rat-toothed comb, large and small comb clips, hair ties, and hair bands on standby for creating the braids. Finally, to maintain your natural hair healthy during the braiding process, hydrate your hair and scalp before you begin with a leave-in conditioner, oil serum, and hair mask. Of course, braiding hair (synthetic or human hair) is indispensable.
Get your hair ready
Before starting the braiding process, it's important to prep your hair. Start by washing and conditioning your hair, then detangle it thoroughly. If you have natural hair, apply a leave-in conditioner to provide some slip and make the detangling process easier. If you have relaxed or chemically treated hair, apply some oil to the ends to prevent breakage.
Once your hair is detangled, section it off and clip it out of the way. Start with a small section at the nape of your neck and work your way up. Use a comb to part the hair into a small square or triangle, depending on the size of the box braid you want. Use a hair tie to secure the rest of the hair out of the way.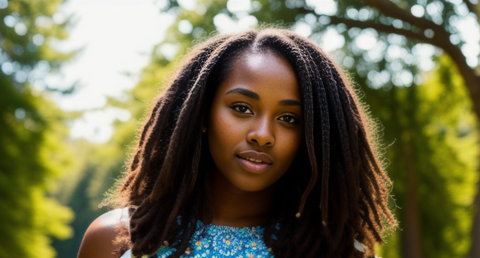 Put your box braids in place
To add length and thickness to your braids, you'll need braiding hair. Cut the braiding hair into the desired length, such as 34 or 36 inch long, then fold it in half so that you have two even strands. Place the folded end of the braiding hair underneath the section of your natural hair, then use the two loose strands to start braiding your hair.
To start the braid, take the left strand of the braiding hair and cross it over the natural hair section, so that it becomes the new left strand. Then, take the right strand of the braiding hair and cross it over the left strand, so that it becomes the new right strand. Continue braiding in this way until you reach the end of your natural hair. Then, braid the remaining braiding hair to the end of the section.
Construct wavy ends
To create wavy ends, you'll need perm rods or flexi rods. Take a perm rod or flexi rod and wrap the end of the braid around it, then roll the rod up towards the scalp. Secure the rod in place by bending the ends of the rod towards each other. Repeat this process for all of the braids.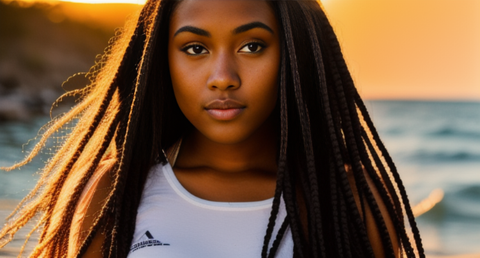 Once all the braids are rolled up, use a spray bottle to dampen the hair. You can also apply a hair product of your choice to help set the waves. Let the braids air dry or sit under a hooded dryer until completely dry. Once dry, remove the perm rods or flexi rods and gently separate the waves with your fingers.
Keep up with your braids
To keep your braids looking fresh, it's important to maintain them properly. Apply a light oil or hair lotion every few days to the scalp and braids to keep them moisturized. You can also use a satin or silk pillowcase or bonnet to prevent friction and frizz while sleeping.
When it's time to take down the braids, be gentle and patient. Start by unraveling the wavy ends, then carefully undo the braids. Use a detangling spray or conditioner to help with the process and be sure to trim any split ends.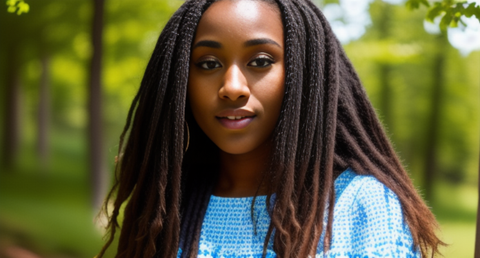 By the way, as a black woman myself, I understand the importance of finding protective styles that not only look good but also keep our natural hair healthy. That's why I was excited to learn about FANCIVIVI, a brand that specializes in making braided wigs for black women. From waist-length box braids to short bob styles, there's something for everyone. The wigs are made with high-quality synthetic hair that looks and feels like real hair, and they come in various colors to match your skin tone.
Conclusion
Now that you put your own wavy end box braids, they are salon-quality. Rock your new DIY cornrow style with assurance realizing that you're equipped with the knowledge to recreate this look at home whenever you want the look of carefree wavy braids. Your box braids will improve with repetition; go show off your new hairstyle immediately!