I'm aware it is not occasionally easy to attain the right appearance since I have played with various hairdos. The proper hairstyle may accentuate your inherent attractiveness and increase your confidence, regardless of whether you're striving for a daring and outgoing look or a more understated and classic one. One hairstyle that has been gaining popularity in recent years is knotless braids, however, It can be challenging to choose between traditional 36-inch braids and 34-inch braids. Will the additional length require too much maintenance or provide a more striking look? Do 34 inches provide enough versatility for both everyday wear and exceptional occasions? So in this post, I'm going to share some tips and tricks for you to choose the perfect look with 36 or 34 inch knotless braids.
What are the advantages of knotless braids?
First, let's talk about what knotless braids are. Unlike traditional box braids wigs, knotless braids don't have a knot at the base of each braid. Instead, the hair is braided in a continuous pattern, which creates a more natural and seamless look. Knotless braids are also less damaging to the hair, as they don't pull on the roots as much as traditional box braids.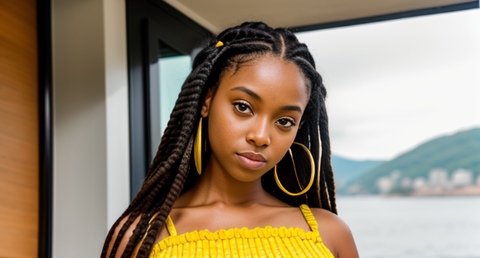 When it comes to the length of your knotless braids, you have a few options. The two most popular lengths are 36 inches and 34 inches. While both lengths can look great, there are some differences to consider.
If you choose the 36 inch knotless braids
If you're looking for a bold and dramatic look, 36 inch knotless braids might be the way to go.  These braids are longer and thicker than 34 inch braids, which can make a statement and turn heads. However, there are some things to keep in mind if you decide to go with this length.
One of the biggest challenges with 36 inch knotless braids is that they can be heavy, especially if you have a lot of hair. This can put a lot of strain on your scalp and neck, which can be uncomfortable or even painful. To avoid this, it's important to make sure that your 36 inch braids are not too tight and that they are evenly distributed across your scalp.
Another challenge with 36 inch knotless braids is that they can be more difficult to manage than shorter braids. Because they are longer, they are more likely to tangle and get caught on things like clothing or jewelry. To prevent this, it's important to keep your braided wig moisturized and to avoid wearing tight or restrictive clothing that could cause your braids to snag.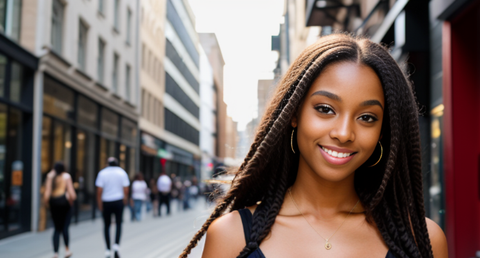 I chose the lengthier 36-inch style when I initially started having knotless braids. Knotless braids have an indisputable air of elegance and regality, thanks in part to African and Afro-Caribbean culture. My curly hair structure works well with the long style since it can hang loosely and freely rather as being pressed up against my scalp in tight braids.
Even while I adore the style, maintaining these extraordinarily long braids may be time-consuming. Braids longer than three feet in length require daily detangling, regular oiling, and product maintenance to keep them smooth and bouncy due to tangling and shedding.
If you choose the 34 inch knotless braids
34 inch knotless braids can be an improved alternative if you're searching for a more controllable and adaptable style. These braids can be less complicated to style and maintain than 36 inch braids because they are a little shorter and thinner. With this length, there are still a few factors to bear in mind.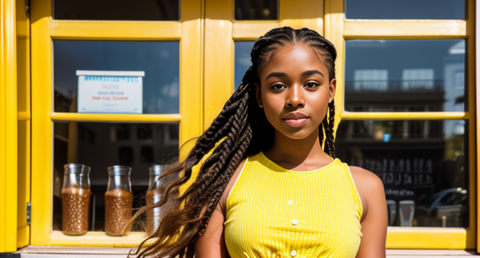 One of the benefits of 34 inch knotless braids is that they are less heavy than 36 inch braids, which can be more comfortable for some people. However, they can still put some strain on your scalp and neck if they are too tight or unevenly distributed. It's important to communicate with your stylist about how tight you want your braids to be and to make sure that they are evenly spaced across your scalp.
Another thing to consider with 34 inch knotless braids is that they may not be as dramatic or eye-catching as longer braids. If you're looking for a more subtle and understated look, this might be a good thing. However, if you want your braids to be a statement piece, you may want to opt for the longer length.
Care tips and tricks for both 36 and 34 inch knotless braids
Sleep with a satin bonnet or pillowcase to prevent frizz and breakage.
Use a leave-in conditioner to keep your hair moisturized and prevent breakage.
Avoid wearing heavy earrings or necklaces that could get caught in your braids.
Experiment with different styles, like half-up half-down or braided buns, to keep your look fresh and interesting.
Wash your braids every two weeks with a sulfate-free shampoo. Be gentle when washing and avoid rubbing your scalp too vigorously.
Braidkeepers and hair ties can be your best friends. Secure excess length with loose braid holders, hair ties, or elastics to prevent tripping and tangling.
By the way, If you are still torn between choosing 36 or 34 braids, why not come to FANCIVIVI to have a look first. One thing I love about FANCIVIVI is their dedication to inclusivity. They offer wigs in a wide range of sizes, colors, and styles, ensuring that there is something for everyone. Plus, their website is easy to navigate and includes helpful guides for choosing the perfect wig for your face shape and personal style.
Conclusion
In conclusion, selecting the ideal length and caring for your hair can help you achieve the ideal knotless braids style. If you maintain a routine of oiling, detangling, and covering your hair at night, you may create perfect, long-lasting knotless braids.  You may select the braid length that is ideal for your lifestyle while still obtaining that classic bohemian beauty with the help of my ideas for mid-calf versus floor-long braids. Knotless braids may completely change your appearance with a little care, allowing you the self-assurance to transition from casual Friday brunch dates to upscale Saturday night events. You have a pick!