Introduction
I've always been fascinated by the adaptability and ease of wigs since I enjoy experimenting with different hairstyles. The knotless faux locs wig is one design that has recently attracted my eye. It combines the simplicity of wearing a wig with the natural appearance of locs. I'll walk you through the process of picking the ideal length, color, and texture for your knotless faux locs wig in this article. These suggestions will assist you in making an informed choice, regardless of your level of experience with wigs.
Getting to Know Knotless Faux Locs Wigs
Let's first define knotless faux locs wigs before we get into the technicalities of selecting the best one. These wigs are created to seem like knotless faux locs, a fashionable and protective hairdo. The locs are painstakingly hand-tied onto a lace cap to create knotless faux locs wigs, which look more natural and seamless than regular wigs.
Selecting the Proper Length
Consider your unique style and comfort while choosing the length of your knotless faux locs wig. These wigs are available in a range of lengths, from short to long. For people who like a stylish and hassle-free appearance, shorter wigs are a perfect option because they require less upkeep. Longer wigs, on the other hand, provide greater adaptability and permit a wider range of styling options, including updos and ponytails. You can choose the right length by taking into account your lifestyle and the occasions you intend to wear the wig.
Choosing the Ideal Color
When selecting a knotless faux locs wig, color is an important aspect to take into account. The hue should boost your overall appearance and go well with your skin tone. There are many different colors to choose from, including brilliant colours like blonde, red, and even pastel tones, as well as more natural shades like black and brown. Choose colors that closely resemble your real hair if you're new to wearing wigs or desire a more natural appearance. While experimenting with color can be enjoyable, it's important to pick a hue that makes you feel confident and at ease.
Investigating Texture Option
The knotless faux locs wig's texture is a vital factor to take into account. Your appearance can be totally changed by using various textures to achieve the desired style. These wigs are typically offered in straight, wavy, and curly textures. A straight texture would be great if you're going for a sleek and classy appearance. Choose a wavy or curly texture for a more casual and easy vibe. When selecting the texture that suits you best, take into account your personal style, the event, and the amount of upkeep you're willing to put forth.
Full Lace Wigs: Trying Them for a Realistic Look
Consider using a full lace wig to give your knotless faux locs wig a more genuine appearance. Full lace wigs include a lace cap that covers the entire head, giving the wearer a natural-looking hairline and the flexibility to part their hair however they choose. The lace cap also offers comfort and breathability, making it a great option for people who intend to wear wigs for prolonged periods of time.
Advice on Upkeep and Care
Your knotless faux locs wig will last longer if you take care of it properly. Here are some suggestions to keep it looking beautiful and new:
Before and after each wear, gently untangle the wig with a wide-tooth comb or your fingertips.

To maintain the wig's cleanliness and prevent product accumulation, wash it frequently with wig shampoo and conditioner.

Let the wig down

To maintain its shape and avoid damage from heat styling equipment, let the wig air dry on a wig stand or mannequin.

Avoid using hot tools like curling irons or hair dryers because they can harm the wig's synthetic fibers.

To avoid tangling and keep its shape, store the wig in a cool, dry area, either in a wig box or on a wig stand.

To preserve your natural hair and scalp from friction and sweat, think about using a wig hat or scarf underneath the wig.

Consult a professional hairstylist who specializes in wig care if you're unsure how to style or maintain the wig.
Selecting the Best Supplier
Finding a trustworthy vendor is crucial now that you are aware of how to pick the ideal length, color, texture, and maintenance for your knotless faux locs wig. Find trustworthy wig companies or shops that provide premium wigs created from long-lasting materials. To make sure you're purchasing a trustworthy and genuine product, read user reviews, look for certifications, and compare pricing.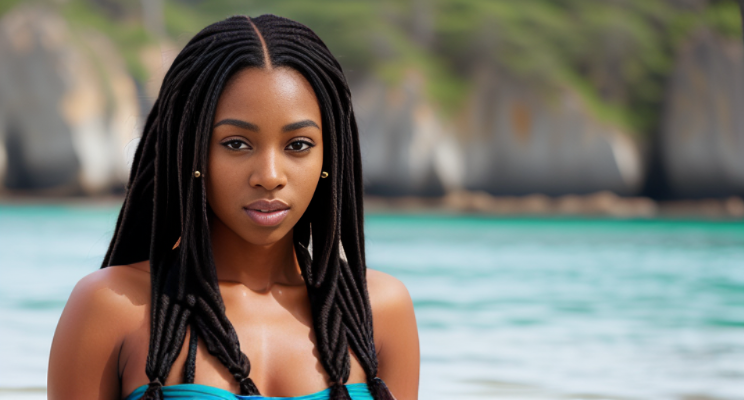 Conclusion
A fun and individual process can be selecting the ideal length, color, and texture for your knotless faux locs wig. You may discover a wig that precisely suits your requirements and improves your overall appearance by taking into account your unique style, level of comfort, and maintenance preferences. To prolong the life of your wig and to take advantage of the ease and adaptability it offers your hair styling regimen, remember to take proper care of it. Anytime you want, you can easily achieve a gorgeous and realistic-looking hairdo with the correct knotless faux locs wig. FANCIVIVI provides everything you need if you're seeking for high-quality braided wigs for black ladies. We take pride in our craftsmanship and only utilize the best components when making our products because we are a company committed to offering the best braided wig solutions available on the market. Our wigs are available in a variety of styles, such as full lace wigs, box braid wigs, and braided wigs, and we provide a large selection of colors and textures to match your own fashion sense.
Discover the ideal braided wig for you by viewing our assortment on our website.