Q: What are box braid wigs?
A: Box braid wigs are cascades of silky synthetic locks, passionately braided into intimate square-shaped unions. These wigs ignite admiration by mimicking the natural beauty of box braids. As loyal guardians of your hair, they selflessly envelop your tresses to shield them from harm. 
Q: Why should I choose a box braid wig?
A: A box braid wig offers convenience and versatility. It provides the look of box braids without braiding your own hair. It comes in various lengths, colors, and thicknesses to suit your style. It is temporary and removable, allowing you to change looks easily. It protects your natural hair from damage. It is affordable and low maintenance, requiring little daily styling or washing. With so many benefits, a box braid wig is the perfect choice.
Q: What are box braid wigs made of?
A: Box braid wigs are typically made of synthetic fiber hair such as kanekalon or toyokalon. These fibers are processed to resemble the look and feel of human hair. Synthetic wigs are more affordable and lower maintenance than human hair wigs, but they cannot be styled with heat and have a shorter lifespan. Some high-quality box braid wigs use human hair or a human-synthetic hair blend to provide a more natural appearance and styling versatility.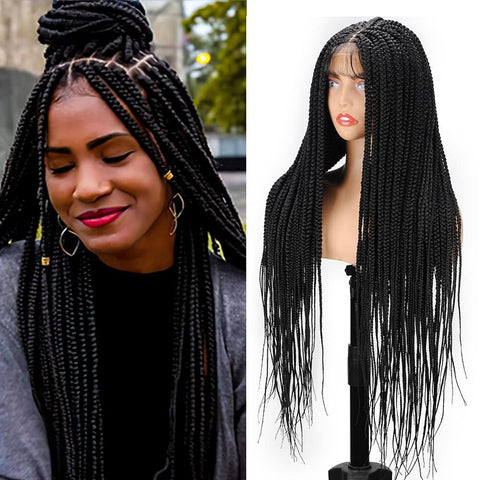 Q: What are the criteria for a good box braid wig?
A: You may want to know more details about these criteria before buying a boc braid wig, these are some suggestions for a good choice: High-quality synthetic fiber hair, appropriate density and cap fit, desired braid style and size, color that suits your skin tone and desired look, reasonable price for hair material and construction
Q: How do box braid wigs stay on my head?
A: As a goddess who loves to stand out from the crowd, you need a wig that will crown your head with confidence. Clip-in and comb-in wigs will lovingly embrace your locks, while adhesive wigs will passionately cling to you for a more permanent rendezvous. Choose the attachment that sets your heart aflame.
Q: How long do box braid wigs last?
A: A box braid wig will adore you for several months to over a year as long as you show it affection through proper care. Its lifespan depends on the quality of its silky tressesand how often it can bask in your divine presence. To keep your box braid wig gazing at you lovingly, follow its care decrees. Shield it from cruel sun and heat, and grant it respite to pine for your embrace. But if its braids begin to unravel or its fibers shed, the ardor has faded. It is time to conclude the romance, and pursue new love in the form of another box braid wig to crown your divine locks.
Q: How do I maintain a box braid wig?
A: To keep your box braid wig gazing at you lovingly, gently comb its braids with tender care to prevent matting and tangles and spread its natural oils. Once a month or as desired, wash away impurities with a gentle shampoo and conditioner and allow your wig to air dry while dreaming of you. Apply a leave-in conditioner or braid spray to moisturize the thirsty fibers and control frizz, and place it on a wig stand or mannequin head when not in use so it may anticipate your next meeting.
Q: How do I choose the right color of box braid wig?
A: When choosing a wig color, consider your natural hair color and skin tone. For a natural look, choose a color that matches your hair color. Lighter skin tones can wear a variety of colors, while darker skin tones tend to suit darker browns and black tonesbest. You can also choose a dramatic color to make a bold fashion statement. If you're unsure, view wig colors in natural light and hold them up to your face in front of a mirror to see how they look on you.
Q: How can I ensure a comfortable fit when wearing a box braid wig?
A: To ensure a comfortable fit for your box braid wig, choose a wig that fits your head size, use adjustable straps or wig grip bands, and wear a wig cap. Adjust the wig to make sure it is not too tight or too loose. Take breaks to allow your scalp to breathe and use scalp-soothing products between wears.
Q: How can I tell if a box braid wig will fit my head size?
A: To ensure a box braid wig fits your head size, measure your head circumference and compare it to the wig's measurements. If the wig's circumference is larger than your head, you can adjust the wig's straps or use a wig grip band to make it fit better. You can also use a wig cap to provide a comfortable fit and help the wig stay in place. Additionally, take breaks to allow your scalp to breathe and use scalp-soothing products between wears.
Q: How can I tell if a wig retailer is trustworthy?
A: Before trusting a retailer, ask these questions: How many years have they been in business? Established retailers are more likely to provide good customer service and quality products to maintain their reputation. Do they have positive customer reviews? Check independent review sites and the retailer's social media pages or website to see what kind of experiences other customers have had with the company and their products. Do they provide detailed product information? Trustworthy retailers will provide high-quality photos of the wig from multiple angles, specifications on the hair type, length, color, cap construction, and attachment method, and guidance on how to choose a wig. Do they offer a return policy? Reputable retailers will allow you to return a wig within a certain number of days of delivery if you are not satisfied with the product. This shows that they stand behind the wigs they sell. Do they have knowledgeable customer service? Trustworthy companies will have a customer service team that can thoroughly answer your questions about their products, proper use, and care. They should respond to inquiries in a timely and professional manner.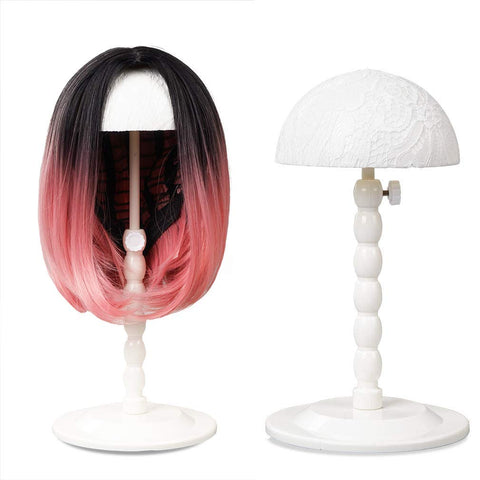 Q: Where can I buy a box braid wig?
A: Box braid wigs can be purchased from beauty supply stores that sell wigs and hair extensions or online from wig retailers. Reputable retailers will provide close-up photos of the wig fibers and braiding and include details on the hair type, length, color, cap construction, and attachment method to help you make an informed choice. Look for wigs from established brands to ensure better quality and customer service.
Q: Where is the best place to store a box braid wig?
A: As your devoted crown of plaits, your box braid wig deserves loving care. To keep its braids gloriously intact, store it on a wig stand or mannequin head where it can primp for your next meeting. Using a display stand or mannequin head is the best way to protect the shape of your box braid wig and prevent the braids from becoming matted or tangled. If you don't have access to a stand or mannequin, store your wig in its original box or a wig bag made of mesh material. Avoid stacking wigs on top of each other in a disorganized manner, as this can damage the silky fibers and ruin the style of the wig. Place your wig in a cool, dry space sheltered from harsh sun and heat, so its charms may endure until your next lavish unveiling. With such gentle treatment, your box braid wig will serve and protect you for divine spells to come.