Ready to make your box braid wig unique? Customizing your wig is a popular way to express your individual style and make a bold fashion statement. From adding some glitz to experimenting with different braiding styles and colors, there are countless options for customizing your box braid wig. Have fun and let your creativity shine! In this guide, we'll walk you through the steps of customizing a box braid wig and share some tips and ideas to help you create a unique and personalized look.
Step 1: Selecting the Right Box Braid Wig
It's exciting to select the perfect box braid wig that suits your preferences. First, you need to take some time to consider the length, thickness, and color. Once you find the perfect wig, you'll be thrilled to start customizing it to your liking.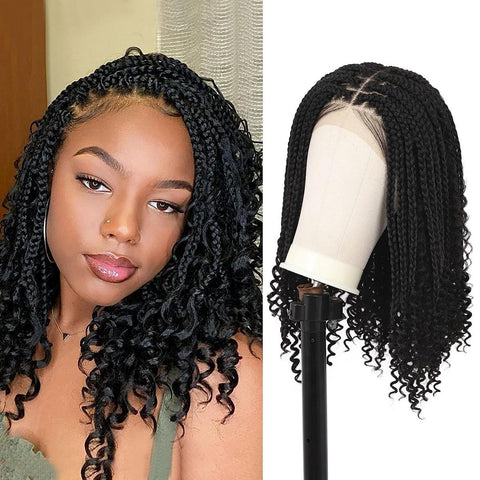 Length: The length of the wig will depend on your natural hair length and style. No matter how long your own hair is, box braid wigs of all lengths are available for you to choose. Therefore, don't heasitate to try the look you've never been!
Thickness: The thickness of the wig will impact the overall look and feel of the wig. Thicker wigs tend to have a more voluminous appearance, while thinner wigs can create a more natural and understated look.
Color: Box braid wigs come in various colors, from natural hair shades to bold and bright colors. Choose a color that complements your skin tone and personal style. For example, using ombre fades or incorporating multiple colors into your braids can create a more distinctive and attractive look.
Step 2: Adding Accessories to Your Box Braid Wig
Accessories are a great way to add a personal touch to your box braid wig. They are the essence to make your wig different from anyone else's. Here are some easy and fun ways to accessorize your wig: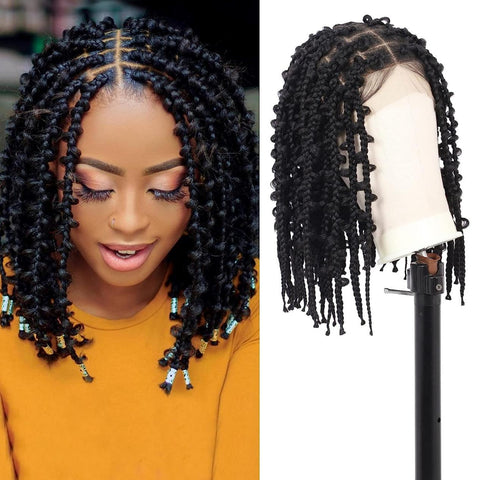 Headbands or Scarves: By adding a headband or scarf, you can get a bohemian or retro style depending on your preference. You can choose a headband or scarf in the same color as your wig to create a coordinated style, or opt for a brightly contrasting color to make a more eye-catching fashion.
Clips or Barrettes: Clips or barrettes can hold the wig in place, add a touch of sparkle and shine, or create a visually stunning effect. You can use clips or barrettes to create a pattern or design, or place them randomly for a more playful and spontaneous look.
Beads: Beads are a popular accessory for box braid wigs. You can add beads to the ends of your braids for a subtle touch, or use them to create more elaborate patterns and designs. Pick beads of different sizes, shapes, and colors, you will get ones and combinations that best fit your style.
Step 3: Experimenting with Braiding Techniques
Braiding techniques are another way to customize your box braid wig. Here are some braiding techniques to try: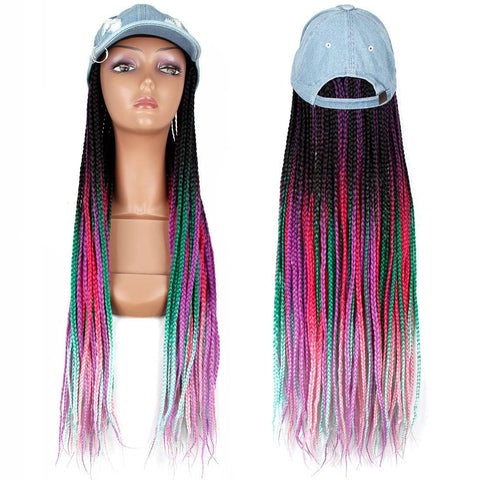 Twists: Twists involve twisting two strands of hair together to create a twisted effect. This technique can create a more natural and understated look, and it's perfect for those who want a low-maintenance hairstyle.
Cornrows: Cornrows involve braiding the hair in a continuous, raised row pattern. This technique creates a more intricate and detailed look, and it's perfect for those who want a more elaborate and personalized style.
Different Braid Sizes and Patterns: You can get creative with different braid sizes and patterns to create a one-of-a-kind look. Try braiding some sections of your wig in a fishtail pattern, or create a zigzag pattern with your braids for a more unique style. Have fun and let your imagination run wild!
Step 4: Mixing and Matching Colors
Mixing and matching colors is another way to customize your box braid wig. By choosing different colors, different wig parts, and different combinations, you can creat a special boc braid wig showing your taste and attitude! Here are some ideas to try:
Ombre Effect: An ombre effect involves blending two or more colors together so that they gradually transition from one color to another. For example, you can start with a darker color at the roots and gradually transition to a lighter color towards the ends.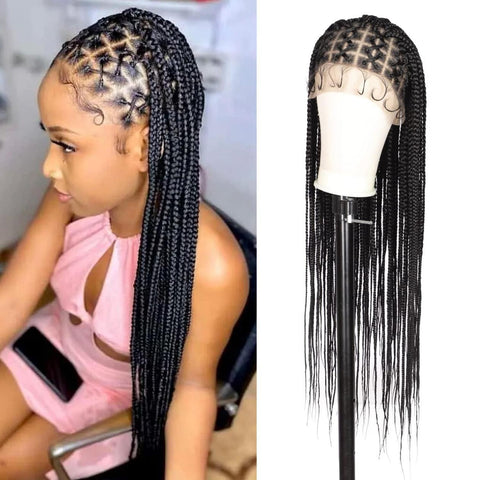 Rainbow Effect: A rainbow effect involves using multiple colors in different sections of your wig to create a colorful and vibrant look. You can choose colors that complement each other, such as pink and purple, or colors that contrast, such as blue and orange.
If you want more details apart from the above four steps, find more information in the following paragraphs! Wigs right out of the package can appear overly uniform, artificial, and like an obvious wig rather than a natural hairstyle. With some simple customization techniques, you can create a look that's tailored to your unique style and preferences. Transforming a basic box braid wig into a personalized masterpiece is easier than you might think.
First, loosen up the tightly-spaced box braids to add volume and make them look more natural. Take time to gently loosen individual braids and vary their size and shape. Loosening the braids makes the wig look less like a perfect 'helmet' of braids affixed to your head, and more like a head of actual loose box braids. Along with varying the braid size, you can also pull out a few of the braids in the front, sides, or crown of the wig and re-position them to frame your face or customize the style.
Second, re-part the braids to a location and style you prefer. If you want to take your box braid wig customization game to the next level, you need to re-part those braids to a location and style that you prefer. Sure, most box braid wigs come with a pre-defined middle or side part, but why settle for the ordinary when you can create a look that's uniquely yours? Use a comb to shift the part to the side or make a zigzag part that weaves across the wig.
Third, smooth down any stray hairs or loose braids to give your final look a polished and cohesive appearance. This little extra step can make a big difference in the overall impression of your customized box braid wig. You may need to tighten or adjust the braids around the new part to make it look natural, but trust me, it's worth the effort!
With some time and attention to detail, customizing a box braid wig is achievable for anyone. By following the steps of loosening the braids, re-positioning the part, and smoothing the final style, you can create a box braid wig that looks unique to your style and preferences. With regular customization and a bit of practice, you'll be an expert at customizing your wig in no time.
Conclusion
Customizing a box braid wig is an incredibly exciting and fulfilling process that allows you to express yourself creatively while making a bold fashion statement. It's a chance to unleash your imagination and experiment with different styles, from bohemian and retro to edgy and contemporary. By adding accessories, trying out new braiding techniques, or playing with color combinations, you can create a one-of-a-kind look that perfectly reflects your personality and style. So let your creativity run wild and show off your unique and stunning box braid wig with pride!