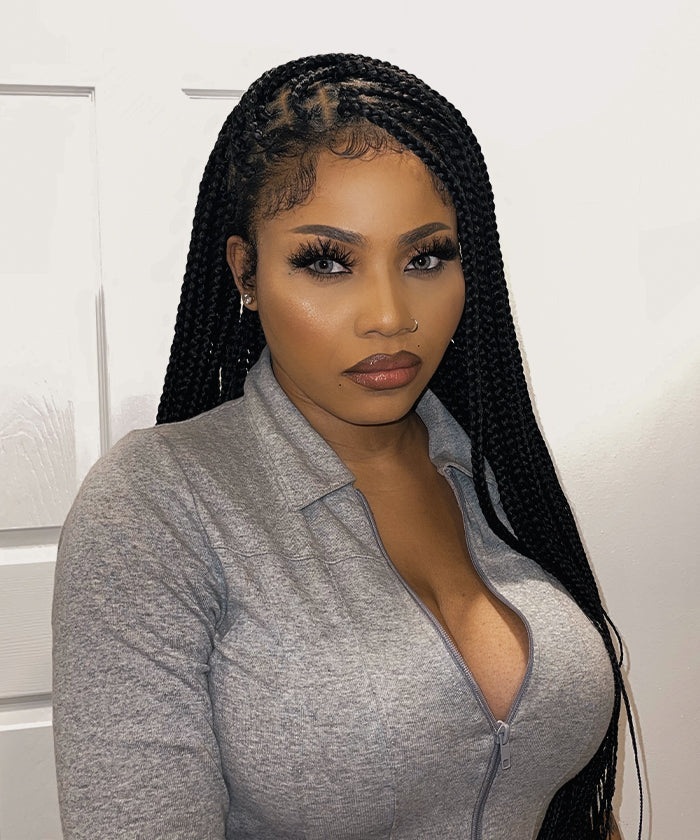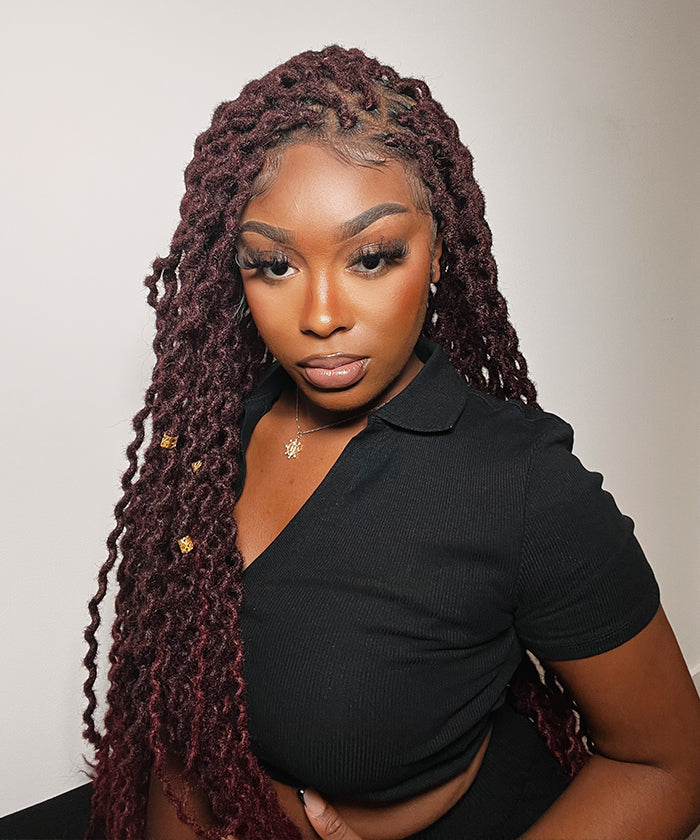 Achieving and Maintaining Small Box Braids: A Guide to Styling and Care
Small box braids are a popular and versatile hairstyle that can enhance your natural beauty and offer you a variety of styling options. Whether you're looking for a protective style or a trendy look, small box braids can be a fantastic choice. In this article, we will guide you through the process of achieving and maintaining small box braids, while providing you with valuable tips and tricks to make the most out of this hairstyle.
Before you start braiding your small knotless braids, it's important to prepare your hair properly. Begin by washing and conditioning your hair to ensure it's clean and moisturized. Detangle your hair thoroughly and use a wide-toothed comb to remove any knots or tangles.
Next, determine the desired size of your braids. Knotless braids are typically created by parting the hair into small sections, about a quarter to half an inch in width, similar to small box braids. Use clips or rubber bands to secure the sections of hair you're not working on at the moment.
When it comes to the braiding technique, small knotless braids differ from traditional box braids in that they don't require a knot at the base. Instead, they start with a feed-in method, where a small amount of your natural hair is used to begin the braid and gradually incorporate additional hair extensions as you braid down the section. This technique creates a more seamless and natural-looking braid.
To start each braid, take a small section of your natural hair at the root and divide it into three equal parts. Begin braiding the hair as you would with a traditional braid, incorporating hair extensions as you go along. The key is to add small amounts of hair at a time to create a gradual and seamless transition from your natural hair to the extensions. Continue braiding until you reach the desired length, and secure the end with a hair tie or rubber band.
One of the most exciting aspects of small box braids and full lace wigs is the variety of styling options they offer. Here are some popular ways to style your small box braids or full lace wigs:
1. Washing and conditioning:
While wearing small box braids, it's important to keep your scalp and hair clean. Use a gentle shampoo and focus on massaging the scalp to remove any buildup or residue. Follow up with a moisturizing conditioner to keep your hair hydrated.
2. Scalp care:
Keep your scalp moisturized by using a lightweight oil or a specialized scalp treatment. Gently massage the oil into your scalp to promote blood circulation and prevent dryness. If you experience itchiness or flakiness, try using a natural remedy like diluted tea tree oil or a soothing scalp spray.
3. Protecting the braids:
To maintain the longevity of your small box braids, it's essential to protect them while you sleep. Consider wrapping your hair with a silk or satin scarf or using a silk or satin pillowcase to minimize friction and prevent frizz. Additionally, avoid excessive manipulation or pulling on the braids, as this can cause breakage.
By incorporating small box braids or full lace wigs into your styling options, you can enjoy the versatility and beauty of both hairstyles. Whether you choose to rock braids or opt for the convenience of a wig, these styling options will allow you to express your unique style and enhance your overall look.
One of the most exciting aspects of small box braids is the variety of styling options they offer. Here are some popular ways to style your small box braids:
●Half-up, half-down hairstyles:
Create a stylish look by pulling the front sections of your braids back and securing them with a hairpin or a decorative hair accessory. Leave the remaining braids loose for a chic and effortless style.
●Updos and buns:
Gather your small box braids into a high or low bun for an elegant and sophisticated look. You can also experiment with different types of updos, such as braided buns or twisted updos, to add a unique touch to your hairstyle.
●Ponytails and pigtails:
Embrace a playful and youthful vibe by styling your small box braids into ponytails or pigtails. You can create high ponytails, low ponytails, or even side ponytails for a versatile and trendy look.
●Accessorizing small box braids:
Elevate your small box braids by accessorizing them with beads, cuffs, or colorful wraps. These accessories not only add a stylish flair to your hairstyle but also protect the ends of your braids.
The duration that small box braids can last varies depending on factors such as hair growth, maintenance, and the quality of the installation. On average, small box braids can last anywhere from 4 to 8 weeks. However, some people may choose to keep them in for a shorter or longer period.
It's important to pay attention to your hair and scalp during this time. If you notice excessive frizz, significant hair breakage, or your scalp feels excessively dry or itchy, it's advisable to remove the braids earlier.
Proper maintenance and care can also contribute to the longevity of your small box braids. Following a consistent hair care routine, protecting your braids while sleeping, and avoiding excessive manipulation can help extend their lifespan.
Removal of Small Box Braids:
When it's time to remove your small box braids, it's essential to do it carefully to prevent any damage to your natural hair. Here's a step-by-step guide to removing small box braids:
1. Prepare your tools:
Gather a wide-toothed comb, hair clips, scissors (optional), and a detangling product or conditioner.
2. Divide the braids:
Section your hair into manageable portions by clipping or tying up the unbraided hair. This will make the removal process easier.
3. Cut the ends (optional):
If you prefer, you can cut off the ends of the braids to make unraveling easier. Be cautious not to cut your natural hair.
4. Unravel the braids:
Take one braid at a time and gently unravel it from the ends, working your way up to the roots. Use your fingers or a wide-toothed comb to separate the strands and detangle any knots or tangles.
5. Detangle and moisturize:
Once all the braids are removed, detangle your natural hair using a wide-toothed comb or your fingers. Apply a detangling product or conditioner to ease the process. Be patient and gentle to avoid unnecessary hair breakage.
6. Wash and deep condition:
After removing the braids, it's recommended to wash your hair to remove any product buildup or residue. Follow up with a deep conditioning treatment to restore moisture and nourishment to your hair.
7. Style as desired:
Once your hair is clean, conditioned, and detangled, you can style it as desired. You may choose to give your hair a break and let it rest before considering another protective style.
It's worth noting that if you're unsure about removing the braids yourself or if you have concerns about potential damage to your hair, it's best to seek the assistance of a professional hair stylist who can safely remove the braids for you.
Here are some additional tips and considerations to keep in mind when it comes to small box braids:
●Choosing the right hair extensions or braiding hair:
Select high-quality synthetic hair extensions that closely match the texture and color of your natural hair. It's important to choose extensions that are lightweight and won't cause excessive tension on your scalp.
●Finding a professional stylist or DIY braiding:
If you're new to small box braids or prefer professional assistance, consider seeking the expertise of a professional stylist who specializes in braiding. They can ensure a precise and well-executed braiding technique. However, if you're confident in your braiding skills, you can opt for a DIY approach with the help of online tutorials and guidance.
●Understanding the limitations and potential risks:
While small box braid wigs can be a beautiful hairstyle, it's important to be mindful of the potential risks and limitations. Braids that are too tight or left in for an extended period can lead to hair breakage or traction alopecia. It's crucial to strike a balance between a secure braiding technique and avoiding excessive tension on the hair and scalp.
Conclusion
If you're looking to switch up your hairstyle or experiment with different looks without commitment, FANCIVIVl is here to cater to your needs. As a brand dedicated to providing high-quality braided wigs for black women, FANCIVIVl offers a wide range of beautifully crafted wigs that mimic the elegance and versatility of small box braids.
Our braided wigs are meticulously handcrafted by skilled artisans, ensuring attention to detail and authenticity. Each wig is made with premium synthetic fibers that are soft, lightweight, and designed to resemble natural hair. With FANCIVIVl braided wigs, you can effortlessly achieve the stunning look of small box braids in an instant, saving you time and effort.
At FANCIVIVl, we understand the importance of catering to diverse preferences and styles. That's why our collection features various braid sizes, lengths, and colors, allowing you to find the perfect wig that resonates with your personal taste. Whether you're seeking a classic and sophisticated look or a bold and trendy style, FANCIVIVl has the ideal braided wig to complement your individuality.
In conclusion, small box braids offer a world of possibilities when it comes to styling and versatility. By following the steps outlined in this article, you can achieve and maintain stunning small box braids while keeping your natural hair protected. And when you're ready to explore even more styling options or switch up your look effortlessly, FANCIVIVl is your trusted brand for high-quality braided wigs that cater specifically to black women. Discover the beauty and convenience of FANCIVIVl braided wigs and embrace the endless possibilities they offer for your personal style.