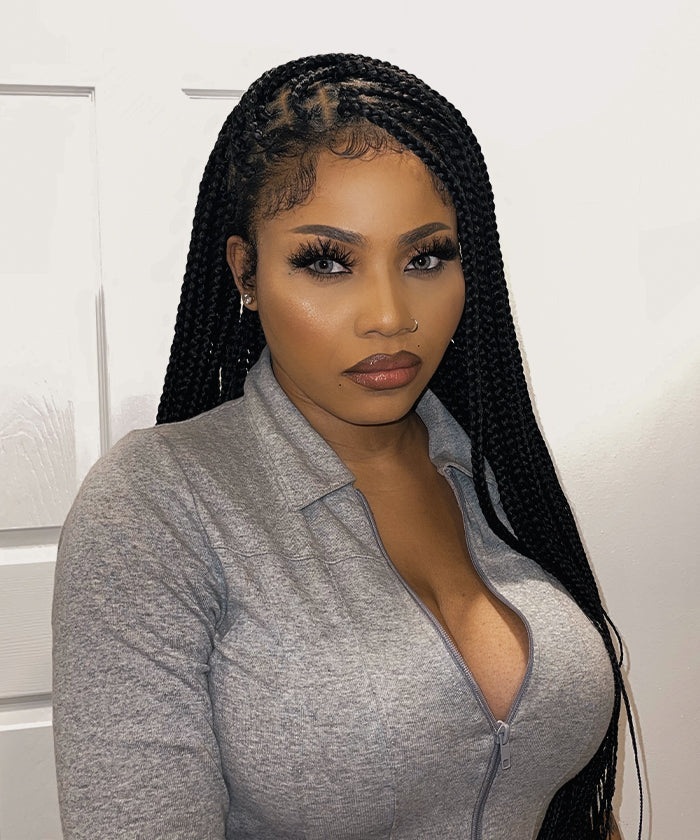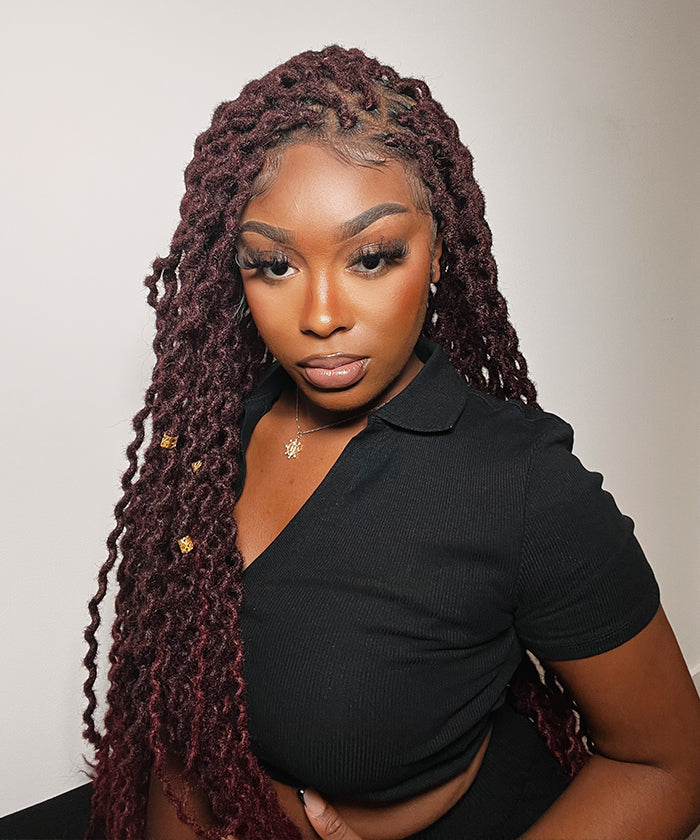 Our Medium Knotless Braids collection is more than just a product line; it celebrates beauty, individuality, and freedom. These wigs are meticulously handcrafted to mimic natural hair, providing an authentic, hassle-free, braided look. These braids are your ultimate accessory for any occasion, from the boardroom to the dance floor.
Explore our collection to find your perfect fit. Whether you're a first-time wig wearer or a seasoned pro, our medium knotless braids range promises to elevate your look and enhance your overall personality.
Experience the FANCIVIVI difference today - because nothing says 'you' like our Medium Knotless Braids collection.
Discover the Magic of FANCIVIVI Medium Knotless Braids Wigs
FANCIVIVI showcases exquisite craftsmanship in its two types of intricate lace materials used for the Medium Knotless Braids wigs.
The Double Layer Lace features an outer layer made of soft Korean lace, complemented by an inner layer of breathable diamond lace. This innovative dual lace construction provides unmatched comfort and versatility. The Korean lace frontal creates a seamless hairline blending with the scalp, while the diamond lace cap promotes air circulation to keep the wig secure and comfortable for all-day wear. Compared to traditional wig caps, the double layer lace design is luxuriously soft and natural looking.
The Single Layer Lace uses premium Swiss HD lace in a hand-tied construction. Each strand is meticulously hand-knotted to the lace front for a sensational customized fit. This hand-tied wig offers the most seamless, natural hairline and allows parting in any direction. The delicate Swiss lace material is softer, more transparent, and more comfortable against the scalp than cheaper lace materials. This intricate hand-tied craftsmanship mimics the look of salon-quality braided hair in a ready-to-wear wig.
Our medium knotless Braids Wigs collection showcases the brand's excellence in crafting fashion-forward synthetic wigs. This innovative line features medium box braids and locs in knotless styles that emulate hand-braided hairdos in sleek, convenient wigs. Made with premium Japanese fibers, these knotless braids wigs accurately mimic the look and feel of intricate braiding patterns while allowing for ease of styling and maintenance. Ranging from short bobs to extra long lengths, the Medium Knotless Braids Wigs offer black women versatile options to achieve stunning braided hairstyles. As a leader in synthetic wigs for black women, FANCIVIVI pours meticulous research and care into designing wigs that balance quality, comfort and affordability. Discover the magic of the Medium Knotless Braids Wigs and unlock effortless styling for natural, beautiful looks.

One of FANCIVIVI's most well-liked product categories, the Medium Knotless Braids Wigs Collection, serves black ladies seeking medium-length protective styles. This cutting-edge line of wigs includes styles with faux locs to box braids and other knotless braiding patterns. The knotless structure, in contrast to conventional braided wigs, produces smooth, faultless finishes while reducing friction and bulk. This collection's middle lengths strike the ideal balance between adaptability and manageability. Available in styles from curly to bohemian, the Medium Knotless Braids Wigs enable black women to achieve fresh, fashion-forward looks easily and stylishly. As a leader in protective styling, FANCIVIVI pours quality craftsmanship into this collection to deliver braided hair magic with unbelievable convenience.

1.Locs with Curly Ends Boho Wig:This boho-chic 32-inch goddess locs wig allows you to create a myriad of vintage, romantic hairstyles. Style it into a half-up-half-down look paired with a flowy maxi dress for a bohemian festival vibe. Or sweep the locs into an elegant updo complemented by statement earrings for a formal event. The curly ends let you experiment with playful, carefree looks like pigtail braids or a side ponytail. Match it with jeans, boots and a band tee for a hippie grunge aesthetic.

2.Butterfly Bob Wig:This edgy 14-inch butterfly bob offers endless styling versatility for the trendsetting fashionista. Sculpt it into a sleek straight look and pair with a bold power suit for #girlboss energy at the corporate office. Or flip and pin the triangular braids up for an avant garde style matched with graphic liner and a crop top for night outs. The short length also allows creating a retro finger wave look, fancied up with pearls and a cocktail dress for Gatsby-inspired glam.

3.Extra Long Twist Braids Wig:These elaborate 44-inch waist-length Senegalese twists channel tropical island vibes. Let them flow long and straight paired with a printed maxi skirt for a resort-ready look. For concerts or festivals, half pin them up into a crown braid paired with denim shorts and crop top. Or sweep the jumbo twists into a top knot bun with tendrils framing the face, contrasted by statement earrings.

4.Dreadlock Wig:This edgy 50-inch faux loc wig oozes urban vibes. Wear it loose and wavy complemented by a leather jacket and combat boots for downtown coolness. For a high-fashion look, neatly arrange the triangle locs into an updo paired with a sculptural dress. Or create a half-up style accentuated by gold hoops and nude makeup for an elegant, minimalist aesthetic. The options are endless with this versatile hip-length loc wig.

5.Butterfly Knotless Braids Wig:This head-turning 36-inch knotless braids wig shines at summer festivals and exotic vacations. Let the symmetrical butterfly braids hang free with a cropped tee and shorts for a playful poolside look. Or intricately weave sections into goddess braids paired with a floral maxi dress for a whimsical photoshoot in the woods. The striking patterns also dazzle beautifully arranged in an updo with a sequin gown for weddings.

6.Boho Knotless Wig:This effortlessly chic 36-inch knotless braids wig embodies wanderlust spirit. Wear the mermaid waves half down with a crochet bralette and overalls for a laidback bohemian picnic look. Or do two neat French braids embellished with beads, matched with a paisley print blouse and jeans. For music festivals, let the free-flowing braids loose with fringe suede vests and cowgirl boots.

7.Extra Long Locs Wig:These luxurious 40-inch faux locs will help you enter in style. For opulent nights out, cascade them down the back while wearing a chic jumpsuit. Alternately, go for a sophisticated updo, striking gemstone earrings, and an evening gown for red carpet sophistication. For casual styling, part them on the side, let tendrils frame your face, and pair with a band t-shirt and frayed jeans. For the daring fashionista, this extra-long locs wig is stunning.

FANCIVIVI pours exquisite craftsmanship into the designs and features of their Medium Knotless Braids Wigs to deliver unparalleled quality and beauty.

●Intricate Braiding Patterns
These innovative wigs showcase intricate braiding patterns to mimic salon-worthy box braids, twists and locs in stunningly realistic textures. Expert hand-tied knots create flawless braided finishes while eliminating bulk and friction for comfortable wear. The adjustable stretch caps with adjustable straps allow customizing the fit for all-day comfort.

●Seamless Natural Hairlines
The high-quality lace used, like Swiss HD lace and soft Korean lace, provides a seamless natural hairline and adjustable parting options. The hair knots are intricately hand-tied to the lace to resemble growing strands, complete with a wispy baby hair hairline for imperceptible blending.

●Premium Fibers for Realistic Texture
The 100% premium Japanese fibers like Kanekalon create a lush, bouncy texture resembling African American hair. The synthetic fibers are meticulously crafted into different braid sizes and patterns for optimal movement and swing.

●Customizable, Comfortable Stretch Caps
Ventilated caps and lace frontals allow maximum airflow and breathability. The lightweight, cool-to-the-touch texture prevents overheating, keeping you comfortable all day long.
Shared advantages across the Medium Knotless Braids wigs include tangle-free, flowing textures that are easy to detangle and style. The pre-plucked hairlines with baby hair create natural-looking fronts perfect for pulling back or leaving out. High quality construction ensures minimum shedding and splitting for durable, long-lasting wears.
Ultimately, FANCIVIVI's Medium Knotless Braids Wigs allow black women to achieve salon-perfect braids in the convenience of ready-to-wear wigs. The meticulous craftsmanship pours black hair magic into lace fronts, textures, and designs - offering easy, beautiful style transformations.

To get the most wear out of your FANCIVIVI medium knotless braids wig, follow these simple care tips:

●Detangle gently using a wide-tooth comb or fingers, avoiding pulling to prevent tangling and shedding
●Wash 1-2 times per month with sulfate-free shampoo & conditioner designed for synthetic hair
●Allow to air dry fully before styling to prevent frizz and matting
●Apply silicone-free heat protectant before using any heating tools
●Start on low heat settings and avoid overusing hot tools like curling irons to prevent damage
●Store on a mannequin head or wig stand to retain the style and bounce
●Consider adding a silk lining to the cap for extra comfort and friction reduction

By taking great care of your FANCIVIVI medium knotless braids wig, you can enjoy long-lasting quality and beauty for months to come! Reach out to our customer service team if you have any other questions.

Finally, FANCIVI's ground-breaking Medium Knotless Braids Wigs Collection empowers black women with seamless style freedom and self-assurance. Beautiful, realistic-looking wigs are made possible by the painstakingly handmade lace fronts, knotless braiding designs, and premium Japanese fibers. These pre-styled medium knotless braids may be worn right out of the bag, making it simpler than ever to create salon-quality box braids, twists, locs, and goddess braids. FANCIVI is committed to offering fashion-forward wigs that help black women feel attractive, fashionable, and confident every day by pioneering superior craftsmanship and attention to detail in wig design. With FANCIVI's Magic of Medium Knotless Braids, choose your new signature style.