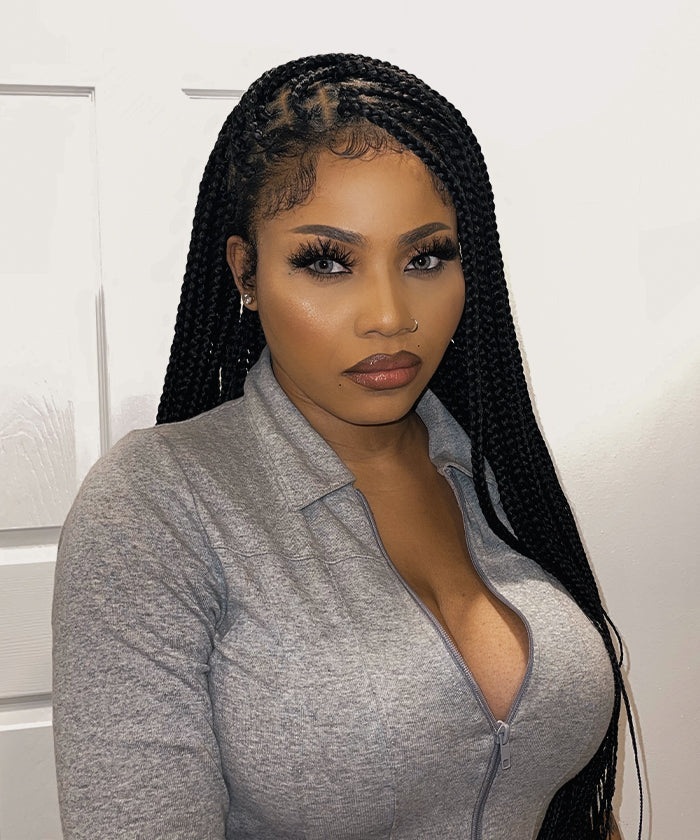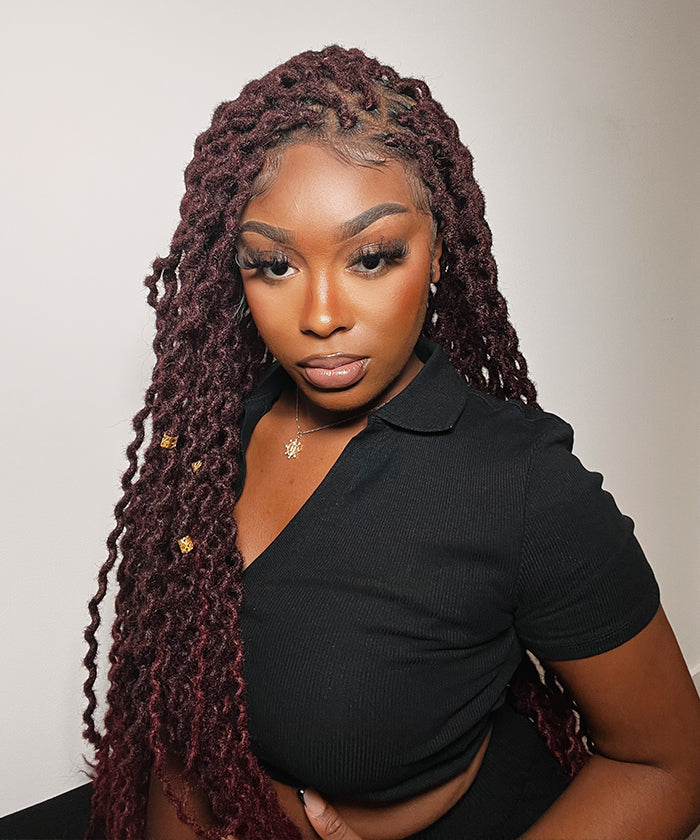 Ultimate Guide to Butterfly Braids
Butterfly braids wigs are a type of wig that feature a curly, textured style that resembles butterfly or goddess locs. The braids are typically made from synthetic fibers that are designed to mimic the look and feel of natural hair. Butterfly braids wigs are popular among those who want a low-maintenance protective hairstyle that offers a stylish and trendy look.

Butterfly braids wigs offer several advantages, including:

●Protective Style: Butterfly braids wigs are a protective hairstyle that can help protect your natural hair from damage caused by daily styling, heat, and environmental factors.
●Versatility: Butterfly braids wigs come in various lengths, colors, and textures, making them a versatile hairstyle that can be customized to match your personal style and occasion.
●Time-Saving: Butterfly braids wigs can save you time on your daily hair routine, as they require minimal styling and maintenance.
●Confidence Boosting: Butterfly braids wigs can boost your confidence by enhancing your natural beauty and giving you a fresh and stylish look.
●Low-Maintenance: Butterfly braids wigs require minimal maintenance, making them an ideal hairstyle for busy individuals or those who prefer low-maintenance hairstyles.

When choosing a butterfly braids wig, there are a few things to keep in mind to ensure that you get the right one for you. Here are some tips:

1.Choose the right size: It's important to choose a wig that fits your head properly to avoid discomfort or slipping. Measure your head circumference and consult the wig size chart to find the right size.
2.Select the right length: Butterfly braids wigs come in various lengths, from short to long. Consider your face shape, personal style, and occasion when choosing the length.
3.Pick the right color: Butterfly braids wigs come in a variety of colors, from natural shades to bold and vibrant ones. Choose a color that complements your skin tone and matches your personal style.
4.Check the quality: Look for high-quality synthetic fibers that are soft, lightweight, and heat-resistant. This will ensure that your wig looks and feels natural and can withstand heat styling.

The installation process for a butterfly braids wig typically takes around 30-45 minutes, depending on the complexity of the style and your level of experience. It is important to take your time and ensure that the wig is properly secured and blended with your natural hair for a seamless look.

Here are the steps to install a butterfly braids wig:

1.Prepare your hair by braiding it into cornrows or twisting it into bantu knots to create a flat base for the wig.
2.Put on a wig cap that matches your skin tone to help secure your natural hair and create a natural-looking part.
3.Place the wig on your head and adjust it to fit properly. Use the adjustable straps or combs on the wig to secure it in place.
4.Use a crochet hook to pull your natural hair through the wig cap to blend it with the wig.
Style the wig to your liking using the tips mentioned above.

Butterfly braids wigs are versatile and can be styled in various ways. Here are some styling ideas to try:

1.High Bun: A high bun is a classic and elegant style that can be achieved with a butterfly braids wig. Simply gather your braids into a high ponytail and wrap them around the base to create a bun. Secure with bobby pins and finish with a hair accessory for a chic look.
2.Half-Up Half-Down: Dress your butterfly braids wig in a half-up, half-down style for a relaxed and carefree appearance. Your braids' top halves should be gathered and tied into a bun or ponytail. For more texture, leave the remainder of your braids loose.
3.Side-Swept: For a romantic and feminine look, sweep your butterfly braids wig to one side and secure them with bobby pins. You can also add a flower or hair accessory to complete the look.
4.Pigtails: Pigtails are a playful and cute way to style butterfly braids wigs. Divide your hair into two sections and create two braids on each side of your head. You can leave the braids loose or tie them together with a hair accessory for a more polished look.
Accessories that can be used to enhance the style and look of butterfly braids wigs include headbands, hair clips, scrunchies, hair jewelry, and hair bows. These accessories can add texture, color, and dimension to your butterfly braids wig, making them stand out even more. Whether you prefer a simple or bold look, there's an accessory that can match your style.

Wearing a butterfly braids wig can be a great way to protect your natural hair, but it's important to take care of your hair underneath the wig as well. Here are some tips for maintaining the health of your natural hair while wearing a butterfly braids wig:

1.Keep your scalp clean and moisturized: Even though your hair is covered by the wig, it's still important to keep your scalp clean and moisturized. Use a gentle shampoo and conditioner to cleanse and nourish your hair and scalp. You can also use a leave-in conditioner or hair oil to keep your hair hydrated and moisturized.
2.Avoid tight braids: Tight braids can cause tension on your hairline and lead to breakage and hair loss. Make sure that your braids are not too tight and that they are not pulling on your hairline. You can also ask your stylist to use a looser braiding technique to reduce tension.
3.Protect your hairline: Use a wig cap to protect your hairline and prevent breakage. You can also use a thin scarf or headband to cover your hairline and protect it from friction and rubbing.
4.Avoid heat styling: Heat styling can damage your natural hair, so it's best to avoid it as much as possible. If you need to use heat, use a low heat setting and protect your hair with a heat protectant spray.
5.Massage your scalp: Massaging your scalp can improve blood circulation and promote hair growth. Use your fingertips to gently massage your scalp for a few minutes every day.
6.Use a silk scarf or pillowcase: Sleeping on a silk pillowcase or wearing a silk scarf can reduce friction and prevent breakage. Silk is also gentle on your hair and helps to retain moisture.

Taking care of your butterfly braids wig is crucial to ensure that it lasts long and looks great. Here are some tips:

●Detangle: Use a wide-tooth comb or brush to gently detangle your wig, starting from the ends and working your way up to the roots.
●Wash: Fill a basin with lukewarm water and add a small amount of wig shampoo. Gently swirl the wig in the water for a few minutes, then rinse with clean water.
●Condition: Apply wig conditioner tothe wig, avoiding the roots. Let it sit for a few minutes, then rinse thoroughly.
●Dry: Gently pat the wig with a towel to remove excess water, and then hang it on a wig stand to air dry. Do not brush or comb the wig while it's wet.
●Store: Store your butterfly braids wig on a wig stand or in a hairnet to prevent tangling and dust.
●Avoid Heat Damage: While butterfly braids wigs are made from synthetic fibers that are heat-resistant, it's still best to avoid heat styling as much as possible. This can help prolong the life of your wig and prevent damage to the fibers. If you need to use heat, use a low heat setting and protect the wig with a heat protectant spray.
●Protect Your Edges: For your natural hair, butterfly braid wigs can be a terrific protective style, but it's also crucial to safeguard your edges. To safeguard your hairline and avoid breakage, take into consideration wearing a scarf or an edge control product.
●Customizing Your Wig: If you want to customize your butterfly braids wig, you can add highlights, ombre, or other colors using dye or hair chalk. You can also trim the ends to create a different length or style.
●Maintenance Frequency: Depending on how frequently you wear your butterfly braided wig and how much product you use, you may need to wash it more frequently. In general, it's advised to wash your wig every two to three weeks or as necessary. In between washes, you can use a wig spray to spot-clean the wig.