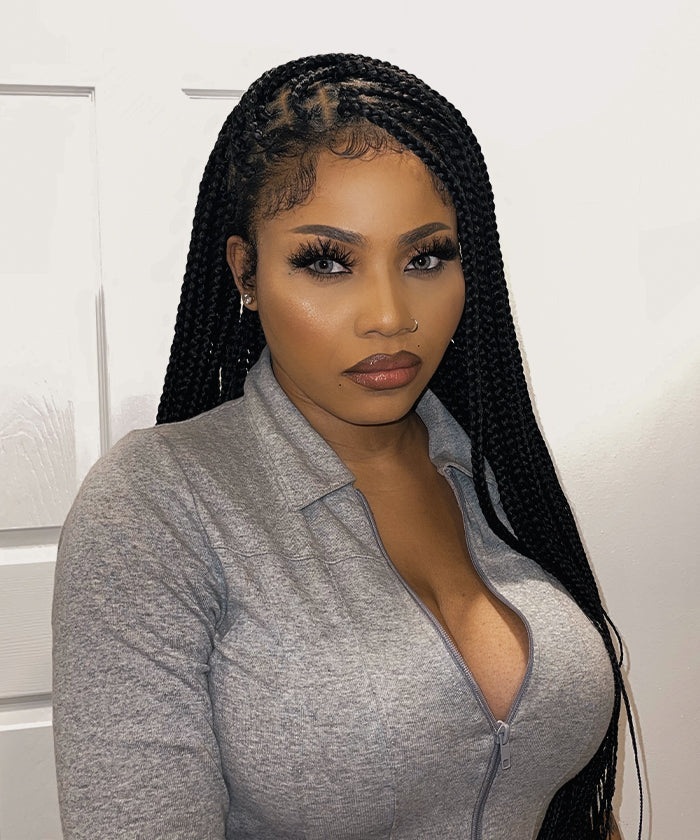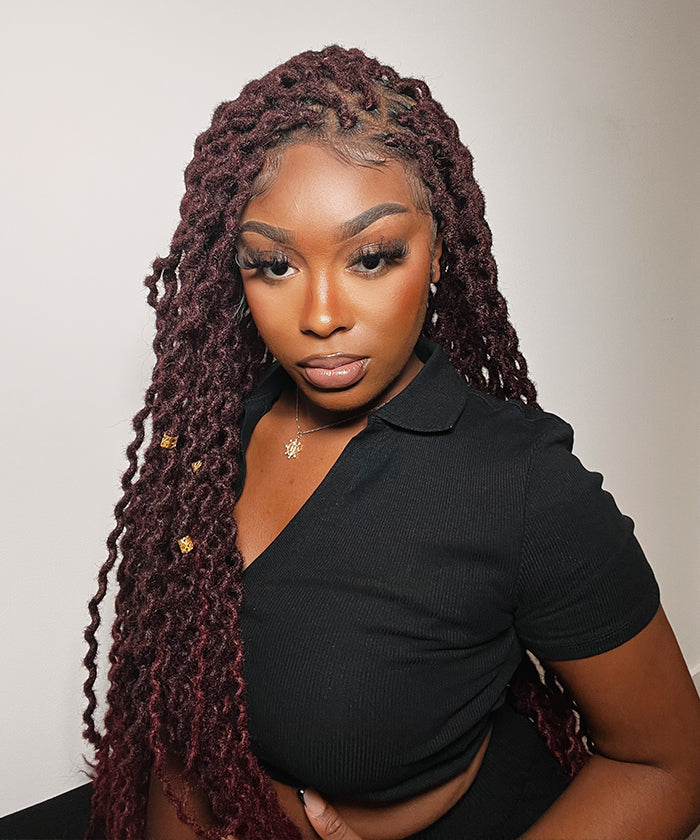 Welcome to FANCIVIVI's
Braids with Curls
Collection, your ultimate destination for high-quality, unique, and fashionable braided wigs. Our collection showcases various exquisite
braided hairstyles with curls
that blend tradition, innovation, and style into a single package.
Each wig in our collection is handcrafted with meticulous attention to detail, using premium quality materials that ensure longevity and comfort. Our wigs are easy to wear, maintain, and style, allowing you to switch up your look as often as you want.
With FANCIVIVI, you're not just buying a braided wig. You're investing in quality, embracing diversity, and becoming part of a community that values individuality and style.
Start your FANCIVIVI journey today, and let your hair do the talking
.
Explore FANCIVIVI's Braids with Curls
For black women who want to embrace their natural beauty in all its glory, FANCIVIVI offers a stunning selection of braids with curls wigs. These braided wigs blend artistry and versatility, allowing you to showcase your bold, beautiful spirit. Let's explore FANCIVIVI's selection of braids with curls wigs together and why their styles are so exceptional.

Boho Braids with Curly Ends
If you're looking to achieve a bohemian look, the boho braids with curly ends wigs are perfect for you. It's a great option for saving time and money, as it can be easily worn in under 15 minutes. The wig has a full double lace front that feels like your natural hair and features baby hair around the edges for a seamless hairline transition. The knotless box braided design is a new style that everyone is getting, and instead of sitting for hours getting traditional box braids, you can simply get this Micro Million braids hairstyle and go. It looks very natural and I would definitely recommend this braided lace wig with baby hair to anyone looking to have the knotless look without the pain and time.
●Styling and Occasion: These wigs are perfect for those who want to achieve a bohemian look. They are great for casual outings such as music festivals and beach trips. Style them with a flowy dress or a pair of shorts and a crop top.

Locs with Curly Ends
For people who want to acquire a sleek and stylish look, loc wigs with curly ends are ideal. A skilled hairstylist created the wig to provide you with a novel feel and aesthetic experience. For a tight and stable fit, the wig also has an elastic strap with a buckle and combs. Wearing it is made more comfortable by the hand-tied back lace. Additionally, the lace front braided wig's updated stretch band and combs inside offer extra stability so you won't have to worry about the wig falling or shifting, making it simple to slay for all-day wear.
●Styling and Occasion: This wig is perfect for those who want to achieve a chic and stylish look. It is great for formal events such as weddings and galas. Style it with a floor-length gown or a pantsuit.

Criss Cross Butterfly Locs
The criss cross butterfly locs wigs are perfect for those who want to achieve a trendy and edgy look. The wigs are made of premium Japanese synthetic fiber and feature a transparent double full lace hair cap that is rugged, comfortable, and breathable. They are also lightweight and tangle-free, with a long lifespan. These lace braided wigs are super long, with the correct volume and thickness, and you never have to worry about the inner cap showing. Most importantly, the top of the hair is designed with a criss-cross knotless box design while the end of the braids features a box braided design, which is a fresh and fashionable lace wig style. The braided style will truly make you feel like a goddess.
●Styling and Occasion: These wigs are perfect for those who want to achieve a trendy and edgy look. They are great for parties and clubbing. Style them with a bold outfit and statement jewelry.

Twist Braids with Curly Ends
Wigs with twist braids and curly ends are ideal for people who desire to have a chic and fashionable appearance. The wigs have a full hand-tied lace cap that gives a skin-melt and realistic scalp look with newborn hair. They are constructed of superior Japanese synthetic fiber. They fit various sizes of heads because they are lightweight and adjustable. Knotless braided wigs are a great option if you're constantly looking for a striking and distinctive haircut. This lace front box braided wig with curly ends is a trendy trend in this year's wig fashion. Braided hairstyles help women stand out.
●Styling and Occasion: These wigs are perfect for those who want to achieve a chic and stylish look. They are great for formal events such as business meetings anddinners. Style them with a pantsuit or a pencil skirt and blouse.

Fall in Love with Your Reflection Again
Once you adorn a FANCIVIVI braids with curls wig, you'll be smitten with your glamorous reflection. Our wigs are designed to make a bold statement, combining fashion-forward elements like ombre colors and chunky highlights with timeless beauty.

Flaunt Your Assets with Head-Turning Lengths
FANCIVIVI's braids with curls wigs let you enjoy head-turning lengths without the high maintenance. Our longest wigs extend a full 36 inches for a show-stopping look. For those who prefer a more understated vibe, we offer options ranging from chic bobs to shoulder skimming mid-lengths.

Embrace Your Playful Side
You can also indulge your playful spirit with FANCIVIVI braids with curls wigs. Have fun mixing and matching curl patterns and sizes ranging from loose, breezy waves to defined ringlets that "boing" when touched. Vibrant ombre combinations like electric blue to hot pink or honey blonde to cinnamon brown make a lively statement. Add whimsical hair jewelry for an enchanting, boho vibe. Let your imagination run free!

Effortless, Anytime Glamour Made for Real Life
As much as we love dolling up, busy women need hairstyles that transition seamlessly from work days to weekends. FANCIVIVI braids with curls wigs serve up glamour with a side of versatility.

Minimal Maintenance Required
Our wigs require little to no upkeep compared to installing and maintaining Braids with curls on your natural hair. There's no need for repeat salon visits or touch-ups. Simply slip on your FANCIVIVI wig and go! We take care of all the meticulous braiding and curling so you can enjoy low-maintenance locks.

Designed to Last
At FANCIVIVI, we only use the highest grade materials because we want your wig to last. Our double full lace caps provide durability and structure. The Japanese synthetic fiber holds curls better and resists tangling longer than cheaper alternatives. As long as you follow our care instructions, your wig will retain its beauty and vibrancy for months of regular wear.

Enjoy Endless Styling Versatility
Since your curls are already set, you can experiment with different parts, ponytails and up-dos. Add hair jewelry like pearl strands or rhinestone chains to dress up your style. Pop on a curly FANCIVIVI wig for evening cocktails or events after wearing straight locks all day. The possibilities are endless!

Protect Your Natural Hair on the Journey to Length
FANCIVIVI wigs shield your natural hair from environmental damage as you grow it out. Constant heat styling, chemical treatments, and friction from hair accessories all take a toll. Give your locks a break with our braided wigs.

Proper care is essential to maintain the quality and longevity of your FANCIVIVI braids with curls wigs. Here are some tips on how to care for your wig:

1. Brushing: Before washing your wig, use a wide-tooth comb or a detangling brush to remove any knots or tangles gently.
2. Washing: Fill a basin with lukewarm water and add a small amount of wig shampoo. Swirl the wig in the water to distribute the shampoo evenly, then rinse thoroughly with cool water.
3. Conditioning: After washing, apply a small amount of conditioner to the wig, avoiding the roots. Leave it on for a few minutes, then rinse thoroughly with cool water.
4. Drying: Gently blot the wig with a towel to remove excess water, then place it on a wig stand to air dry. Avoid using a hairdryer or exposing the wig to direct sunlight, as this can damage the fibers.
5. Styling: Once the wig is dry, you can style it using a wide-tooth comb or your fingers. Avoid using a brush, as this can cause frizzing and tangling.
6. Storage: When not in use, store your wig on a wig stand or in a hair net to maintain its shape and prevent tangling.

By following these simple care instructions, you can keep your FANCIVIVI braids with curls wig looking beautiful and vibrant for months of regular wear.

At FANCIVIVI, we understand the importance of feeling confident and beautiful in your own skin. That's why we've created a collection of braids with curls wigs that are designed to help you embrace your natural beauty and let your inner goddess shine. Our wigs are specially crafted for black women who want effortless versatility, low maintenance, and healthy hair.

We take pride in our meticulous handcrafting process, using only premium Japanese synthetic fiber to create each wig. Our double full lace caps and customized constructions ensure a comfortable and seamless fit that looks and feels natural. With FANCIVIVI's braids with curls wigs, you can enjoy head-turning lengths and bold, beautiful styles without having to spend hours in the salon or damaging your natural hair.

So why wait? Explore our full collection of braids with curls wigs today and experience the FANCIVIVI difference for yourself. Unleash your confidence and let your inner goddess shine!