I am constantly drawn to the adaptability and elegance of braided wig styles because I enjoy experimenting with various hairstyles and fashion trends. There is a braided wig style that will completely suit your needs and tastes, whether you want a dramatic, statement look or a subtle, modest design. I'll share my personal experiences and insights into the world of braided wig styles in this article, including numerous types of style alternatives as well as advice on how to choose the best braided wig style for you. In addition, I'll discuss the advantages of wearing a braided wig and offer motivation and suggestions for fitting it into your individual fashion.
Types of Braid Wigs Styles
The fact that braided wig types are available in a broad variety of designs and variations is one of the factors contributing to their popularity. Box braid wigs, Senegalese twists, cornrows, wigs, and micro braids are a few of the most well-liked braided wig designs. Each of them looks and feels different and may be altered to meet your face shape, skin tone, and lifestyle requirements. The box braid is one of my favorite weave wig designs. I love the way they add texture and dimension to my hair, and they are perfect for any occasion. When I want a more casual look, I wear my box weave wigs in a half up, half down style. I like to leave some loose braids around my face to set it off, and I often add some hair accessories like barrettes or headbands to dress it up. For a more formal occasion, I'll wear my box braid wig as a coiffure and then do a messy bun or woven crown to give it a more polished look.
Choosing the right braided wig style
A braided wig style should be chosen after taking into account a number of features. Your lifestyle, skin tone, and face shape must all be taken into consideration. For instance, if you have a round face shape, you might want to select a braided wig design, such a Senegalese twist or box braid, that lengthens and adds height to your face. If you have a more angular face shape, you may want to choose a style that softens your features, such as cornrows or wigs. I often wear my cornrow wig in the middle part of my straight hair to achieve a chic and professional look. I also like to switch it up to a side parting with loose waves to create a more relaxed and effortless look. To add some extra flair, I sometimes add some blonde or silver hair sleeves to my cornrows as well.
Tips for wearing braid wigs
Once you have chosen your preferred braided wig style, it is important to properly prepare your natural hair to wear the wig. This includes washing and caring for your hair, braiding it into a protective style, and using a wig cap to help hold the wig in place. You'll also want to make sure you properly maintain and care for your braided wig by using gentle cleansing and moisturizing products and avoiding excessive heat styling.
Braid wig inspiration
One of the best things about braided wig styles is that they offer endless inspiration and creativity. From popular styles worn by celebrities and influencers to unique and unconventional styles inspired by different cultures and traditions, there is no shortage of inspiration when it comes to braided wigs. You can also experiment with different ways of styling braided wigs, such as adding accessories or embellishments, or playing with different colors and textures.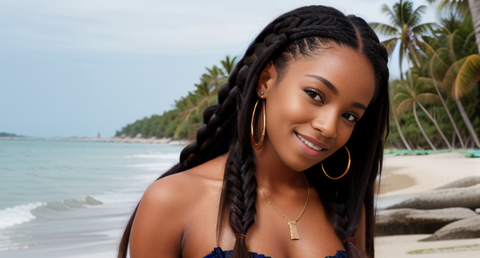 Braided wigs for different occasions
Whether you are looking for a casual and understated look for everyday wear or a bold and statement style for special occasions, there is a braided wig style to suit your needs. Braid wigs can be dressed up or down and can be worn for everything from formal events to sports and fitness activities.
Custom Braid Wigs
If you're feeling particularly creative, you can even customize your braid wig to make it truly unique and personal. This may involve adding accessories and embellishments such as beads or feathers, or coloring and customizing the wig to suit your personal tastes and preferences. You can even try making your own braided wigs at home, using wig caps and woven hair.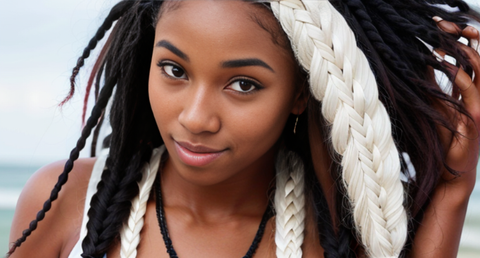 Conclusion
In conclusion, folks who prefer to experiment with their hair and fashion have countless options with braided wig styles. There are ways to get the most of your braided wig, from picking the ideal design to properly caring for and keeping it. Braid wigs can assist you in creating a distinctive and fashionable style that is entirely your own, whether you're seeking inspiration or simply want to try something new and intriguing.
If you are looking for a high-quality braided wig that is both stylish and functional, FANCIVIVI is definitely a brand to consider. Thanks to their commitment to quality and customer satisfaction, you can be confident that you're getting a truly top-notch product. So, why wait? Visit their website today and explore their beautiful and stylish collection of braid wigs to find the perfect style for you.