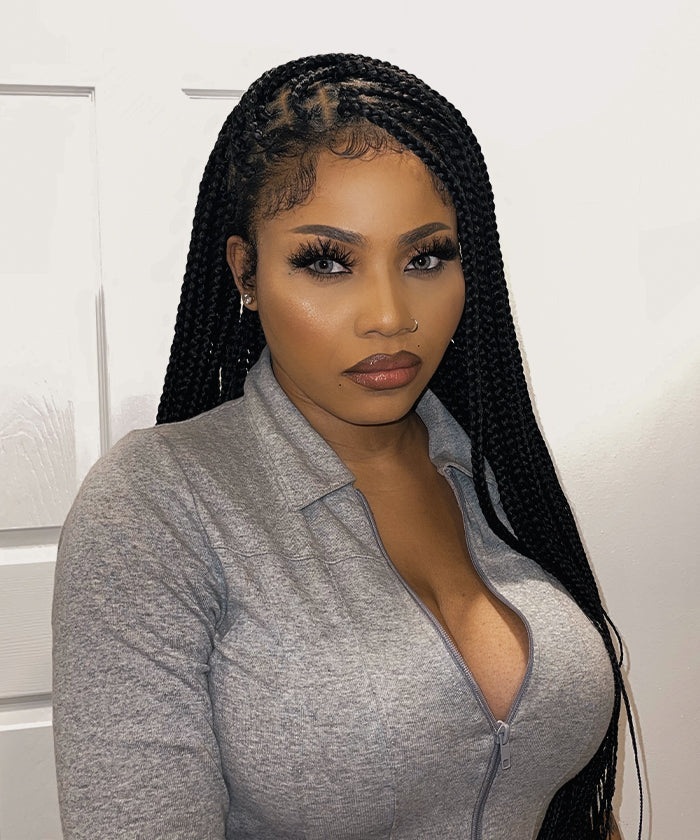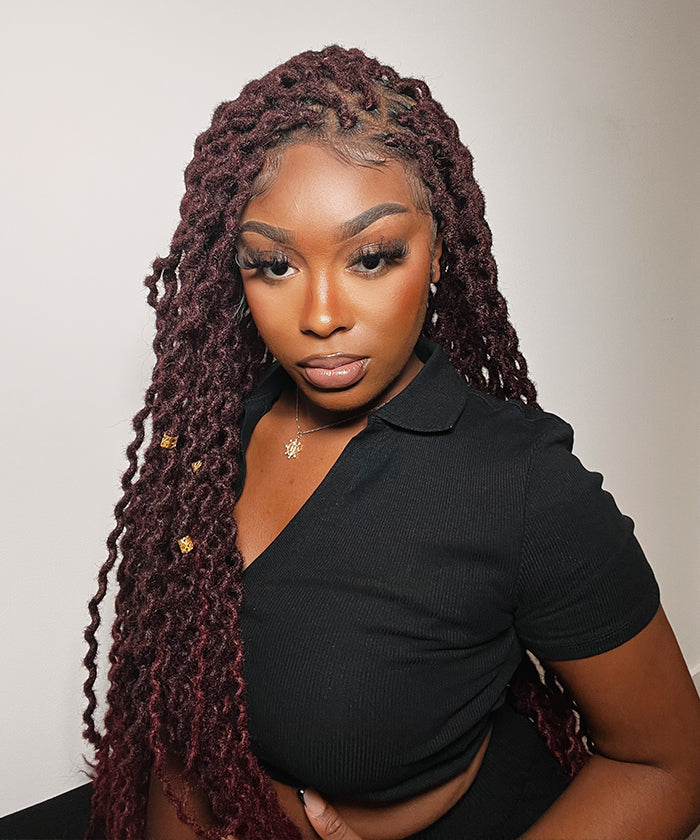 Our Bohemian Braids Collection embodies the free-spirited and artistic flair of bohemian style. Each wig in our collection is intricately designed to reflect the effortless beauty and relaxed elegance Bohemian Braids are renowned for.
The Boho Braids vibe is about expressing your unique personality and embracing your true self. Whether you're going for a sophisticated look or a more casual style, our Bohemian Braids will help you achieve both easily and gracefully.
As the Boho Braids trend continues to take the hair industry by storm, it's our mission at FANCIVIVI to ensure that we provide you with versatile, high-quality products that not only enhance your look but also boost your confidence. Our attention to detail, handcrafted quality, and commitment to satisfaction set us apart in our field.
Discover the mesmerizing world of FANCIVIVI's Bohemian Braids Hairstyles, ideal for those who love to stand out from the crowd. Delve into the unconventional and redefine style with FANCIVIVI - a brand that truly captures the artistry of Bohemian Braids.
About Boho Braids
Bohemian braids have long been favored by free spirits for their effortless, natural aesthetic. Created with woven strands of hair to achieve long, thick braids, Bohemian braids instantly add warmth, femininity and dimension to all hair types and textures.
At FANCIVIVI, we believe that your hair is an expression of your unique spirit. Our bohemian-inspired boho braids allow you to showcase your creativity and experience the freedom of effortless, carefree style. Keep reading to discover six boho braid wigs perfect for the wanderlust in your soul.

Box Braids with Curly Ends: Boho Chic Style Made Easy

Make a stylish statement with this box braids wig featuring curly ends. The cute, beachy curls complete the bohemian vibe of the classic box braids look.
With its double full lace cap, this 24-inch wig provides breathable comfort so you can wear it with confidence all day long. The lace stretches from ear to ear, providing the look of natural hair growth along the hairline. Natural baby hairs along the frontal hairline seamlessly blend with your skin for an undetectable look.
The premium Japanese synthetic fiber used in the braids maintains shape while feeling incredibly soft and lightweight. Get ready to turn heads with this effortlessly chic wig!

Boho Knotless Braids: Long, Flowing Locks in Minutes

Our knotless braids are designed for beauty and versatility. This wig features over 36 inches of super-long knotless braids ending in trendy wavy curls perfect for the wandering boho queen.
The double full lace construction offers comfortable wear and customizable styling options. Part this wig anywhere thanks to the lace stretching fully across the cap. Pull the braids into a top knot or flowing ponytail to switch up your style day-to-day.
When you're looking to make a statement, grab this knotless braids wig. The length and fullness is eye-catching yet easy to manage. Slip into instant boho glam in a matter of minutes!

Locs with Curly Ends: Embrace Effortless Boho Beauty

Our locs wig puts carefree boho style at your fingertips. This medium length style features loose curly ends for bounce and movement.
The double full lace cap hugs your head comfortably while allowing for breathability. Wear this wig all day with ease! Part the locs on either side for a chic look or brush them back into an easy updo.
The locs are pre-styled in a beautiful pattern, saving you time and maintenance. Enjoy 32 inches of lightweight locs that capture the bohemian spirit. This wig makes it simple to rock fresh, trendy locs whenever you please!

Boho Medium Knotless Box Braids: Bold Bohemian Style

Make a seriously stylish statement with this hand-tied HD lace wig. The full lace construction offers a seamless look you can part anywhere. Baby hairs at the hairline blend with your skin for an ultra-realistic finish.
The boho medium knotless box braids flow well past the hips for a head-turning length. Embrace your wild side through the bold knots and texture of the braids. The hand-tied HD lace cap provides a snug yet comfortable stretch.
Bring striking bohemian flair to your look in minutes with this glamorous box braids wig. Feel the length, fullness, and freedom to express your inner boho queen!

Boho Twist Braids: Reign With Whimsical Style

Our twist braids wig unleashes carefree boho glam with over 36 inches of flowy twists. The defined two-strand pattern creates dimensional texture and interest.
A full double lace cap offers seamless styling and comfortable stretch. Natural baby hairs along the front hairline give this wig a spectacular life-like appearance. Part the hair on either side or brush it back into a half-up style.
The possibilities are endless with these moveable twist braids! Made from premium synthetic fibers, this wig maintains its flow and shape wear after wear. Upgrade your style and reign supreme with this boho twist braids wig.

Boho Box Braids: Unleash Your Creative Spirit

Get ready to stop traffic with this show-stopping boho box braids wig! Measuring over 36 gorgeous inches, these triangular box braids make a serious style statement.
A full double lace cap offers breathability and stretch for all-day comfort. Baby hairs along the hairline help this wig blend seamlessly into your look. The premium synthetic fibers feel lightweight, move freely, and hold their shape.
This box braids wig fully captures the creative and carefree bohemian spirit. Enjoy supersized length and fullness without the maintenance. Show off your one-of-a-kind vibes through this head-turning boho box braids style.

At FANCIVIVI, we specialize in crafting high-end braided wigs that empower confident women to flaunt flawless style with ease and convenience. Our wigs are thoughtfully designed with the following standout features:

Unbeatable Quality for Long-Lasting Beauty

●Only top-quality Japanese kanekalon fibers, known for their unmatched softness and durability, are used to create our braided wigs. These silky, delicate fibers resemble human hair in both appearance and feel. You'll enjoy feeling the flow of the hair-like hair as you run your fingers through the extremely soft locks. Give yourself the gift of soft, touchable beauty that is uniquely yours.
●Resilient Shine and Shape - Our unique synthetic fibers hold their shape impeccably over time. The meticulous braid pattern retains its stunning definition wear after wear, with no shrinking or tangling. Your glam braids will look freshly done day after day. The fibers also retain their luminous shine for hair that radiates light. Flaunt dazzling braids that withstand daily activities with resilient shape and shine.
Flawless Convenience for Busy Women
●Ready-to-Wear Styling - Skip the salon! Our wigs come pre-styled so you can achieve a just-braided look in mere minutes. Wear them straight out of the box for instant glam.
●Customizable Secure Fit - Built-in adjustable straps and combs allow you to tailor the fit for all-day comfort and security. No more slipping or headaches.
●Lace Fronts for Styling Versatility - Free-parting lace fronts enable you to switch up parts or create ponytails and updos. Wear your wig however you want.

Innovative Designs for Maximized Confidence

●Hyper-Realistic Hairlines - Hand-tied baby hairs at the front offer the illusion of hair growing from your own scalp for a seamless effect.
●Lightweight Caps for Extended Wear - From lace color matching your skin tone to stretchy ear-to-ear lace fronts, our innovative caps are made for comfortable all-day wear.
●Flattering Lengths and Parts - Meticulously designed lengths and strategic parts complement your features. Our wigs are crafted to make you shine.

Stand Out with FANCIVIVI's Eye-Catching Braided Style

Make an unforgettable entrance wherever you go with FANCIVIVI's collection of head-turning braided wigs. Our ultra-glam styles and rich colors empower you to showcase your one-of-a-kind flair.
●Thick Goddess Knotless Braids - For seriously bold style, long knotless braids with jumbo sections create magnificent volume that cascades down your back. Heads will turn.
●Vibrant Ombre Box Braids - From fiery copper to radiant burgundy, vivid ombre box braids let your colorful personality take center stage. Make a vibrant fashion statement.
●Stacked Multi-Colored Locs - Stacked layers of locs in complementing shades create dimension for an edgy, artsy look. Show off your creative spirit through color.

Limitless Versatility Made Easy

FANCIVIVI's carefully crafted braided wigs put breathtaking versatility at your fingertips. With minimal effort, our selection of stunning braided wigs empowers you to showcase a different gorgeous hairstyle every single day. Our wigs allow you to:

●Instantly Refresh Your Look - Trade in straightened hair for a head-turning braided style at a moment's notice. Quickly transform your vibe.
●Experiment with Colors - Try bold hues like electric blue box braids or understated copper brown locs without damaging your real hair. Explore colors fearlessly.
●Achieve Lengths That Take Years - Style seemingly decades-worth of growth in minutes with waist-grazing braids without the wait. Enjoy extra length now.
●Switch Up Parts and Styles - Part down the middle for an elegant look one day, then side-sweep braids for an edgy vibe the next. Keep them guessing.

Experience the Self-Confidence of Picture-Perfect Hair

Flaunt your beauty on your own terms with the unmatched versatility, convenience, and quality of FANCIVIVI's braided wigs. Designed to empower you with flawless, head-turning style, our wigs make it simple to define your signature look.
Our meticulously hand-crafted wigs using only the finest materials are created to help you shine bright each and every day. Explore our collection of stunning braided wigs in lively colors and patterns to find your perfect match.
Don't waste time and money getting your hair braided at the salon. With FANCIVIVI, you can slip into a fresh new braided 'do in minutes! Our pre-styled wigs allow you to transform your look instantly.
Flaunt fuller, longer locks overnight or experiment with bold new colors risk-free. Durable fibers retain their style and shine for long-lasting beauty you can count on.
Treat yourself to the wig designed to boost your confidence. Choose from sexylocs, goddess box braids, and more! Empower yourself with picture-perfect braided hair from FANCIVIVI. Discover your signature look today.