I used to be hesitant to dramatically alter my appearance. However, as I've aged, I've been more daring with my hair. I enjoy being free to change my hair's style on the fly, wearing it curly one day and straight the following day. I can feel more and more the joy that changes bring for me.  And now I have to admit that knotless locs braided wigs are a particular style that has recently truly captured my eye. They're not only a fashionable and functional preference, but they're also an excellent technique to maintain the beauty of your natural hair. So in this post, I am willing to discuss the reason why I believe that the newest hair fad you should try is knotless locs braided wigs
What exactly is the knotless locs?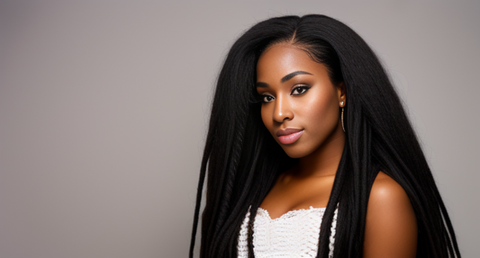 Let's immediately clarify what knotless locs are in reality. Sections of hair are twisted or braided into tight, rope-like coils to make traditional locs. But because of the strain at the roots, where the process can be especially tough on the hair. On the other hand, knotless locs are made by employing a crochet hook to loop the hair through itself, producing a less harmful, more natural-looking effect.
What makes it stand out?
Convenience and multi-functionality
What, then, is so unique about knotless locs braided wigs? To begin with, they combine the comfort and adaptability of a wig with the low-maintenance, natural-looking appearance of knotless locs to provide the best of both worlds. Additionally, because they are braided, they may be dressed in a number of styles, such as a traditional updo or a fashionable half-up, half-down look.
Giving you the maximum freedom
Knotless locs braided wigs are a terrific way for preserving your natural hair in addition to being stylish. You may save your hair from the everyday styling and manipulation that can cause breakage and damage by wearing a wig. Additionally, the lack of knots in the locs results in less tension on the hair, which reduces the chance of scalp and edge damage.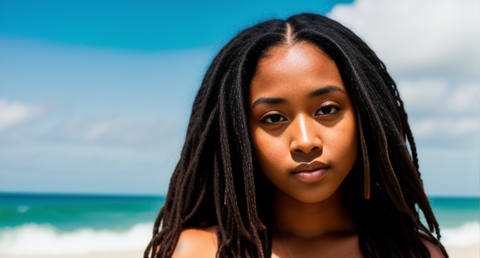 What particularly appeals to me about knotless braided wigs is the freedom they offer. I am able to attain a protective style, enjoy all the advantages of locs, and still take off the wig at the end of the day. This has given me access to a whole new universe of styles since I have delicate hair that knots quickly.
A wide range of options
Another great thing about knotless locs braided wigs is that they're suitable for all hair types and textures. Whether you have straight, curly, or coily hair, there's aknotless locs wig out there that will work for you. And because they come in a range of lengths and colors, you can choose a wig that perfectly suits your personal style.
How to keep it in the best condition
Of course, like any hairstyle, knotless locs braided wigs do require some maintenance. You'll need to wash and condition the wig regularly to keep it looking its best, and you may need to touch up the style every now and then. But compared to traditional locs or other more high-maintenance styles, knotless locs braided wigs are a breeze to take care of.
Frequently donning knotless locs braided wigs additionally educated me a lot about loc hair maintenance. I want them to endure as long as possible despite the fact that they are synthetic.  In order to remove product buildup and prevent the locs from tangling, I frequently clean my wig using a shampoo designed for synthetic hair. I puff off the locs and retwist any that have come undone after letting it air dry.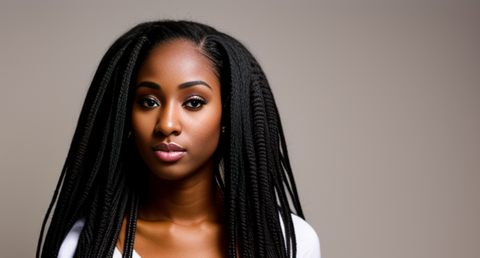 So, where can you get your hands on a knotless locs braided wig? Thankfully, these wigs are becoming more and more popular, so you should be able to find them at your local beauty supply store or online. Look for wigs made from high-quality synthetic or human hair, and make sure to choose a wig that matches your natural hair texture and color as closely as possible.
I you really are keen to find a suitable one, then I have a recommendation for you. If you're looking to try out the knotless locs braided wig trend, I highly recommend checking out FANCIVIVl. This brand specializes in making braided wigs for black women, and their products are truly top-notch. Because their wigs are hand-braided, you can be sure that every wig is made with care and attention to detail. But it's not just about the quality of the wigs – FANCIVIVl also offers a wide range of styles and colors to choose from. Whether you're looking for a classic, understated look or something a bit more daring and playful, they have a wig that will suit your needs.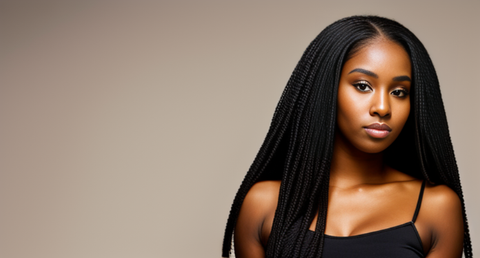 Conclusion
Now that I've moved over the initial phase of hesitation, I genuinely see my knotless loc braided wigs as extensions of who I am. They enable me to portray many facets of my personality with a simple "hairstyle" adjustment.
Knotless locs braided wigs have changed everything for me because of their adaptability, comfort, and low maintenance requirements. They've truly assisted me develop my own particular style while still preserving my natural hair underneath, which I adore. Knotless locs should be at the top of your list if you're searching for a quick, protective hairstyle to try this year!