Introduction
One of my biggest tasks as a wig enthusiast, especially when it comes to box braid wigs, is keeping them looking fresh. Box braid wigs require special care and handling to avoid damage and keep them looking real, but with the appropriate procedures, a high-quality wig can endure for months. Proper storage, minimal washing, restricted heat use, and delicate handling are essential for extending the life of your box braid wig.
Proper storage
I wanted to preserve my freshly washed and groomed wig's shape and conditin looking its best between wears. And this can only be achieved by proper storage. This is especially important for wigs for black women, as the texture requires more care. Proper storage helps maintain the stle and quality.
I invested in an adjustable wig stand, knowing it would keep the wig elevated while allowing for airflow. By placing the wig on the stand, creases were avoided where the braids would lay on a surface. The stand also kept the wig distinct from the other wigs I had, preventing the fibers from tangling or matting together. In a pinch, a mesh storage bag could be used, but a stand was preferable.
For longer knotless braids, I wrapped small pieces of tissue paper tightly around the ends to secure the hair in place. This prevented the knotless braids from unraveling and kept the shape intact. The tissue paper could quickly be removed before wearing the wig again.
I used a damp washcloth, a spray bottle with water and a conditioning mist, or a dilution of shampoo and water to clean any noticeably unclean or oily sections of the wig between wears. A spritz of leave-in conditioner restored hydration and shine. The wig should then be air dried away from heat before wearing it again or storing it on the stand.
Proper care and handling of a luxurious box braid wig ensured it lasted for months with minimal damage, loosening braids or dulling hair fibers. Washing, conditioning and styling the wig regularly kept it looking as gorgeous as the day I received it while storage techniques maintained the shape and style in between wears. With diligent care and effort, my box braid wig became an extension of my style and confidence.
Washing and maintenance
Before wearing my new wig for the first time, I washed it well to eliminate any residue or oils from the manufacturing process. I used a gentle wash and conditioner designed exclusively for wigs and human hair extensions.
I gently detangled the braids with a wide-tooth comb, working out any tangles section by section. Then applied the shampoo to the scalp and massaged it into the braids, rinsing until the water ran clear. Conditioning the wig deeply hydrated the hair fibers. Proper care is essential to maintain the health of your knotless braids hairstyle between redoes.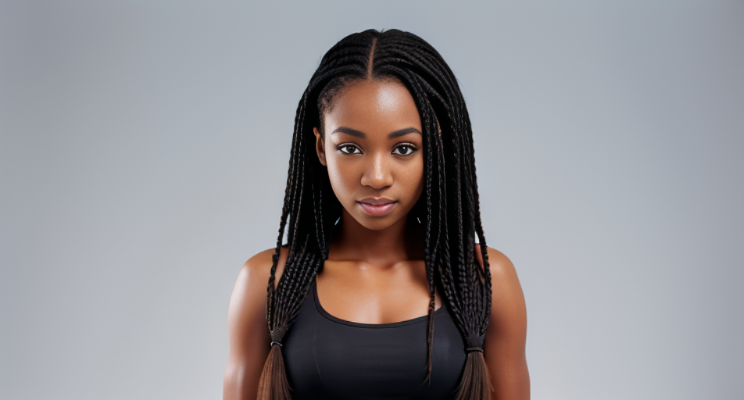 It took at least a day to completely dry the wig by air drying it away from any heat sources. Heat from blow dryers or flat irons can cause hair damage if used too regularly. I just used heat styling 1-2 times a month at most.
After the first 3 to 5 wears or whenever the wig looked visibly dirty, it was time for another wash. I repeated the detangling, shampooing and conditioning process but this time shampooed from the top layer of braids downwards to help maintain volume and style. Soaking the braids in conditioner and then air drying the wig brought it back to like-new condition.
I would carefully detangle the braids with a wide-tooth comb between wears and brush the hair downwards, following the direction of the braids. I would loosely twist or braid pieces of the wig before bed to separate it and retain its style, then loosen the twists in the morning.
Always handling the wig gently, I had learned through experience the proper techniques to keep my wig clean, tangle-free and full of body. Washing frequency depended on how oily my scalp became but with regular maintenance, my wig lasted longer than expected without significant damage. Diligent care and patience allowed me to enjoy changing up my style with this versatile wig. With the proper care techniques mastered, I had an effortlessly chic hairstyle extension.
Additional tips
I also found the following advice to be useful for maintaining the excellent condition of my box braid wig:
Over-brushing, scrubbing or wringing the wig could potentially cause damage, matting or pulling braids loose. Always handle the wig with care and gentleness. Apply shampoo and conditioner according to instructions and be sure to rinse thoroughly until the water runs clear.
I would use a soft-bristled toothbrush and weak shampoo to apply straight to any tough spots. To remove the stain, gently clean it, and then rinse it with water. To make sure all shampoo residue was eliminated, rinse the area once again after exercising patience during the process.
A high-quality wig with proper care and maintenance can last 6-12 months before significant damage is noticeable. Washing the wig every 3-5 wears, limiting heat styling, detangling regularly and storing the wig properly on a stand all contributed to the longevity.
By gently managing the wig, it was possible to prevent premature braid loosening by avoiding rapid tugs, pulls, or yanks. Detangling should always be done slowly and carefully, working your way up to the roots. If necessary, use wig tape, hairpins, or bobby pins to tuck in any flyaways or slack braids.
With diligent dedication to care, a luxurious box braid wig becomes an extension of your style for an extended period of time. While no wig will last forever, following recommendations and leveraging knowledge through experience will make the most of your investment. Styling the wig differently between wears also introduces variety and helps stretch out the time before a new wig is needed.
High-quality wigs and hair parts benefit from proper maintenance and patience. A well-maintained wig turns into a benefit, providing style and confidence for several months at a time. I had countless possibilities and oxymorons of effortless splendor because to the care I provided my box braid wig.
Conclusion
Diligent care and maintenance are key to preserving the longevity and style of box braid wigs. The amount of time between restyles or purchases can be increased by using proper storage, limiting heat use, low handling, and regular but gentle washing. Hair extensions that are flexible pieces rather than merely passing trends are produced by using high-quality wigs and a commitment to aftercare procedures.
Producing elegant yet adaptable braided wigs and hair accessories for black women is the specialty of FANCIVIVI. We offer natural-looking, long-lasting styling options because to our high-end materials, skilled braiding techniques, and competitive pricing. FANCIVIVI has the wig that best complements your confidence and sense of style, whether you prefer the effortless texture of silk press, the dramatic volume of knotless locs, or stylish braids.
Carefully worn and patiently worn, FANCIVIVI wigs become extensions of you. If you have any queries or suggestions about where to locate your ideal new haircut, kindly get in touch with us. We look forward to working with you to change your appearance and fall in love with yourself! Our wigs become style classics, not simply temporary favorites, with attention to maintenance.
Proper care. Endless style.